NL's Oertner recalls Chandler winning state title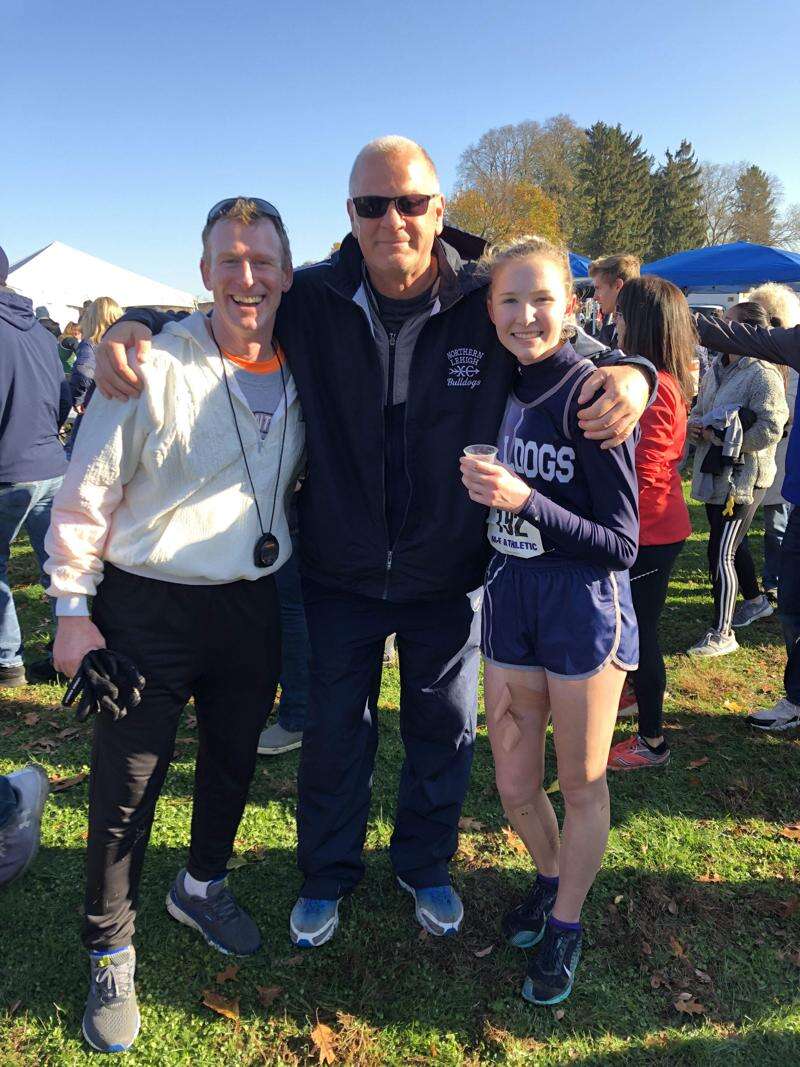 Published April 25. 2020 12:06AM
(EDITOR'S NOTE: The Times News is running a series of stories asking area coaches and athletic directors to remember their "Most Memorable" sporting event. Today's Most Memorable moment comes from Northern Lehigh cross country coach Dave Oertner)
By TJ Engle
Dave Oertner has been in charge of the Northern Lehigh cross country program for 38 years.
During that time, Oertner has coached 1,739 meets.
That's a lot of starting guns and finish lines to look back on.
But Oertner said the majority of his Most Memorable moments aren't about how races have started or even about how they ended.
Oertner said what stands out most to him as he looks back over his long and successful career are the moments right after his runners have crossed the finish line.
Some of those celebrations Oertner can recall almost like they happened yesterday - especially one in particular that took place nearly 28 years ago.
"The most memorable meet? Probably the year Bob Chandler won the State Championship," said Oertner. "That's probably the most memorable. It was back in 1992.
"I have had a lot of memorable ones over my time, but Chandler winning the state meet is really memorable."
It was back on Saturday, Nov. 7, 1992, that Chandler capped an unbeaten senior season by claiming the gold medal at the PIAA Class 2A Cross Country Championship.
Oertner said the excitement he felt watching Chandler's accomplishment was enhanced by the fact that he had come so close to achieving that goal in each of the two previous seasons.
"It ended up being a big relief, actually," said Oertner, who had watched his star runner finish third in the state during both his sophomore and junior seasons. "You think about it, you're really excited and you're happy, but it was almost like you feel more relieved because he finally did it.
"He was the best runner in the state. You're just hoping everything falls into place and nothing bad happens."
What makes the day even more memorable for Oertner was the fact the Northern Lehigh team had qualified for the meet and the sacrifices some other Bulldogs made to help their teammate.
"I actually sent two of our kids, our No. 6 (Marcus DiMichele) and No. 7 runners (Mike Mengel), to run next to Bob for the first mile or as long as they could," Oertner said. "So, for about three-quarters of a mile, they gave themselves up.
"They wanted to run next to him so he wouldn't get bumped, spiked or something silly. So, we were happy about it as the team did well too. It was a very happy day."
Matt Hewitt (91st), John Heatter (92nd) and Tim Allen (95th) all broke the top-100 that day, while Jeremy Bailey (168th), DiMichele (189th) and Mengel (190th) played their role in writing one of the most memorable pages in the Northern Lehigh boys cross country program's storied history.
"There was a lot of thing that could have went wrong that day as far as with the weather conditions and things like that, but everything turned out just right," said Oertner.
The Bulldogs not only placed ninth in the team standings that day, but they helped their teammate win a State Championship.
The day capped an outstanding career for Chandler, who finished with three Centennial League, three District 11 titles, and three state medals.
Oertnrer said he has had plenty of other memorable moments during his coaching career - naming the 1985 girls' District 11 championship team with runners like Debbie Krause, Kathy Kirkpatrick, Sabrina Nierer, Julie Parry and Stacy Reitz; the 1999 Colonial League and District 11 champion boys team; and the 2007 girls team that surprised many by finishing second at districts after finishing third in the Colonial League that year.
But Oertner said one thing that is even better than looking back and remembering all the great moments in Bulldog cross country history is reliving them with the student/athletes who created them.
"We still have an Alumni Meet every year," Oertner said. "As a matter of fact, the year Bobby graduated is the year we started that tradition, and we still run it.
"We do it the first race of every season. The alumni come back and run. Seeing all the former runners who come back is the best part of all the cross country memories I have - and Bobby has been back for that every year."