Kuczynski, Searfoss, Dubosky named All-State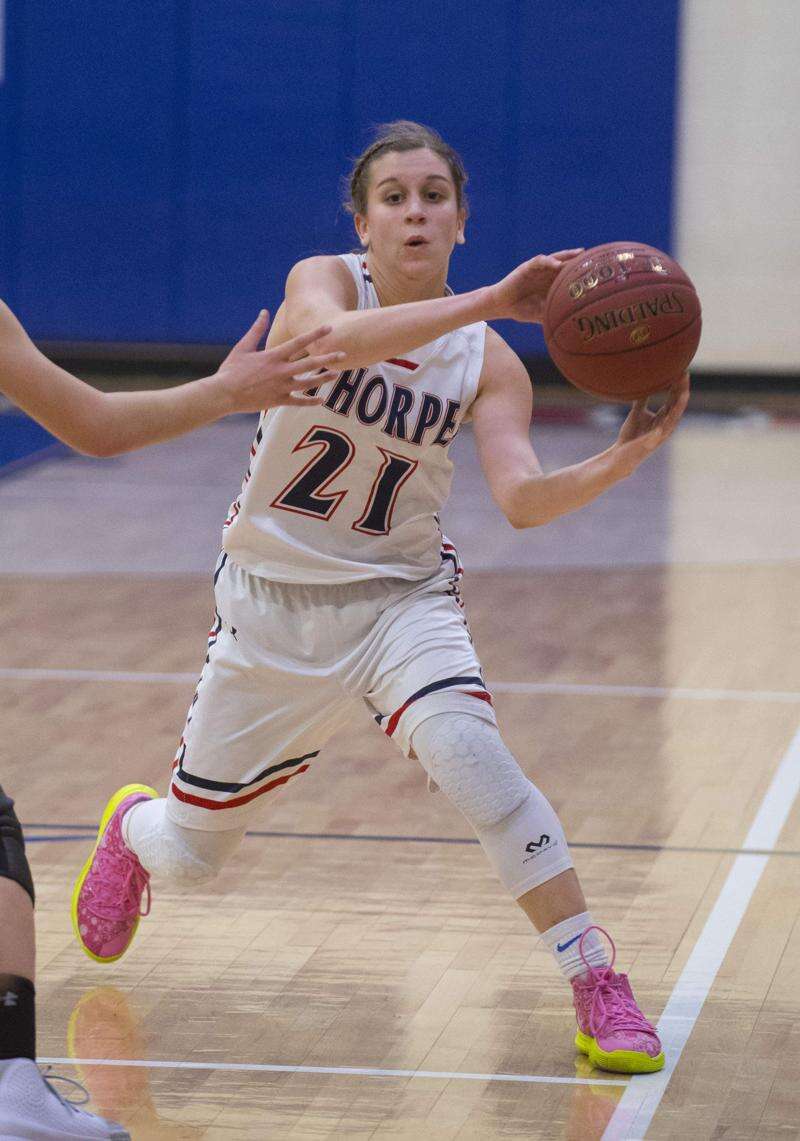 Published April 21. 2020 06:00PM
by Emmett McCall emccall@tnonline.com
They received extra attention during the season, so it should be no surprise that they are receiving even more now that it's over.
Tamaqua's Emma Kuczynski, Jim Thorpe's Skyler Searfoss, and Panther Valley's Erika Dubosky were the focus of opposing defenses throughout the past season.
On Tuesday, the trio of Times News area players were recognized for their outstanding campaigns with berths on the Pennsylvania Sports Writers All-State Girls Basketball team.
Kuczynski was a second team selection on the Class 4A team, Searfoss was a third team selection in Class 4A, and Dubosky was a third team selection on the Class 3A team.
In conversations with their coaches, it was obvious that all three players had stellar campaigns despite going against defenses specifically designed to stop them.
"Everyone knew who Emma was and everyone was intent on trying to stop her," said Tamaqua coach Erika Davis. "She had to earn every single point, night in and night out, because of all the attention she got from opposing defenses.
"Emma always had two and sometimes even three people watching her. Despite that, she averaged over 23 points a game and led us in just about every statistical category."
Rob Kovac, who has coached Searfoss during her first two years in the Olympians' program, said that after her outstanding campaign as a freshman a year ago, defenses were intent on trying to slow her down this season.
"Skyler saw double and triple teams from just about every team we played," he said. "Not only did she have to adjust to that, but we asked her to go from primarily being a shooting guard last season, to being a point guard and more of a distributor this season.
"That's a lot for a sophomore to handle, but it didn't slow Skyler down one bit. Her all-around game just went through the roof this season."
Panther Valley coach Bill "Dapper" Lynn was thrilled with the news of Dubosky's selection.
"Erika works so hard on her game," he said. "She puts the time in and it has definitely paid off for her.
"Most games, she not only has to find a way to overcome double-teams, but often times triple-teams as well. But she never complains and never gets frustrated. She just continues to work hard and keeps battling."
Kuczynski, who was also a second-team All-State selection a year ago, had the best season of a remarkable four-year career, leading the Raiders in scoring (23.4 ppg.), rebounds (10.9 per game), assists (4.4 per game), steals (4.5 per game), three-pointers (33), free throws made (116), and blocked shots (16).
"Emma was such a versatile player," said Davis. "She could hurt you inside or hurt you outside; she could do it with her passing or her shooting; she a force on the boards or out running the break.
"It's really gratifying as a coach to see a player who cares so much about her teammates and is such an unselfish player receive individual recognition as well. I'm extremely proud of her and happy for her."
While Kuczynski is a senior, both Searfoss and Dubosky will return next year.
Searfoss now has two All-State selections in two years of playing high school ball.
"She is such a diverse player," said Kovac. "She did it all for us … scoring (15.3 points per game), passing (4.9 assists per game), shooting (53 percent from the field), even rebounding (4.3 per game). She has the total game.
"But not only did she have another wonderful year offensively, she usually watched the other team's best player on defense and also had an incredible number of steals (4.9 per game) - and she's just going to keep getting better. The sky is the limit for Skyler."
Dubosky, a junior, averaged a double-double for the Panthers, scoring 19.4 points per game, while pulling down nearly 12 rebounds a contest.
"I think versatility is Erika's greatest strength," said Lynn. "She can play any position. "We use her at point guard, at forward, at center … whatever the game situation calls for, we're confident that Erika can handle it.
"But as skilled and talented as Erika is, the thing that I probably appreciate most as a coach is what a great teammate and role model she is for the younger players in our program. She's an absolute pleasure to coach."