Geist recalls 2010 D-11 title game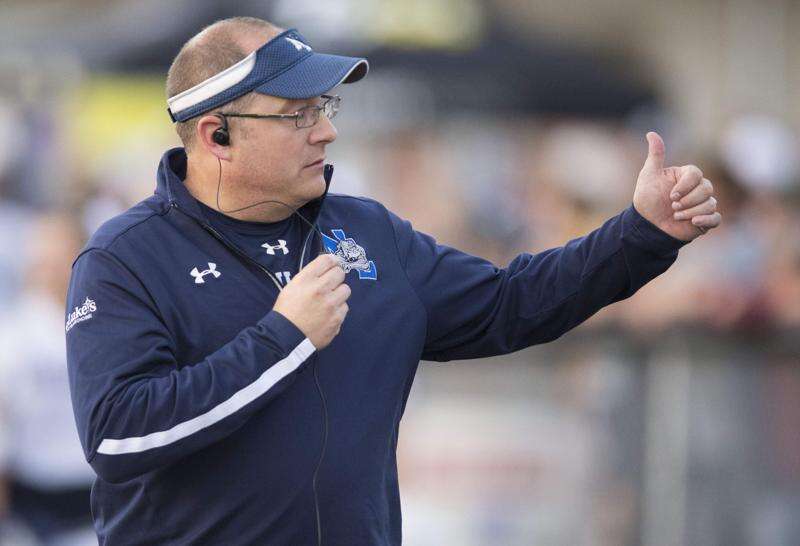 Published April 10. 2020 11:35PM
(EDITOR'S NOTE: The Times News will be running a series of stories asking area coaches and athletic directors to remember their "Most Memorable" sporting event. Today's Most Memorable moment comes from Northern Lehigh Athletic Director Bryan Geist)
By Rod Heckman
During football season, Northern Lehigh athletic director Bryan Geist sends an email to the media three or four days before a home game to ask who will be attending.
He does this to make sure the writer and photographer have a reserved parking space.
When the writer enters the stadium, one of his workers hands them a folder with both team's rosters included and the names of each of the officials.
That is just one example of the preparation Geist does before the Bulldogs battle an opponent on the gridiron.
Geist used to be an assistant football coach with Northern Lehigh, and has been the school's AD since 2006.
He loves the sport and also is very efficient at his job, making sure every detail has been worked out before, during and after an event.
Those two reasons are why he didn't hesitate when asked what his most memorable moment has been since taking over his current position.
The date was Nov. 20, 2010 and the Bulldogs were set to battle North Schuylkill in the District 11 Class 2A football championship game.
The two teams had met the previous year, with the Spartans earning a hard-fought 33-26 victory.
Northern Lehigh would host the rematch, meaning Geist would be extremely busy.
"There was a buzz in the community," said Geist. "There were so many people that inquired about pre-game tickets. Usually the day of a game, I can get there along with the game staff around 3:30 or 4 o'clock. That day I had to be there around 2.
"People started showing up, there was some tailgating going on, and even the people from North Schuylkill were getting there early. We knew there was going to be a lot of work to do."
Both clubs entered the contest undefeated at 11-0 and the showdown drew many fans to Slatington that Saturday night.
"That was the largest crowd I've witnessed at Bulldog Stadium," said Geist. "The gate was just ridiculous. There had to be close to 4,000 people there, if not 4,000 - or more."
Those in attendance, especially Northern Lehigh fans, weren't disappointed.
Geist defenitely wasn't.
"The game itself was a fun, nailbiting one between two very good teams," he said. "I was able to watch it from the North end zone, where I usually do. And I was able to see pretty much the entire game."
The Bulldogs opened up a lead thanks to two Cody Remaley touchdown runs, but North Schuylkill put together a drive in the second quarter to trim the margin to 12-7.
The score didn't stay that way long, as Remaley faked a reverse on the ensuing kickoff and raced 80 yards to paydirt.
"The kickoff was a big play," said Geist. "The year before at Mahanoy Area (in the title game against North Schuylkill), we ran the reverse on the kickoff, but this year we ran a fake reverse and Cody just took off."
The Spartans cut the gap to 18-15 early in the fourth quarter, but once again Nolehi had an answer.
Joe Tout's team put together a crucial scoring drive, which included a play Geist will never forget.
"The biggest play I remember was one of the biggest turning points of the game," he said. "It was a deep pass to (Jake) Kern from (Dylan) Hofmann. It was a big catch and it was at the South end, going toward the scoreboard. He just made a phenomenal catch.
"I was real confident after that (that we'd win). It was a neat view being in the North end zone and seeing it at the other end. We were in good shape after that. I think that put us up by 10."
The completion, which resulted in a 28-yard gain down to the Spartan one, set up another Remaley score two plays later that pushed the lead to 25-15.
North Schuylkill did manage a final tally with seconds left to make the score (25-23) more respectable, but the night belonged to the Bulldogs.
"They came back to score, but what I remember about that was they had 12 players of the field," said Geist. "(Matt) Gill said he didn't know who to cover because there was an extra player. They had trips on one side, two receivers on another and a fullback back with the quarterback. Then they also had the five linemen. No wonder we couldn't cover everyone.
"I know Joe went back to the game film and checked, and there were 12. The officials just missed it. There was no way we could pick up every receiver."
While the win gave Northern Lehigh some redemption, Geist said the teams actually weren't bitter rivals. Instead, there was mutual respect.
"I think it was just a validation thing," he said. "It really wasn't a revenge thing. Joe and his staff do an outstanding job and it was just validating our team. Those were two phenomenal teams. They got the best of us one year, and we got them the following year.
"Between the pre-game hype, the game itself, and then being able to hand out the trophy and gold medals to the players and staff at Bulldog Stadium, that's what makes that game my most memorable."