Dunkelberger's state title tops list for Hromyak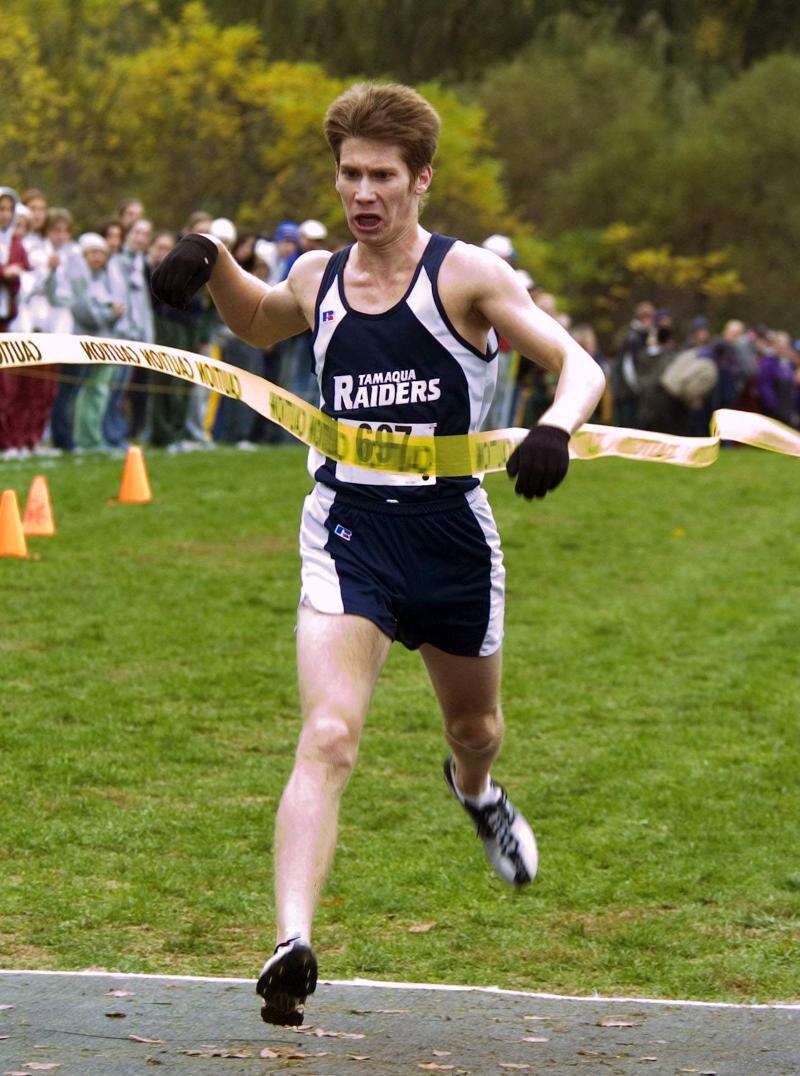 Published April 09. 2020 12:46PM
(EDITOR'S NOTE: The Times News will be running a series of stories asking area coaches and athletic directors to recall their "Most Memorable" sporting event. Today's Most Memorable moment comes from Tamaqua Athletic Director Mike Hromyak)
By TJ ENGLE
Mike Hromyak has served as Tamaqua's Athletic Director for the last 26 years.
So when Hromyak was asked for his "Most Memorable" sporting event during that time period, his catalog of Blue Raider games, matches and meets numbered in the thousands.
"I recently had a conversation with Joanie Nowak about how many games I had seen," said Hromyak. "So, I tried to see if I could figure it out."
Nowak was a good source to have the discussion with since she has spent the past two-and-a-half decades as part of the staff that helps Hromyak at Blue Raider sporting events.
The conversation led to Hromyak doing some calculations.
A 1988 graduate of Tamaqua, Hromyak calculated about 2,471 regular season events - a total that he admits might not be exact, but one that is probably very close.
Hromyak arrived at the total by figuring out the number of games he typically attends in each sport during a season and multiplying that by his 26 years.
He also took into account the years his daughters - Alexa and Rebekah - participated in basketball and soccer and the extra games he attended those seasons.
What Hromyak didn't count in were the games he walked in and out of when he was in charge of overseeing multiple sporting events on the same day.
Add those partial games and postseason games into the total, and his Tamaqua events probably number around 3,000.
"The bottom line is I love Tamaqua High School and Tamaqua sports," said Hromyak. "I've obviously watched many high school games during my years."
Averaging around 100 Blue Raider sporting events a year not only keeps Hromyak extremely busy, it also makes him arguably the most knowledgeable person to talk to when it comes to the past quarter century of Tamaqua athletics.
It also makes it extremely difficult for him to pick one sporting event that stands out above the others as his Most Memorable.
"It was very difficult for me to just pick out one memorable moment because in my years, I had so many events that I've seen," Hromyak said. "The one that sticks out the most however is an individual championship - Isaac Dunkelberger winning the 2005 PIAA State championship in cross-country.
"To have one of our athletes crowned as an individual state champion, and also be fortunate enough to observe the event, is the one that sticks out the most."
Dunkelberger's memorable run occurred on Nov. 5, 2005. On that day, he finished ahead of 296 other elite runners to capture the PIAA State Class 2A cross-country championship.
For Dunkelberger, it served as a dream come true.
Below is an excerpt from a story written by the late Times News sports writer, Joe Plasko, about Dunkelberger's state championship.
As he broke the tape and crossed the finish line, his dream and determination meeting reality, Isaac Dunkelberger raised his arms in triumph.
"Oh my God! I did it," said an excited Dunkelberger over and over again between gasps for breath.
The Tamaqua junior had claimed the ultimate prize he coveted, devoting mile after mile of roadwork in the pursuit of the PIAA State Class AA Cross Country Championship.
For Hromyak, who has witnessed nine of the 14 individual State champions in Blue Raider school history during his tenure as athletic director, Dunkelberger's gold medal performance still stands as the "best of the best" when it comes to his memorable sporting events.
"I will never forget the day when Isaac crossed the finish line in first," said Hromyak. "I watched that kid from the time that he was in diapers basically until the time when he graduated. He was someone who worked really hard toward his goals.
"I remember him running every day. I would come in to work, and he ran out along Route 209, going out from the high school toward Brockton. The miles that kid put on, that I know of, were just unbelievable."
Dunkelberger's work ethic was so extraordinary that Hromyak still recalls conversations he had with him about it 15 years ago
"I often worried about him burning himself out," said Hromyak. "I remember talking to him a few times about it, and he would simply say, 'I'm good.'"
Obviously, Dunkelberger was right.
Other memories
While Dunkelberger was No. 1 on Hromyak's list, he had several other memories that could be considered part of his honorable mention list.
Not surprisingly, a couple of other individual performances rank at the top of the list.
"My second pick behind Isaac would be Garth Lakitsky winning the State Championship in wrestling in 2011," said Hromyak. "He was 42-0 his senior year. Going out to Hershey and watching him come away with a state title was very memorable.
"Then throw Noel Powell (who won a state title in the long jump in 2000) in there. I think he won a gold, a silver and a bronze in the same year. He came home from Shippensburg with so many individual points that he was second overall in the TEAM standings. I have a silver PIAA team trophy just from him."
There have also been some huge team performances that stand out for Hromyak.
• The baseball team reaching the PIAA State Championship game in 2003 in a game that featured current Lehighton High School Athletic Director Kyle Spots as the starting pitcher that day.
• The baseball team's PIAA state playoff victory over Jersey Shore at King's College in 2014.
• The football team's postseason run this season that included a District 11 championship game victory over North Schuylkill and two state tournament game victories.
"I can probably come up with a dozen more games that our teams played that I remember vividly," said Hromyak. "Some wins and some heartbreaking losses. But all of them memorable.
"But as you can tell by my list, I think it's been the individual performances that have stood out the most. When you have individuals winning state championships like we have had in my time here, that is hard to top."