Raiders' McCarroll remembers 2008 girls soccer team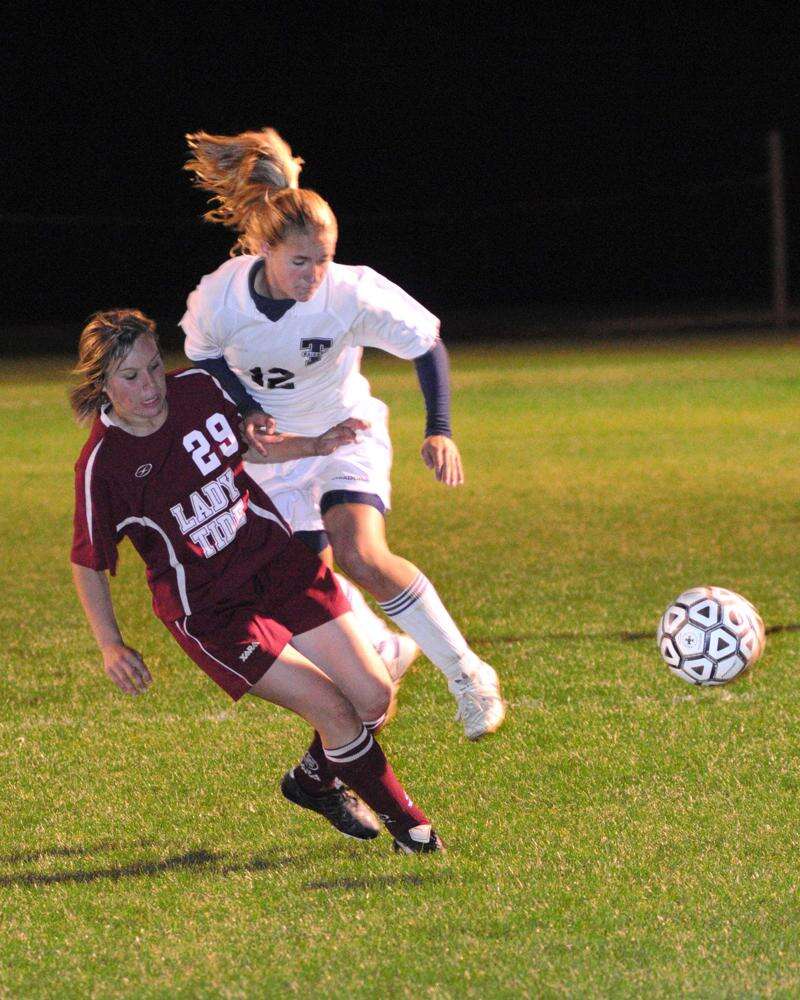 Published April 06. 2020 11:43AM
(EDITOR'S NOTE: The Times News will be running a series of stories asking area coaches and athletic directors to recall their "Most Memorable" sporting event. Today's Most Memorable moment comes from Tamaqua girls soccer coach Clem McCarroll)
By PATRICK MATSINKO
As Clem McCarroll racks his brain recalling his most memorable moment during his coaching career, he stops.
Surely, McCarroll has many highlights during his tenure at the helm of the Tamaqua girls' soccer program.
The Blue Raiders gave McCarroll two of his greatest memories in 2008.
McCarroll knew the disappointment of coming close to reaching the promised land in the postseason, having lost back-to-back district titles to Minersville in both 2006 and 2007.
After two straight years of coming oh so close, Tamaqua vanquished the Battlin' Miners the following year, with Ali Updike delivering the decisive blow to secure a 3-2 overtime triumph and the Class 2A district title.
"I think that year we were a little more confident because we saw that we were moving up on them," McCarroll said. "Before the game, we brought our previous medals out and said, 'We're tired of finishing second. We don't want these silver medals anymore.'
"Those girls were so fired up; it was like they were walking on a cloud. They were just so fired up, and they knew it was time. You could just feel it."
That marked the first meeting between the two programs since Minersville prevailed 3-1 in 2007.
Updike's game-winner also netted her the school record for goals scored in the process.
"She was such a down-to-earth player, even though she was all-state in track, too," McCarroll said of Updike, who was a state champion in the javelin in 2010. "She was one of those players who didn't really care about the records; she ended up with 88 goals and broke the school record for boys and girls.
"I didn't tell her until she did it; she had no idea she was breaking it. She didn't really care. She was just one of those hardworking players, and she deserved everything she got because she really put the work in at practice and in the gym. She was just a nice, down-to-earth kid. But she had a desire to win."
Updike's mark was topped by Kailee Rottet, who scored 100 goals in a career that spanned 2009-12.
While Updike had no trouble finding the back of the net, she also benefited from a solid supporting cast.
"We had Jess Bensinger on that team, who had 20 goals, and Kayla Hope was a freshman," said McCarroll. "So it was really a three-headed monster. Teams couldn't focus on one player."
Hope finished her career as the school's fourth-leading scorer with 63 goals and tops in assists, dishing out 39 during her career. Bensinger ranks eighth in goals scored with 34.
It took a team effort in the district final, McCarroll said.
"It was 2-2 at the end of regulation, but we were dominating," recalled McCarroll. "We were sort of frustrated at ourselves that we let them get back into it. I was getting ready for penalty kicks, because that's what we would have had if it was still tied after overtime. So in my head, I was thinking about who I was going to put out there.
"But we just came out in that first overtime, I think it was a few minutes into overtime, and we scored. It was pandemonium. Ali had a header off Jess Bensinger's cross from the right side, and she put it right in. It was just an explosion, with people running onto the field; fans were going crazy. It was a good experience for those kids, especially for their first time. We finally got over that hump."
And it didn't stop there.
Tamaqua overcame a 2-1 deficit to rally past Delaware County Christian School 3-2 in a PIAA first-round contest to extend its magical season.
"That was just a bonus," said McCarroll, who has amassed 192 victories during his 16 seasons in charge of the program. "We thought whatever happened in that game was gravy. There was no pressure; they were just playing for the fun of it and the love of the game.
"I think it was that much more satisfying because of that."
The success catapulted the Raiders to new heights, as Tamaqua defeated Minersville 1-0 the following season to defend its district crown.
"It definitely propelled the whole program," McCarroll said of the first district title. "After that, everywhere we went we got respect, and people knew about us. They really appreciated the way the program came up.
"It certainly set the tone, and we showed that it wasn't a one-year fluke. We just kept going no matter what players we had."
But they'll never forget their first.
"The standard is there from that year," said McCarroll. "Everybody knows about it. The players that come out (for the team) know the history of the program. And that's something we talk about.
"They see the banners up there. They were young when it happened, but they've helped to make sure that the program doesn't fall off."