On This Date (March 17, 1986): Irish eyes smile on Jim Thorpe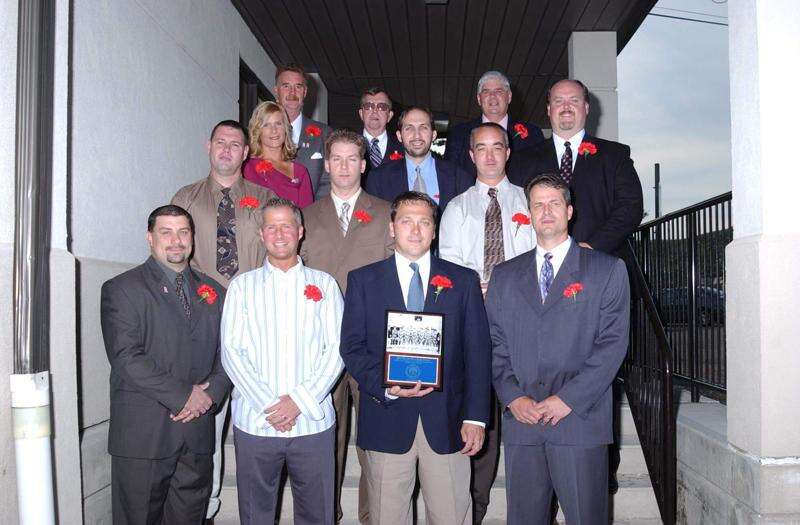 Published March 17. 2020 03:01PM
(EDITOR'S NOTE
: Since May of 1999, the Times News Sports Department has featured an On This Date practically every day, highlighting an event that happened in the past. Starting today, with the coronavirus putting a halt to sports locally and nationally, the On This Dates have been expanded to the stories that actually ran in the next day's newspaper. Today's first On This Date story is from March 17, 1986.)
By Joe Boyle
'Twas a great and glorious night for the Irish everywhere, especially the Olympians from Jim Thorpe, as they cast the magic spell of this year's St. Patrick's Day over a capacity-plus crowd in Weatherly's Middle School gymnasium.
Led by a lad names C-A-R-R-I-G-A-N, and sporting traditional shamrocks on their warm-up jackets, Coach Don McHerman's bouncy bunch of basketeers out of Carbon County made the regional sporting world green with envy last night in defeating Freeland High's Whippets, 72-65, in the 'bully' game of their never-to-be-forgotten five-game 'Series of '86.'
Vic Pituch, Jim Thorpe High School athletic director, announced that tickets for Wednesday night's Class A Eastern final between the Olympians and District 1 champion Bristol, will be sold tonight from 6 to 7 p.m. in his office. Those wishing to purchase tickets must enter the AD's office through the outside door, on the side of the gymnasium facing the football stadium. No tickets will be sold in the gym foyer since Jim Thorpe is hosting a PIAA Girls Class A playoff game.
Tickets will also be available on Wednesday from 8 a.m. to 1 p.m. in the high school principal's office.
Price is $2 for students and $5 for adults.
As is always the case when these two teams meet, it was not an easy task, and the Whippets, down by nine points on two occasions, gave the Red, White and Blue courtiers some very anxious moments before bowing out of the PIAA Class A Tournament.
The victory, sweet as it is, allows the Thorpe team to remain in the thick of the fight for statewide honors, being an Eastern finalist in tomorrow night's clash with District I champion Bristol, an 81-54 winner over Trinity High from Shiremanstown in Cumberland County at Reading High's Geigle Complex at 8:30 p.m.
Appropriate to the occasion, it was the versatile Tommy Carrigan who showed the way to victory land, being the game's top scorer with 22 points. However, that was not his only honor in this thrill-provoking 'run and gun' court combat. He was also top rebounder in the contest with 21 retrieves off the boards, nine on offense and a dozen in a defensive role, being a superbly-conditioned 'Jumpin' Jack' when it comes to going high for the leather.
What's more, he handed off nine assists and had three steals, excelling as well in these departments of play.
But, as was the case Friday, when the Olympians handed previously undefeated Galeton High its first and only defeat of a 26-1 season, the big win in the Wreckers' gym was really a team triumph, with all hands sharing equally in the fruits of victory.
The winners had four players in double scoring figures, Tony Roos and Gino Duffy having finished with 13 each and Mike Kattner, 10. Dave Brown connected for eight and Greg Strubinger, six, with the latter getting all of his tallies during an important second-period rally.
Foul Line Victory
Coach Cas Lasecki's speedsters gave it the old college try and threatened several times to grab the bunting, but the Thorpe boys met these challenges and finished with some all-important late-game foul conversions in sealing the Freeland team's fate.
Five of the Whippets enjoyed the privilege of double digit scoring, paced by their rangy 'Mr. Inside,' Brian Denion. He finished with 16 in front of Brian Ayers, with 14; Joel Tokash and Joe Lapchak, a dozen each; and Mike Gavana 10.
Thorpe's strategy, as has been the case with every team meeting Freeland this year, was to stop Gavana, who can hit with great consistency from the outside when he isn't going to the board on the fast break.
By limiting him to only five field goals, probably his lowest mark of the entire season, the Thorpe defense rates a deep bow from the waist.
True, Freeland was superior in shooting from the field, 30 goals to 27, but the Hermanmen turned in a better score from the free line, making 18-of-30 shots to the Whippets' 5-for-11 finish.
In fact, the foul line nemesis hanuted the Whippets much of the season and this was particularly true in their three losing engagements with the Olympians. This disparity from the gratis marker did not set well with Coach Lasecki.
In his post-game interview, he pointed again to the 'charity' line figures, stating, "We lost from the foul line again."
"I can't understand it," he added, "we foul, I know we foul, but I'm darned sure that other teams also foul."
Pointing to one occasion, during a flurry of combat under the Freeland board, Lasecki remarked, "Take that case of Brian Denion. If he didn't get hit four times, he didn't get hit at all."
Notwithstanding his disappointment over the difference in the foul line picture, he was quick to admit that his team's long-range shooting game was not up to par in the closing half.
"It was just one of those nights," he went on, "we couldn't make a shot from the outside to save our lives." He was referring, ostensiblym to Gavana's relatively shallow shooting night in finishing with only 5-of-17 tries from the field. He was limited to single field goals in each of the first three periods, finishing with two in the finale.
Tokash, too, was hot at first, getting five of his six deuces in the first half, but the Olympian zone defense held him to a single two-pointer after the intermission.
"We won a lot of ball games and had a lot of fun," Lasecki said further, "and we also made it to the Eastern (quarterfinal)," happy as he was with his club's 20-9 finish.
"It's water over the dam," was his final remark in wishing Coach Herman and his boys well in their continuing march to what could be a second state title in the history of the school. Former coach Kenny Kline took the Olympians to that pinnacle in 1962.
Good Luck Omen
Pulling a somewhat wilted shamrock from an inside shirt pocket, Coach Herman was delighted over his team's success, and he credited the bit o' green from the Emerald Island for helping to turn the tide.
"The cheerleaders gave it to me before the game," he smiled while holding the shamrock, fresh from the Treasure Shop in Jim Thorpe, firmly in his hand.
"We're here again!" he exclaimed at the outset of his postgame interview.
"I don't know whether we can still call them - the 'Comeback Kids'," he went on in pointing to the fact that his boys departed from their usual routine by keeping pace with and actually outscoring the Whippets during the first half.
Recalling with a painful expression how thw Whippets roared back after the halftime intermission, Herman credited his unit with maintaining their cool and then finishing off the losers with some good late game foul shooting by Roos, Carrigan and Kattner. Tony was four-for-four during the final eight minutes, Carrigan having clicked for two out of four and Kattner, two-for-two. Duffy and Brown chipped in with one each during that dash to the finish line.
Of rebounding, Herman said the Whippets "hurt us at times, but at other times, we did a good job off the boards." The Olympians handled 14 offensive and 27 defensive rebounds for a grand total of 41, compared to Freeland's 12-17-29 totals on that facet of play.
"Our kids certainly deserve a lot of credit; they have come a long way," he stressed in pointing to the intensity of the game and its give-and-go scenario all night long.
Herman spoke, too, of how the Whippets' press hurt his players, slowing their tempo and allowing the opposition to grab some midcourt steals.
Stopping the Freeland team's outside shooting in the closing half proved to be the "big turning point," the Thorpe coach explained, saying, "I can't say enough for our kids in their great defensive effort."
On a final note, he said, "It's a great feeling to win this one. It's great for the kids and it's great for our town. For everyone involved here tonight, it's a super win. Gavana Scored First
The Whippets scored first when Gavana hit on a jumper from the left side of the keyhole as the clock showed 7:19 left in the opener. Roos went coast-to-coast to knot the count at 6:29, and it was give-and-take from that point on, with no less than six ties before the quarter ended with the Olympians out in front, 17-13. Roos and Carrigan were the big guns in the opening flurry with three field goals apiece.
Strubinger, demonstrating some of the brilliant corner shooting he exhibited in canning 22 points during the opening game of the series at Freeland, connected for three deuces in the second period, teamming up with Carrigan, Kattner and Duffy as the Olympians took a 39-30 lead into the dressing quarters at halftime.
Tokash and Denion were keeping the Whippets in the ball game up to this point, both having meshed three goals before the rest period.
When play resumed, Ayers, a substitute off the bench, found the range and gave the Olympians 'fits' with his strong inside shooting game. His three third period goals sparked the Whippets as they played catch-up basketball, knotting the count at 39 before Carrigan's only goal of that session. In short, the Olympians were shut down for almost four and a half minutes.
It was tied again at 41 and Carrigan was now in trouble with his third personal violation. Tokash, however, was in even greater difficulty with four, and he had to be yanked with 2:11 left in the third, remaining in a non-combat role until the start of the last period.
Carrigan hit on two fouls in giving his mates a 45-41 lead and it soon went to 48-41, thanks to free throw coversions by Kattner and Brown. Shortly thereafter, the Olympians had their second nine-point bulge, leading 54-45, going into the last period of play.
It was a horse race from that point forward, but the Thorpe boys were now taking advantage of the whistle, having made 10 of 16 tries from the gratis line, and this proved to be the common denominator in deciding the outcome.
FOLLOW THE BOUNCING BALL: Randy Rabenold of the JT coaching staff, spoke of St. Patrick's Day before the game, recalling the Olympians' victory over Darby Township during the 1966 campaign. "It was 20 years - to the day - that 'Rader's Runts' won that one at St. Joseph's gym, Hazleton, going to the Eastern PIAA finals," commented Mr. Olympian Spirit. He was referring, of course, to the coaching tenure of Phillip 'Pip' Rader ... Coach Don Herman brought his squad to the Weatherly gym at 7:15 p.m. and 'The Zoo' fraternity/sorority gave them a first class welcome. "we didn't have to be there too early," added the Thorpe coach, "because after all, we did have reserved seats." ... The Middle School gym was really a 'hot box' during the preliminary Marian-Wallenpaupack contest, colling off somewhat after some of the first game fans moved out ... Coach Judy Romanisko of the Olympian school's cheerleading corps spoke of how her 'Spirit' gals fashioned the shamrocks worn by the team members as an appropriate St. Patrick's Day motif ... Thorpe made 27-of-41 shots from the field to Freeland's 30-for-64 marks ... Bristol, Thorpe's opponent tomorrow, hails from Bucks County and is known as the 'Warriors.' They sport red and gray colors, having won the Lower Bucks County Section II League ... Bristol defeated Shirmanstown from Cumberland County ... Those Shamrocks bowed on St. Patrick's Day ... Horrors! ... Bristol has a 24-3 record to Thorpe's 22-6. Its losses were to John F. Kennedy High, Willingboro, N.J., and Springfield, Montgomery County ... High scorer is 6-3 senior Wayne Keys, a forward who has been averaging 17 to 20 a game. Other players are 6-3 senior forward Darren Bell; junior pivotman Charles DeShields, 6-4; and guards 5-9 Chuck Andrews and Rob Perry, 6-1, both seniors.
JIM THORPE
Roos 4-5-6-13, Strubinger 3-0-1-6, Carrigan 9-4-8-22, Searfoss 0-0-1-0, Kattner 3-4-4-10, Sheckler 0-0-0-0, Duffy 5-3-4-13, Brown 3-2-6-8. TOTALS: 27-18-30-72.
FREELAND
Gavana 5-0-0-10, Tokash 6-0-0-12, Denion 7-2-5-16, Lapchak 5-2-4-12, Carr 0-0-0-0, Ayers 7-0-0-14, Antolick 0-1-2-1. TOTALS: 30-5-11-65.
Jim Thorpe 17 22 15 18 - 72
Freeland 13 17 15 20 - 65
Officials: Ligenza and Welsh.