Palmerton buildings are seeing a rebirth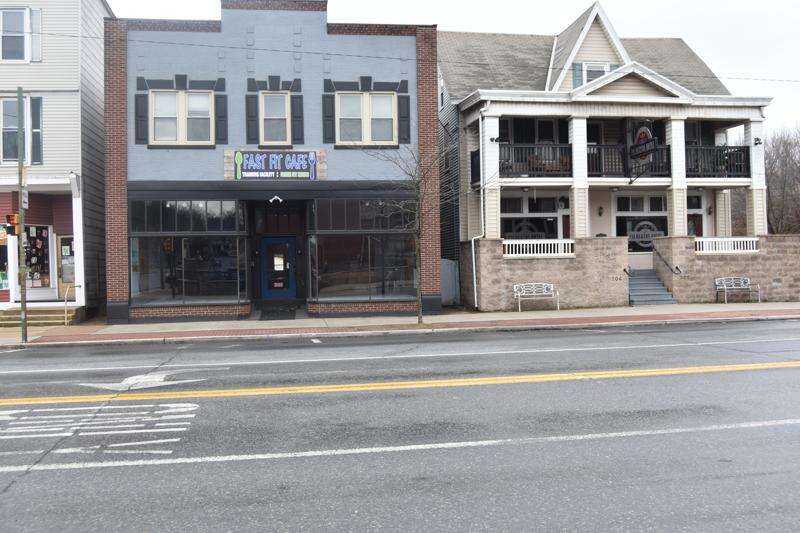 Published March 14. 2020 07:21AM
by Terry Ahner tahner@tnonline.com
They're two buildings located smack dab in the heart of Palmerton's historic downtown.
One looks to re-establish itself, while another is set to receive a complete makeover.
In November, the Fast Fit Cafe expanded into the business next door, The Palmerton Hotel at 302-304 Delaware Ave.
But, just as owners began consolidating the two businesses, Fast Fit Cafe closed in January, and The Palmerton Hotel followed.
At that time, Jim Christman, the owner of the properties, posted on Facebook that the previous tenants decided to leave and each business was up for lease.
But that was then.
This is now.
Music school to open
Dustin Rehrig, founder of DDE Entertainment, leased the building at 306 Delaware Ave. and plans to convert it into a music school.
"I've always wanted to start a music school, and Palmerton has always been a special town to me," Rehrig said. "I was having a Palmerton Festival meeting with Sue Arner at Bert's Cafe when I asked her if she knew who owned the Fast Fit building; she said she did and would call him. Five minutes later we toured the building and began the leasing process."
Rehrig said he, his wife Beth, and their daughter April, are all involved with the project. April will be in charge of daily operations, scheduling and the store's employees, while Beth and Dustin will oversee the business operation and put their efforts into the building fit out along with marketing.
"We are also hiring a husband and wife teaching team that we have been friends with for over a decade," he said. "They will be in charge of hand picking our teachers based on our business model."
Rehrig said he hopes to open the music school around June 1.
In the meantime, he said the entire downstairs of the building will be gutted, and individual studios will be built along with a waiting area, receptionist and a small amount of products for sale such as drum sticks, guitar picks, music books and cables.
Rehrig said the music school will consist of one-on-one music lessons; summer camps; and famous musician/music professional clinics.
He said it will be open to all adults and children who are old enough to read and write.
Rehrig said the plan is to be open seven days a week provided the demand is there, and anticipates around 20 employees once the business is fully up and running.
He said his dream has always been to start a music school where learning is fun for all.
"Whether it's your children you want to learn a specific instrument, or you as an adult just want to learn a few songs on acoustic guitar to play for your friends around the campfire, we have you covered," he said. "Our teachers will be professional musicians with real world touring experiences."
In addition, Rehrig said they plan to have summer camps for younger children, lessons of all types, and even once-a month-special concerts for their live performance groups.
"The upstairs of the building will have a stage and over 100 seats for parents to come and watch their children perform, along with clinics and special smaller type shows," he said. "We plan to make this building fun for everyone; something the whole town can be proud of."
Hotel rooms remodeled
Christman explained that there have always been furnished rooms for rent atop The Palmerton Hotel.
"For all of the years of our ownership, the tenant for the bar/restaurant leased the entire building, including the second floor rooms," Christman said. "The rent payments received for the rooms were 100% the bar/restaurant business owners to keep, as was the responsibility of room upkeep and maintenance."
Christman said the rooms were in good shape at first, but over the years they fell into disrepair. When the last bar/restaurant tenant left, he said they decided to go in and bring the rooms back to life.
"They were due for renovation, and since we do not yet have a bar/restaurant tenant, it was the perfect time to do it," he said. "They're hotel rooms without kitchens, and are furnished like most hotels. Although we've had may long-term tenants over the years, the rooms are really ideal for people who need a place to stay for a few weeks or months."
Christman said he believes the music school will flourish next door at 306 Delaware Ave.
"I believe Dustin has a great head for business, passion for music, and a wonderful, supportive family," he said. "So my hope is a thriving business for him at that facility."