Family keeps doughnut tradition alive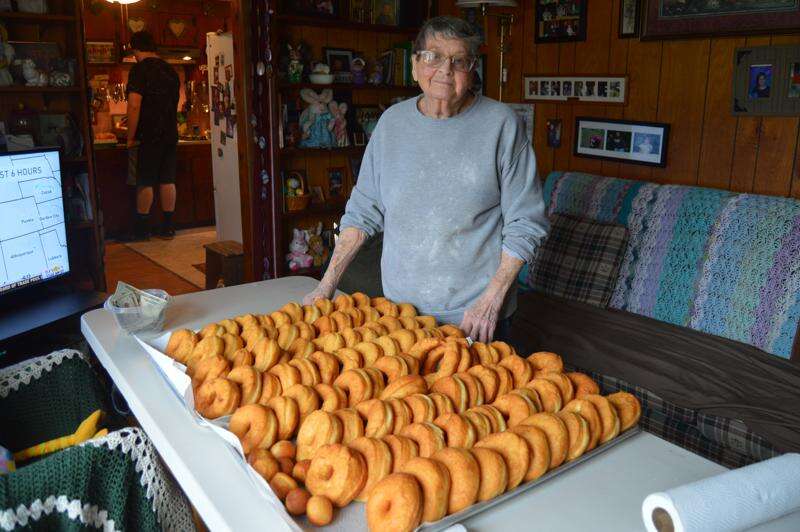 Published February 26. 2020 12:15PM
Walking into Sue Mermon's kitchen on the Tuesday before Lent, you can't help but notice the smell of fresh doughnuts.
At Mermon Farms, near Lehighton, Sue and her family have been preparing homemade fasnacht doughnuts for decades. They are continuing a tradition which originated in Europe hundreds of years ago, and continued here with the Pennsylvania Dutch.
Through word of mouth and some roadside signs, they've built a loyal base of customers, many of whom return each year on doughnut day.
"She's the best baker in Carbon County, Grandma. She takes pride in what she does. Grandma knows how to bake," said Nino Caruso, a longtime customer.
The tradition of fasnacht day began in Germany as a way to get rid of rich foods like butter and sugar before Lent. Other cultures have their own spin, like pancakes in England or King Cake in New Orleans.
Mermon first started making doughnuts with her mother. These days, she makes her yeast-raised doughnuts with her children and any other family members who are available to help.
Customers can pick up the doughnuts just minutes after they are taken out of the fryer.
"You can't get much fresher than that," said Jean Sherry, Mermon's daughter.
The doughnuts are a once-a-year tradition, but the farm keeps busy the rest of the year with eggs, produce and animal feed. At the holidays, Sue will bake pies for some of her same customers.
Mermon doesn't have to look far for her doughnut making team. She and her husband, Gene, share a home with son Gene Jr., and Jean Sherry lives just around the corner. This year, they were assisted by Sue's great-grandson, Chris Martens.
"It's over the river and through the woods to grandma's house," Sherry said.
Everyone in the family knows to keep their calendars open on Fat Tuesday so they can help Sue make the doughnuts.
Sue Mermon combines the ingredients, including eggs from Mermon Farms chickens, and mixes by hand. Then Gene Jr. transfers them into a commercial bread mixer.
"I'll get the basic mix together, my son takes it out to the mixer and we finish it off," she said.
The mixed dough takes about 15 minutes to rise.
Gene Jr. and Jean roll out the dough and use a cookie cutter to make the rings and holes.
"He's the one who rolls and cuts, and she's the one who takes it back and forth, and the great-grandson's the fryer," she said.
In a little over four hours, they made 40 dozen doughnuts. In past years, they have made as many as 90 dozen — more than 1,000 doughnuts.
They're cooled before Sue bags them up for customers.
When the work on the doughnuts is done, there's a trail of flour following the bakers around the house. They joked that that's when the real work begins.
"The worst part is cleaning up the mess. But I like doing this kind of stuff," Sue said.
Mermon Farms is located on Stewart Farm Road, near the Mahoning Valley Nursing and Rehabilitation Center. They take orders for fasnachts starting a few weeks before the holiday. Orders can be placed by calling 570-386-5524.