Raiders' Strouse is 2A champion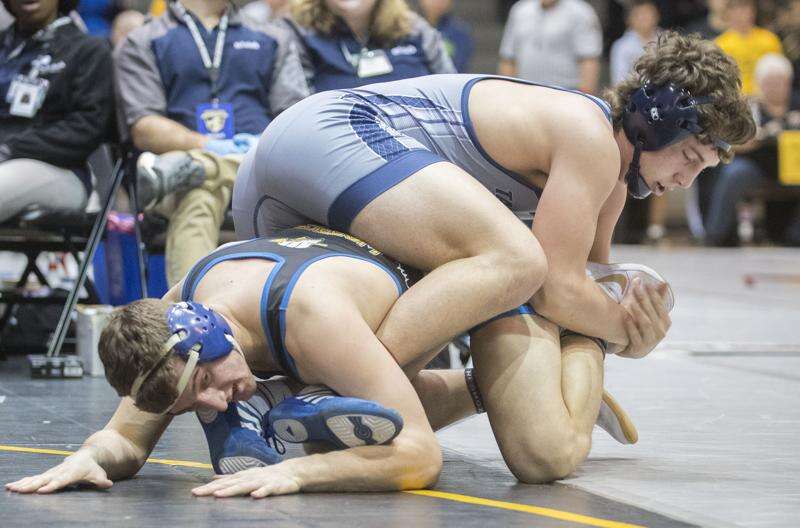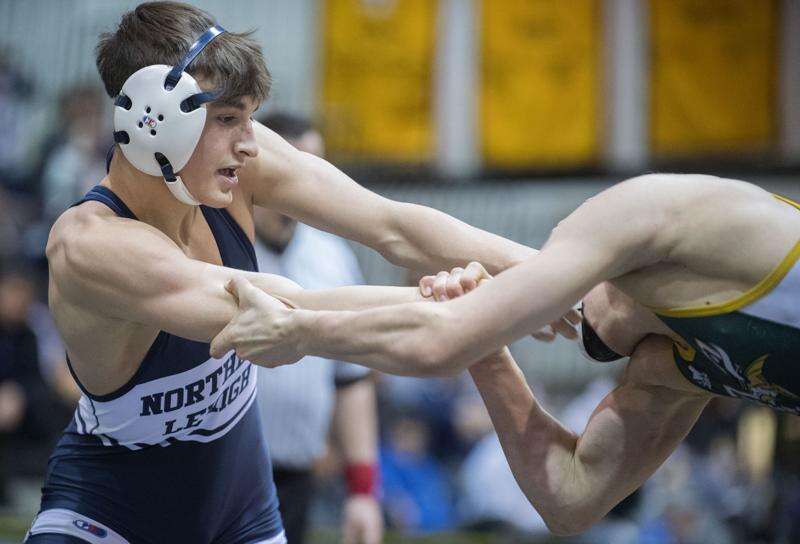 Published February 24. 2020 12:59PM
by Patrick Matsinko pmatsinko@tnonline.com
BETHLEHEM – Maybe Bronson Strouse let it soak in a little bit longer.
Sitting in the foyer outside Liberty's Memorial Gymnasium, Strouse appeared at ease.
And why wouldn't he be? The Tamaqua senior had just notched his second straight District 11 title, making a statement with a 7-1 decision over Northern Lehigh's Joshua Schaffer in the Class 2A 285-pound final that he's ready to make another deep postseason run.
But Strouse won't rest on his past successes. It's what drives him to be better.
Even against Schaffer.
"It feels great," said Strouse. "I wish I got the pin, but it didn't happen.
"But I feel great. If someone shoots on me, I'm just going to block it, get the two and put them to their back. But going three periods does help with those tougher matches that are coming down the road."
Strouse needed just 17 seconds to pin North Schuylkill's Ryan Weitz in the 285-pound final a year ago.
He was aggressive off the whistle against Schaffer, scoring the first points in the first 30 seconds to take command of the match.
"I think he's more willing to control himself on the mat so he can focus on scoring points instead of things that in the past had bothered him," said Blue Raiders' head coach Jim McCabe. "I think he's matured tremendously."
Strouse, who was seeded second in the Class 2A tournament, has shown an ability to bounce back from tough situations — and tough losses — throughout his career.
"I guess your ultimate goal is to be the district champ, but the most important thing is to look at your first opponent and take it one match at a time, and not worry about what other people are doing, or what's happening throughout the tournament," said McCabe. "Just stay focused on the current match, and if you're successful enough to go on to the next match, you focus on that match alone, and not anything else.
"And I think he has matured tremendously over the last three years. I don't think he's afraid to lose anymore. I don't think he's afraid to take a shot and give up a takedown. In the semifinals, he took a shot and got taken down by Wilson's Roger Russell, but he escaped, turned it right around and hit a high crotch and capitalized on a takedown."
Strouse won that match 4-3 to punch his ticket to the finals.
"And that's what I've been trying to tell him," said McCabe. "If you take a shot and give up a takedown, it's OK. Just escape, and then you capitalize on another shot."
Strouse was happy to strike first and fast against Schaffer, though he knows there's still room for improvement.
"I went at it the first two periods, and got gassed in the third period," he said with a smile. "So I just have to keep my conditioning up working with Garth Lakitsky, and hope to get better for regionals."
Schaffer, who was seeded fourth, enjoyed a breakout tournament, one that came with a pin in 5:00 over top seed Derek Hunter of Jim Thorpe in the semis.
Hunter had beaten Strouse twice leading up to the district tournament, and pinned Schaffer last month at the Coal Cracker Tournament.
"I am very happy with what I did," said the junior. "From not placing last year to taking second, I think I did really well. I could have done better in the final match, but I made it to next week, and we'll see what happens from there."
Schaffer's progress has been evident throughout the season, and was on full display over the two days of wrestling at the district tournament.
"I'm just really glad that he got in that position, that he won that match in the semifinals," said Bulldogs' head coach Scott Snyder. "I know he went out there and lost to Strouse … but it's just about being there and having the experience, knowing he belongs there now, and he's kind of making a name for himself.
"And just the effort he gave. He wasn't really close on scoring, but he was pushing. He didn't give up, he didn't have any quit in him. He has nothing to hang his head about. Getting into the finals put him in a better position heading into regionals, and right now he might not see it, but I really think if you look at the big picture, it's looking up for him."
Snyder hopes the effort serves as a blueprint for more success moving forward.
"Just having the right mentality is big going into next week, because we can go back to the drawing board now as coaches and can work with him all week one-on-one and brush up on some things," said Snyder. "And maybe they see each other again. Maybe he closes the gap on him. Maybe he beats him. I don't know, but it's exciting to know that we have something to work with now, because we've seen them wrestle."
Snyder also got a great effort from Trevor Amorim, who reached the 145-pound final as the third seed. Despite losing by technical fall (18-2, 4:13) to top seed Thomas Spirk of Saucon Valley, Amorim flashed the same skills and signs of progress that dotted Schaffer's run to the final.
"It was really exciting to watch," said Snyder. "I feel like, to be put in this position as a sophomore, in his second season wrestling varsity, to be in a district final, I was really proud of him for that.
"I think he wrestled a good tournament. I often think as a high school wrestler, each kid has this defining moment, or that big match that makes them feel like they belong. And I felt like the semifinal match with (Central's Christopher) Clifford was his match. He's a senior, the No. 2 seed, and Trevor really had never wrestled that big match; that really put him on the map, or put his name out there."
Amorim made his presence felt with a 2-1 (UTB) victory over Clifford to reach the final.
"It was really exciting to see him go and get that win, and see how excited he was, and see him really buy into it a little bit," said Snyder. "I feel like now he feels like he belongs there, and regardless of what happened in the finals, to me the big takeaway is that Trevor now has an identity, and he just did a really good job of handling that moment."
And it was all Amorim could have asked for.
"Honestly, for me to make it into the finals, it was such a great experience," he said. "In the semifinals, the deepest I've ever had to dig in a match. I've never been more tired in my life, but I came out with a win, and I persevered.
"I set goals for myself all the time, and I'm always thinking about that through everything. I do everything I can to reach those goals. And that's all I'm thinking about in tough matches like that."
MOVING ON … Jim Thorpe's William Schwartz (113), Lehighton's Lucas Sangiuliano (132) and Richard Fronheiser (170); Northwestern's Harrison Bernhard (145) and Ryan Haverkamp (182); and Tamaqua's Aaron Coccio (138), Caleb Sell (152) and Nate Wickersham (182) all advanced to the Southeast Regional Tournament with top four finishes.
CHAMPS … Saucon Valley won the 2A team title with 275.5 points ahead of Notre Dame Green Pond (246.5). Wilson (170.5) was third, followed by Tamaqua (111) and Pen Argyl (99.5). Lehighton (79) was sixth, while Northwestern (78) finished tied for seventh. Jim Thorpe (59.5) was 14th, followed by Northern Lehigh (58) in 15th.
UP NEXT … The Class 2A Southeast Regional Tournament will be held Friday and Saturday at Freedom High School.
CHAMPIONSHIP FINALS
106
- Evan Maag (Notre Dame-GP) dec. Jaryn Hartranft (Catasauqua), 9-4.
113
- Brett Ungar (Notre Dame-GP) pinned Connor Nicholas (Saucon Valley) in 1:53.
120
- Brandan Chletsos (Notre Dame-GP) pinned Michael Myers (Williams Valley) in 5:34.
126
- Ryan Crookham (Notre Dame-GP) tech. fall David Kreidler (Central Catholic), 20-4 (3:34).
132
- Christopher Arciuolo (Saucon Valley) dec. Joshua Bauman (Notre Dame-GP), 5-2.
138
- Holden Garcia (Notre Dame-GP) dec. Jacob Jones (Saucon Valley), 5-0.
145
- Thomas Spirk (Saucon Valley) tech. fall Trevor Amorim (Northern Lehigh), 18-2 (4:13).
152
- Benjamin Haubert (Palisades) dec. Tyler Pfizenmayer (Saucon Valley), 6-0.
160
- Andrew Cerniglia (Notre Dame-GP) tech. fall Anthony Micci (Wilson), 17-1 (3:54).
170
- Mathew Arciuolo (Saucon Valley) tech. fall Jacob Scheib (Tri Valley), 20-5 (2:58).
182
- Dane Csencsits (Saucon Valley) pinned Alec Snyder (Wilson) in 4:29.
195
- Danny Lawrence (Mahanoy Area) pinned Jason Sine (Notre Dame-GP) in 2:59.
220
- Kolby Flank (Wilson) pinned Joe Tinari (North Schuylkill) in 2:42.
285
- Bronson Strouse (Tamaqua) dec. Joshua Schaffer (Northern Lehigh), 7-1.
THIRD PLACE
106
- George Pultz (Pen Argyl) major dec. Cade Schneck (Pine Grove), 15-6.
113
- William Schwartz (Jim Thorpe) tech. fall Tyler Slotterback (North Schuylkill), 16-0 (4:10).
120
- Travis Riefenstahl (Saucon Valley) def. Austin Brett (Catasauqua), 4-2 (1:18).
126
- Lucas Buskirk (Pen Argyl) dec. Cael Markle (Saucon Valley), 5-4.
132
- Chase Esterline (Williams Valley) dec. Lucas Sangiuliano (Lehighton), 9-5.
138
- Attikos Clifford (Central Catholic) major dec. Aaron Coccio (Tamaqua), 8-0.
145
- Christopher Clifford (Central Catholic) dec. Harrison Bernhard (Northwestern), 4-0.
152
- Caleb Sell (Tamaqua) pinned Ashtyn Berberena (Wilson) in 4:20.
160
- Gavin Harris (Pine Grove) pinned Ty Csencsits (Saucon Valley) in 4:24.
170
- Cayden Trimmer (Wilson) dec. Richard Fronheiser (Lehighton), 3-2.
182
- Nate Wickersham (Tamaqua) tech. fall Ryan Haverkamp (Northwestern), 17-1 (5:00).
195
- Braydyn Lugardo (Saucon Valley) pinned Adam Reinhart (Catasauqua) in 2:49.
220
- Aiden Compton (Pen Argyl) pinned Eshan Swartz (Notre Dame-GP) in 1:53.
285
- Nicholas Warnke (Saucon Valley) dec. Roger Russell (Wilson), 2-1 (TB2).
FIFTH PLACE
106
- Ermal Duka (Saucon Valley) def. Brenden Smay (Northern Lehigh) by forfeit.
113
- Nicholas Zeigenfuss (Lehighton) dec. Eli Dellicker (Northwestern), 9-6.
120
- Ashton Campbell (Palisades) dec. Danny Grigas (North Schuylkill), 2-0.
126
- Blake Sheridan (Wilson) dec. Gavin Fehr (Catasauqua), 6-3.
132
- Dustin Hunara (Wilson) dec. Dennis Lombardi (Palmerton), 5-2.
138
- Devon Alder (Salisbury) dec. Lorenzo Reto (Pen Argyl), 7-4.
145
- Cesear Rivera (Mahanoy Area) major dec. Mason Smeland (Palisades), 16-4.
152
- Lucas Miller (Northwestern) dec. Gannon Brinker (Pen Argyl), 6-0.
160
- Shawn Gardner (Palmerton) def. Daniel Kelleher (Palisades), 4:50 by disqualification.
170
- Carson Krell (Tamaqua) dec. Jared Blobe (Notre Dame-GP), 6-0.
182
- Alexis Perez (Mahanoy) dec. Alex Zigenfuss (Lehighton), 3-2 (TB2).
195
- Austin Wickham (Wilson) maj. dec. Dakota Graham (Pen Argyl), 8-0.
220
- Kendall Herron (Jim Thorpe) dec. Brett Gasker (Lehighton), 3-1 (SV).
285
- Derek Hunter (Jim Thorpe) pinned Jared Spalti (Schuylkill Haven) in 0:43.