Hunter, Lombardi earn No. 1 seeds in Class 2A wrestling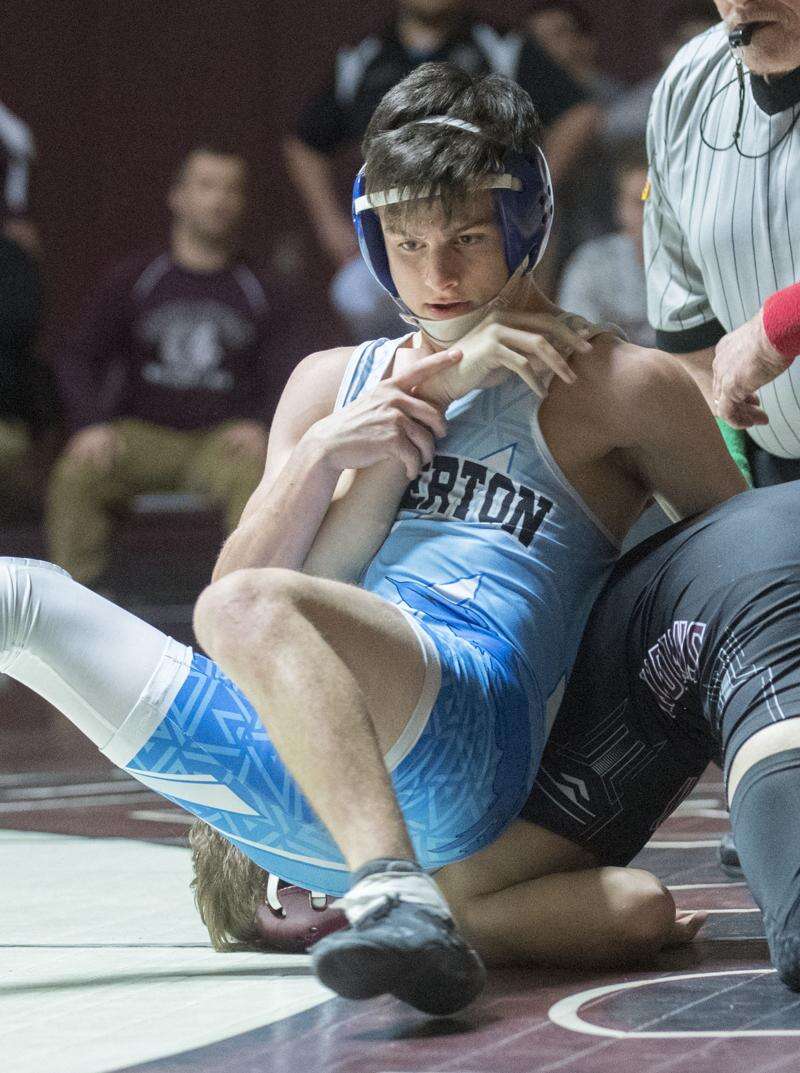 Published February 20. 2020 01:51PM
by Patrick Matsinko pmatsinko@tnonline.com
Championship season has arrived.
The annual District 11 Wrestling Tournament is set to get underway tomorrow night, with Class 2A teams heading to Freedom High School and 3A squads converging on Liberty.
It's an opportunity to make a statement – one that many hope will last all the way to Hershey.
Jim Thorpe's Derek Hunter and Palmerton's Dennis Lombardi earned top seeds among area wrestlers. Hunter is seeded first at 285 pounds, while Lombardi grabbed the top spot at 132.
A state qualifier for the first time a year ago, Hunter (30-2) has been stellar throughout the season, capturing his second straight title at the Coal Cracker Tournament last month. The junior, who was third at last year's district tournament, has not lost since dropping a 3-1 decision to Tamaqua's Bronson Strouse in the Schuylkill League final in January, going 10-0 during that stretch.
Strouse (30-3) has been equally impressive throughout the season and is seeded second. The senior is the reigning 285-pound champion, and a state qualifier the past two seasons.
Lombardi (19-7) had a strong showing at the Coal Cracker as well, where he decked top seed Michael Bluhm of Lackawanna Trail in :50 in the quarterfinals. Lombardi finished the tournament with a 5-3 decision over Pen Argyl's Lorenzo Reto in the third-place match.
The sophomore was sixth at districts a year ago.
Jim Thorpe's William Schwartz (113), Northwestern's Tyler Watson (160) and Lehighton's Brett Gasker (220) are all seeded second in the Class 2A bracket.
Northern Lehigh's Brendan Smay (106) and Trevor Amorim (145), along with Tamaqua's Nate Wickersham (182), are seeded third. Tamaqua's Caleb Sell (152), Palmerton's Matt Lalik (170) and Northern Lehigh's Josh Schaffer (285) are seeded fourth.
Tamaqua's Aaron Coccio (138), Northwestern's Harrison Bernhard (145), Palmerton's Shawn Gardner (160), Lehighton's Richard Fronheiser (170) and Alex Zeigenfuss (182) and Northern Lehigh's Jason Hunter (220) are all seeded fifth.
Four wrestlers will advance to regionals from the Class 2A tournament. The Southeast Regionals will be 12 wrestlers per weight class. Five wrestlers will receive medals in 2A at districts, and the winning school will also receive the team trophy.
In addition to Strouse, Jim Thorpe's Ethan Mordaunt also collected his first district title a year ago, a win that served as a launching pad through the postseason.
Olympians' head coach Shawn Albert hopes his wrestlers can follow a similar path this year.
"I expect our wrestlers to go out and compete," said Albert. "They are ready for this weekend's district tournament. We need our guys to wrestle relaxed, but also confident in their abilities. I expect guys like Derek Hunter, Kendall Herron, and Will Schwartz to build from their performances last year as placewinners. In addition, guys like Gabe Heaney, Jared Newhall, and Caleb McDermott are poised to take the next step. All in all, we look forward to hard work paying off and growing as individuals. If growth is shown, we'll have wrestlers getting ready for regionals this time next week."
In Class 3A, Pleasant Valley's Alex Womack (160) is seeded third, while Chris Frable (195) earned the fifth seed. Everett Lata (113) is the No. 7 seed, while Josh Griffith (106) and James Syracuse (152) are seeded eighth.
Five wrestlers will advance to regionals from the Class 3A tournament. The Northeast Regionals will be 14 wrestlers per weight class. Six wrestlers will receive medals in 3A at districts. The winning school will receive the team trophy.
******
WRESTLING NOTES
LAST YEAR
… Tamaqua's Bronson Strouse and Jim Thorpe's Ethan Mordaunt captured District 11 titles in last year's Class 2A tournament. Mordaunt posted a 6-2 decision over Wilson's Kolby Flank at 220 pounds, while Strouse pinned North Schuylkill's Ryan Weitz in 17 seconds in the 285-pound final.
In addition to Strouse and Mordaunt, Northwestern's Jake Dellicker and Lehighton's Logan Pagotto also advanced to the championship finals. Dellicker fell 9-2 to David Kreidler (Central Catholic) in the 113-pound championship bout, while Pagotto lost 7-1 to Williams Valley's Chett Pesta in the 152-pound match.
Jim Thorpe's Derek Hunter (third, 285) and William Schwartz (fourth, 106), Lehighton's Alex Zeigenfuss (third, 195), Lucas Sangiuliano (fourth, 126) and Chris Whiteman (fourth, 145), Northwestern's Will Dellicker (fourth, 160), and Tamaqua's Aaron Coccio (third, 132) and Nate Wickersham (third, 170) all advanced to the Southeast Regional tournament with top-four finishes at districts.
Northwestern also won the Lehigh Valley Chapter of Wrestling Officials Archie Leigh Memorial Sportsmanship Award for the 2018-19 season.
******
SCHEDULE OF EVENTS
... Below is the schedule and information for this weekend's District 11 wrestling tournament:
FRIDAY
(Class 2A at Freedom, 3A at Liberty)
Session I
Pigtails and Preliminary Round 4 - 6:30 p.m.
Session II
Quarterfinals 6 – 8 p.m.
First Round Consolation 8 – 9:30 p.m.
SATURDAY
Session III
Second Round Consolation 9 – 10:15 a.m.
Semifinals and Third Round Consolation 10:30 a.m. – 1 p.m.
Fourth Round Consolation 1 – 2 p.m.
Session IV
Consolation Finals (third, fifth) 4 - 5:15 p.m.
Parade of Champions 5:30 p.m.
Finals 5:45 p.m. (2A/3A Finals, two mats at Liberty High School).
Ticket prices are as follows:
Friday
Adults - $7, students/senior citizens $4
Saturday
Semifinals
Adults - $7, students/senior citizens $4
Consolation finals and championship finals
All tickets $7
A special ticket package for all sessions will also be available, and will cost $20 for adults and $!4 for students and senior citizens.
The Class 2A Southeast Regional Tournament will be held Feb. 28-29 at Freedom High School. The 3A event will take place on the same dates at Liberty.
******
D-11 JV TOURNAMENT
… Four area wrestlers recently earned medals at the 2020 District 11 Ray Nunamaker Memorial Junior Varsity Classic.
Pleasant Valley's Eddie Iauritsen recorded a third-place finish at 113 pounds, the best among area wrestlers. After losing his opening bout Iauritsen won five straight matches in the consolation bracket.
Palmerton's Isaac Ramos captured a fifth-place medal at 132 pounds. The Blue Bomber won his first two matches, but then lost in the semifinals and the consis. Ramos rebounded with a victory in the fifth-place bout.
Tamaqua's John Buday (170) and Panther Valley's Jordan McColgan (220) both finished sixth in their respective weight classes.
******
SIGN OF THINGS TO COME?
… Northwestern recently crowned three champions at the Colonial League Junior High Wrestling Tournament.
Daulton Clymer, Dartanyon Delilo and Andrew Spatz all won their weight classes at the annual event.
Clymer registered three pins to win the title at 130 pounds, including a fall in the championship bout at 2:42.
At 170, Delilo posted a major decision before using two pins to earn the championship. His fall in the title bout came in 1:12.
Spatz came through with two pins at 210 to give the Tigers a third champion.
Northwestern's Jackson Bailey (138) and Eli Johri (250) both finished second in the tourney, as did Northern Lehigh's Alexander Jiminez Wittong (170) and Lucas Farmer (190).
******
GETTING BACK ON TRACK
… Panther Valley does not have any wrestlers in this week's rankings, and the Panthers enter the postseason with just three wrestlers on the roster. Jonathan Byers (9-15), Brendan Allen is (10-14), and Jordan McColgan (8-17) will lead the squad into this weekend's district tournament.
While the season certainly hasn't gone according to plan for head coach Zane Bachert, the second-year mentor is optimistic the program can return stronger next year.
"I am hoping they can continue to build and fight for some wins this weekend," said Bachert. "It will be a good experience for them as all three are first year on varsity, and only McColgan has any experience prior to this year."
McColgan was also sixth at the District 11 JV Tournament.