Movie review: 'Bombshell' lives up to title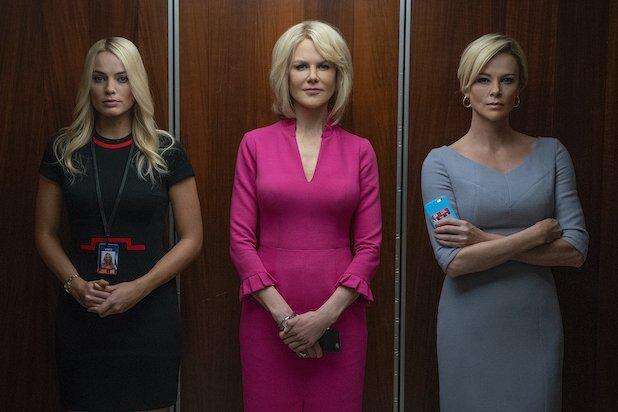 Published February 19. 2020 12:42PM
The title of the movie, "Bombshell," might remind classic movie buffs of 1940s pinup star Betty Grable, movie star Jane Russell, or 1950s Hollywood movie icons Marilyn Monroe and Jayne Mansfield.
There are several movies with the title, "Bombshell," going back to 1933, and including at least four other feature movies.
And there was "Bombshell: The Hedy Lamarr Story" (2017). Lamarr, a Hollywood movie star, is credited with helping develop radar systems during World War II that are said to have led to the development of the internet.
The latest "Bombshell" is a biographical drama nominated for three Oscars in the 2020 awards, including Actress (Charlize Theron), Supporting Actress (Margot Robbie) and Makeup and Hairstyling (winning for Kazu Hiro, Anne Morgan and Vivian Baker).
"Bombshell" refers to accusations of alleged sexual harassment against former Fox News CEO Roger Ailes, who died in 2017.
The accusations dropped like a bombshell in 2016 at Fox News and in the media business, a harbinger of the #MeToo movement, alleging sexual harassment and assault in the entertainment business and media workplace.
In "Bombshell," Charlize Theron stars as Megyn Kelly, Fox News anchor (2004-17).
Margot Robbie plays Kayla Pospisil, a fictional employee at Fox News.
Nicole Kidman plays Gretchen Carlson, co-host of Fox News "Fox and Friends."
Each of the three women, according to "Bombshell," bring charges of sexual harassment against Ailes.
"Bombshell," directed by Jay Roach ("Trumbo," 2015; "The Campaign," 2012; "Meet the Fockers," 2004; "Austin Powers" movies, 1997, 1999, 2002) with the screenplay by Charles Randolph (Oscar recipient, Adapted Screenplay, "The Big Short," 2015), is based on the accusations of several female employees of Fox News.
John Lithgow, under a lot of convincing makeup, plays Roger Ailes.
The film also stars Kate McKinnon (Jess Carr, a fictional employee at Fox News), Connie Britton (Beth Ailes, Roger Ailes' wife), Malcolm McDowell (Rupert Murdoch, founder of News Corp., owner of Fox News) and Allison Janney (Susan Estrich, attorney for Roger Ailes).
Fox News and other personalities are numerous in "Bombshell," so numerous that title cards frequently appear on-screen to identify them.
Theron is convincing as Megyn Kelly. Theron is terse and powerful.
Robbie, Kidman and McKinnon are noteworthy.
Lithgow is amazing as Ailes.
"Bombshell" is in the tradition of movies about television, including "Nightcrawler" (2014), "Broadcast News" (1987), "Network" (1976) and "A Face in the Crowd" (1957).
"Bombshell" is a long way from "His Girl Friday" (1940), the newspaper caper starring Cary Grant and Rosalind Russell.
The days of sexual-innuendo infused snappy repartee are apparently long-gone.
Sexual harassment and assaults are a serious problem. It is treated as such, with many long-lasting ramifications.
Former Fox News personality Gretchen Carlson received $20 million in damages in 2016 from Fox Corp.
Fox Corp. paid an estimated $45 million in settlements relating to sexual harassment allegations against Roger Ailes.
Bill O'Reilly of the Fox News TV show "The O'Reilly Factor" was dismissed after an internal investigation.
Fox network co-head Bill Shine resigned over allegations of allowing a hostile workplace at Fox.
That's quite a "Bombshell."
"Bombshell,"
MPAA Rated R (Restricted Under 17 requires accompanying parent or adult guardian. Contains some adult material. Parents are urged to learn more about the film before taking their young children with them.) for sexual material and language throughout; Genre: Biography, Drama; Run time: 1 hr., 49 min. Distributed by Lionsgate.
Credit Readers Anonymous:
"Bombshell" was filmed in Los Angeles. "One Little Soldier" by Regina Spektor is heard during closing credits.
Box Office,
Feb. 14-16: "Sonic the Hedgehog" was game for the Valentine's Day and Presidents Day holiday weekend, opening at No. 1 with a strong $57 million, largest-ever opening for a videogame-based movie, chasing "Birds of Prey: And the Fantabulous Emancipation of One Harley Quinn" from its one-week perch at No. 1, dropping one place to No. 2 with $17.1 million, $59.2 million, two weeks, as the "Fantasy Island" reboot opened at No. 3, with a realistically mediocre $12.4 million, and "The Photograph" didn't provide that romantic selfie, opening at No. 4 with only $12.2 million.
5. "Bad Boys for Life" dropped four places, $11.3 million, $181.3 million, five weeks. 6. 1917" (10 Oscar nominations; three Oscars received) dropped three places, $8 million, $144.4 million, eight weeks. 7. "Jumanji: The Next Level" dropped two places, $5.7 million, $305.7 million, 10 weeks. 8. "Gisaengchung" (original title) aka "Parasite" (Six Oscar nominations, four Oscars received) got an Oscar bump, moving up three places to enter the Top 10 for the first time, with $5.5 million, $43.1 million, 19 weeks. 9. "Doolittle" dropped five places, $5 million, $70.5 million, five weeks. 10. "Downhill" lived up to its title for a Will Ferrell, Julia-Louis Dreyfus vehicle, opening with only $4.6 million. 26. "Bombshell" dropped four places, $125,000, $31.5 million, 10 weeks.
Weekend box office results are based on reporting as of Jan. 26 by the Internet Movie Database and Box Office Mojo websites.
Unreel,
Feb. 21
"The Call of the Wild,"
PG: Chris Sanders directs Harrison Ford, Karen Gillan, Cara Gee and Dan Stevens in the adventure drama. A sled dog struggles for survival in the wilds of the Yukon. The screenplay is based on the 1903 Jack London novel.
"Emma,"
PG: Autumn de Wilde directs Anya Taylor-Joy, Tanya Reynolds, Josh O'Connor and Johnny Flynn in the comedy drama. In 1800s' England, a young woman meddles in her friends' love affairs. The screenplay is based on the 1815 Jane Austen novel.
"Brahms: The Boy II,"
PG-13. William Brent Bell directs: Katie Holmes, Owain Yeoman, Christopher Convery and Ralph Ineson in the horror film sequel. A family's young boy has a lifelike doll named Brahms as a friend.
"Greed,"
R: Michael Winterbottom directs Asa Butterfield, Isla Fisher, Sophie Cookson and Shirley Henderson in the comedy drama. The satire looks at the world of the superrich.
Two popcorn boxes out of five popcorn boxes.