Centralia spreading? Mine fire worries Schuylkill residents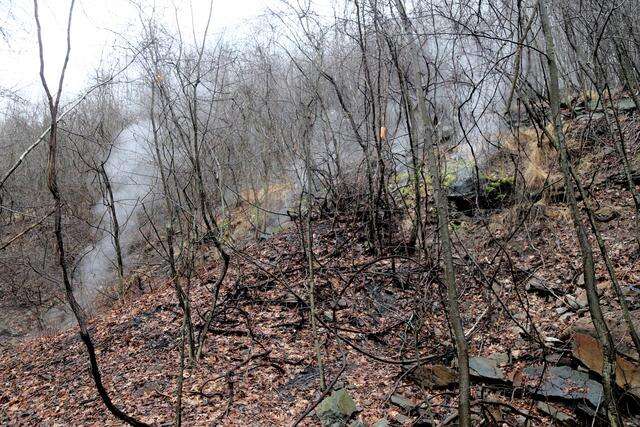 Published February 18. 2020 02:45PM
Smoky ground emissions of the Centralia Mine Fire are being observed not far from the Schuylkill County line.
Officials, however, say they don't believe the notorious Columbia County fire has crossed over, at least not yet.
Motorists have reported smoke pouring from rock outcroppings and crevasses adjacent to Big Mine Run Road, State Route 2004, about one-half mile from the Columbia-Schuylkill border.
Big Mine Run Road is a back road to Centralia but is heavily traveled, say residents, because it provides a shortcut to Mount Carmel, bypassing downtown Ashland.
[naviga:iframe allow="accelerometer; autoplay; encrypted-media; gyroscope; picture-in-picture" allowfullscreen="" frameborder="0" height="315" src="https://www.youtube.com/embed/a3plBX0z2K0" width="560"][/naviga:iframe]
The smoke activity became noticeable late last year and appears to have intensified, according to those living nearby. Some turned to Facebook last week to voice concern.
"It used to smoke constantly on the right side of the road below the big turn," said Matthew Yeager of Aristes.
"That all but ceased for years to where the plants were starting to grow back over the baked rocks. About a year and a half ago I noticed it again and in the last six months it's gotten much worse."
Ashley Lynn of Ashland mirrored comments made by others.
"Is it sad? Yes, and a bit terrifying to know that this 58-year-old fire has moved without us knowing until now."
But Colleen Connolly, community relations coordinator, Department of Environmental Protection, said the Bureau of Abandoned Mine Reclamation monitors the situation.
"BAMR is aware of the surface expression of heat and gases associated with 'fire front 4' approximately a mile east of Centralia adjacent to Big Mine Run Road. This area continues to have elevated temperatures; however, observed temperatures in this area have dramatically decreased since the 1980s."
Possible progression of the fire has been seen by officials as a possibility all along. Early DEP projections said the fire has the potential to travel east along a coal seam that runs about 8 miles to Shenandoah. Along the way, it could potentially pass north of Ashland and Girardville. All three are Schuylkill County communities. But for now, officials don't believe it has happened.
"It may be possible for the historic underground mine fire to advance east of Big Mine Run Road and into Schuylkill County; however, BAMR is not aware that this has transpired," said Connolly on Thursday.
Origin
The underground fire has been burning in abandoned deep mine workings of the Buck Mountain Coal Bed since May 1962.
It is believed to have started as an intentional controlled burn of residential trash in an abandoned strip pit, enabling the fire to reach nearby coal mine workings.
It took a near tragedy on Valentine's Day in 1981 to demonstrate the seriousness of the crisis and elevate the problem.
That's when resident Todd Domboski, 12, fell into a hot, steaming hole created by mine fire subsidence. He was pulled to safety.
The fire eventually led to the destruction of most of the town of 1,500.
Between 1983 and 2012, a $42 million government buyout relocated the majority of residents, although some refused to leave their homes.
State and local officials finally reached agreement with seven remaining residents on Oct. 29, 2013, allowing them to remain to live out their lives, after which the rights to their houses will be taken through eminent domain.
Little by little, it seems, the town's identity has gone up in smoke.
On Sept. 18, 2003, the Centralia ZIP code — 17927 — ceased to exist. Remaining residents get their mail at an Ashland post office.
The fire has impacted other communities, as well.
"Residents of the nearby villages of Byrnesville and Germantown, south of Centralia, were previously relocated," said Connolly.
"The Centralia Mine Fire is restricted by natural and man-made barriers to the south of relocated State Route 61 and, therefore, we do not anticipate it moving south toward populated areas."
Impact
No new residents are allowed to move into Centralia. Today, there are about five houses remaining.
But Centralia isn't forgotten. ATV and quad riders, among others, have found a home there. Litter has become an issue.
"I volunteer at the cleanup every spring," said Kathleen Quinn-Farber of Tamaqua. "We take tons of garbage and tires out yearly. This spring we also are going to have an apple tree seedlings planting to help beautify the area."
In fact, Centralia and its popular Graffiti Highway, about a mile of main road destroyed by the underground blaze and abandoned in 1993, have become folklore "ghost town" icons. Because of it, the town is now nationally known. However, tourists are warned not to venture there.
According to a DEP information sheet, the area can be dangerous. The ground can collapse and fumes can be toxic.
"Centralia is not a tourist destination. Much of the area has its dangers with toxic gases and subsidence, meaning the ground can and does cave in, possibly opening up dangerous underground caverns of burning coal that can kill you in an instant."
A DEP report says the mine fire could burn for more than 100 years. It has advanced an average of 50 to 75 feet per year and has the capacity to burn beneath 3,700 acres, reaching temperatures of 1,000-plus degrees Fahrenheit.
The DEP says the cost to extinguish the fire is beyond the capacity of the state's Abandoned Mine Land program.