Couple's love story started with a stuffed bear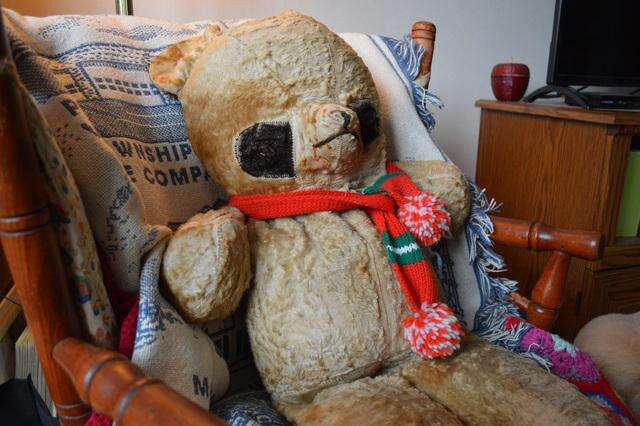 Published February 14. 2020 01:11PM
lton and Lila Kleintop will celebrate their 63rd anniversary in April.
The couple have known each other since high school and have endured a lot together over the years.
Alton and Lila married at 21, and upon returning from their honeymoon in Florida, Alton was drafted. Soon after, Lila discovered she was pregnant. The two would go on to have two children, Dean and Joy. They bought a house in Gilbert and spent years tending a garden there — an activity to which Lila attributes, in part, their marriage's longevity.
But more recently, Alton and Lila moved into an apartment in Mrs. Bush's Personal Care Homes in Kunkletown. That's where you'll find them this Friday afternoon, as the two take part in the facility's Valentine's Day celebration.
When asked for the secret to their more than 60-year-old union, Lila, 84, gave a simple answer: "Talk everything over." Alton, 85, gave the same response.
"We really never had any arguments," he said.
But there's another reason Alton and Lila have been able to stay together, one that neither can quite fully explain beyond getting along.
Alton grew up working on his family farm in Kunkletown, and Lila was an only child in Gilbert. Their romance didn't spark until one night, when Alton was a senior at Polk High School, playing a game of ball toss at the West End Fair. It was a rare sight; Alton spent most of his young life working. He never had time for sports. Lila was a sophomore at the time.
Despite his lack of ball-throwing experience, Alton won the game — and a golden teddy bear with dark brown eyes to prove it.
"I wanted the teddy bear," Lila recalled, "so I had to go home with him from the fair.
"It just went from there."
It wasn't serious at first. After his graduation from Polk, Alton went to school for a few weeks in Illinois, while Lila continued her high school education. When Alton returned to Pennsylvania, he came home an educated cow breeder. Lila sometimes accompanied him on his trips to different farms.
"It was just the matter that we got along together," Lila said.
By the time they were young adults, Alton and Lila had an unspoken agreement. They knew they were going to spend the rest of their lives together, that they just worked. So, Alton and Lila married in April of 1957.
"He gave me a life," Lila said.
He went on to work in the lab at Sanofi, but they spent a lot of time in the garden.
Last April, Mrs. Bush's celebrated the Kleintops' 62nd anniversary with a sheet cake bearing the words "Forever Together."
"I guess it spoke the way we felt," Lila said.