Lehigh Valley Zoo hosts awareness weekend about its penguin colony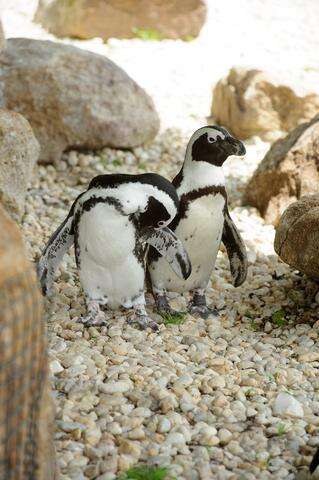 Published January 13. 2020 12:17PM
The Lehigh Valley Zoo is celebrating its Penguins this weekend.
In honor of Penguin Awareness Day on Jan. 20, the zoo is hosting three days of events on Saturday, Sunday and Monday, complete with tuxedos — on the penguins that is.
There will be two opportunities to see the zoo's colony of African Penguins getting fed by zookeepers at 11 a.m. and 2 p.m. daily.
"Be sure to stop by and chat with our staff about fun facts or any penguin-related questions you may have," the zoo said in its event flyer.
There are also penguin ornaments available for painting and purchasing. Each ornament includes a footprint from one of the penguins at the zoo. All proceeds from the ornament sales will go directly toward the zoo's conservation efforts.
On Jan. 20, from 10:30 to 11:30 a.m., zoo staff will feature one of the African Penguins for a special guest meet and greet in its Bison Room.
Remember your cameras so you can snap a photo.
In addition, conservation educators will be on-site to answer any questions you have about the colony.
Other events
In addition to the penguins, the Lehigh Valley Zoo has a lot to offer in the coming months.
• Throughout February, the second annual Giraffe Dining Experience will take place inside the St. Luke's Giraffe Barn. All proceeds from the experiences go toward the Lehigh Valley Zoo's Animal Conservation efforts and a portion will also go to the Giraffe Conservation Fund. Details, times and booking information can be found on the zoo's website.
• On Feb. 8, from 10:30 a.m. to 12:30 p.m. and 2 to 4 p.m., coffee and chocolate lovers can join in the zoo's first ever Coffee, Chocolate and Critters, a unique pairing experience that entices the senses.
Guests will be able to sample chocolate and coffee pairings while encountering animals from coffee and chocolate producing biomes. Participants get three pairs of single-origin, Rainforest Alliance certified coffees and Rainforest Alliance certified chocolate while learning about the importance of shade grown coffee and sustainable cocoa farming.
For more information about the Lehigh Valley Zoo and the upcoming events or to purchase tickets, visit www.lvzoo.org.
The Lehigh Valley Zoo is a 29-acre zoo nestled in Lehigh County as part of the Trexler Nature Preserve. It is a nonprofit organization that is home to more than 125 species of animals, from Mexican Gray Wolves to African Penguins and everything in between.
The zoo is located at 5150 Game Preserve Road, Schnecksville and is open to the public for its winter hours from 10 a.m. to 3 p.m. through March 31.