Marian grad pens book to raise awareness of spine disease in small dogs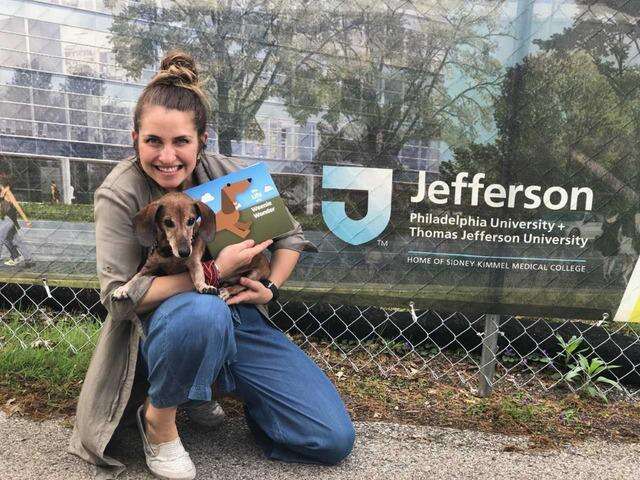 Published January 10. 2020 11:26AM
Although a disease may be life-changing, it does not have to be life-ending.
That is the message from 2015 Marian Catholic graduate Emily Pilla and her Weenie Wonders Club. The Weenie Wonders Club is a nonprofit organization that strives to educate, prevent and support people, especially pet owners on intervertebral disc disease, which is a spine disease that is commonly known in small breed dogs, especially dachshunds.
The Weenie Wonders Club and the work its doing to help educate and raise awareness on IVDD is a great story, but the story behind how the Weenie Wonders Club got started is even better.
Beginning a new venture
It all started with Pilla during her senior year as a graphic design student at Philadelphia University just a little over a year ago.
Pilla was assigned a capstone project, which is a project that needs to be completed in order for a student to graduate. The project typically involves a topic or issue the student is interested in, and the student researches the issue and presents their findings and conclusions on the issue to a panel of teachers and experts, which grades the projects quality.
For Pilla, there was only one subject she wanted to do her capstone project on, and that was her dachshund Skipper, who was diagnosed with IVDD when he was 3 years old.
"When I got assigned the capstone one of the first things that came to mind was Skipper. My parents have been wanting me to do something with his story for a while and I thought my capstone project would be the perfect opportunity," said Pilla. "When you have to work on something for four months, you want to be working on something you enjoy and Skipper certainly brings me and a lot of other people joy, so it was really a no-brainer."
Skipper's story
Pilla's project included a children's book she wrote and illustrated called "The Life of a Weenie Wonder" and at the time created a fictitious organization called the Weenie Wonders Club.
After the capstone project was successfully completed, Pilla decided to then get the book professionally printed and turn the then fictitious Weenie Wonders Club into a legitimate nonprofit organization.
Skipper's story is not uncommon from most dogs diagnosed with IVDD. He was an active dog that was always jumping off furniture and running and jumping off stairs and then one day on a Pilla family vacation he started to show signs of discomfort.
After seeing a veterinarian, Skipper was diagnosed with IVDD and underwent surgery to help him walk easier, but after the surgery and a year of rehab, Skipper was still not getting around very well.
That's when Skipper received his wheelchair, which supports his back legs, giving his front legs the balance needed to walk and run.
"The book and organization is obviously based off of Skipper's story, but really it's about getting the message out to anyone and everyone that is going through something to never give up and fight," said Pilla. "Skipper went through a lot with his surgery and rehab and then receiving his new set of wheels that help him get around.
"Our family went through a lot too over the years with him. But he was 3 years old when he was diagnosed, and he's 15 now, and to this day, he's still a happy and energetic dog.
"If Skipper can get through that, then a lot of us can get through some of the stuff that is tough, too."
How to get the book
Pilla recently held a book signing at the Pottsville Free Public Library where she invited people to come out and support her cause and learn about Skipper's story and journey.
The book can be purchased online at weeniewondersclub.org. All the proceeds from the book are donated to help fund awareness and education on IVDD.
"We didn't know about IVDD and I don't think a lot of people do, so it's important to get the word out there. We didn't know that our dog shouldn't have been jumping off furniture and stairs, we didn't know it was bad for him, being the kind of breed he is, and I know a lot of people don't know that," said Pilla. "Our goal is to use the proceeds from the book and donations and partner with a veterinarian hospital, doctor or bigger organization and help educate and raise awareness on IVDD."