Bad bug!Spotted lanternflies spread to 14 counties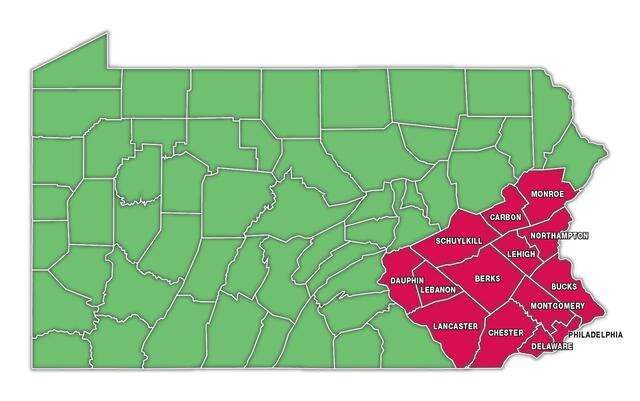 Published August 23. 2019 12:44PM
potted lanternflies, an invasive species, were first identified in 2014 in Berks County.
These insects, which are native to Asia, are destructive to crops, trees and other plants.
Since then, they have spread to 13 other counties, including Carbon, Schuylkill, Monroe, Lehigh and Northampton.
Most recently, residents in Palmerton, Bowmanstown, Mahoning Township, Summit Hill and other areas are beginning to report seeing these bugs.
Is it a lanternfly?
According to Penn State Extension's spotted lanternfly management website, the bug lays its eggs in the fall and they hatch in the spring. Egg masses are laid on hard surfaces, such as trees, decks, houses, outdoor equipment, rocks, etc. and protected with a mudlike covering. Each egg mass contains 30-50 eggs.
Officials recommend scraping off the egg masses with a plastic card or putty knife and putting them into a bag filled with rubbing alcohol or hand sanitizer. The masses can also be smashed or burned as an effective method of destruction.
After hatching and before reaching adulthood, the spotted lanternfly goes through four nymph stages.
The area is currently going through the adult stage of these insects, which are active until winter. This is the most easily detectable stage because they are large and highly mobile.
Adults have black bodies with brightly colored wings. Only the adults can fly.
Because adults jump more than fly, their wings often remain closed. These wings are gray with black spots, and the tips of the wings are black with gray veins.
Small bug, big appetite
The spotted lanternfly is capable of causing serious damage to its host, including oozing sap from the trees, wilting, leaf curling and tree dieback, Penn State Extension officials report.
These bugs affect hardwood; ornamentals; crops like fruit trees, grapevines and hops and other important Pennsylvania agriculture.
To stop the spread, Penn State recommends checking your car and outdoor equipment for egg masses, nymphs and adults and not moving firewood outside the quarantine zone.
You can also apply insecticides to the bugs' host tree, tree-of-heaven.
Kill it, report it
The Pennsylvania Department of Agriculture is trying to stop this pest by imposing a quarantine, regulating plants, plant-based products and outdoor household items that are brought out of these counties.
If you see one of these bugs, the state recommends you kill it immediately and report it to the Pennsylvania Department of Agriculture through the online reporting tool at https://services.agriculture.pa.gov/SLFReport/ or via phone by calling 888-4BAD-FLY (888-422-3359).
For more information, here is a link to a Penn State Extension web page that tells you how to manage spotted lanternfly: https://extension.psu.edu/spotted-lanternfly-management-for-homeowners.
You can also report sightings online at extension.psu.edu/have-you-seen-a-spotted-lanternfly, or call Penn State Extension at 570-325-2788 and give your contact information to the secretary so a Master Gardener can call you back.