Palmerton man has a green thumb when it comes to tomatoes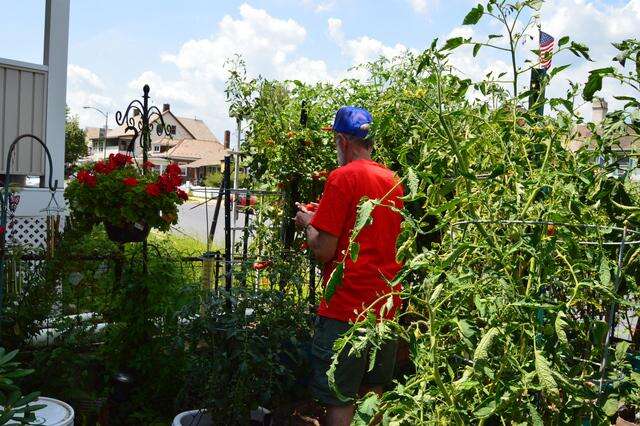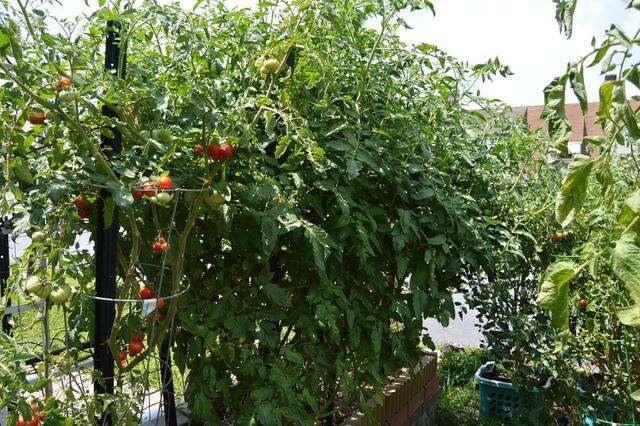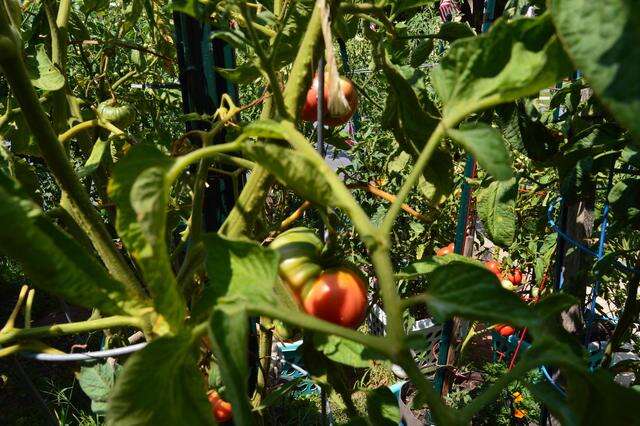 Published August 09. 2019 02:45PM
ots of people have hobbies. For Joe Toner of Palmerton, it's tomatoes.
As a child, Toner had a stamp collection, a coin collection, and a rock collection, but he said growing tomatoes has been his best hobby — a passion really.
"Growing unique tomato varieties, without a doubt, is the best hobby I've ever had because I get to eat it, enjoy it and give tomatoes away to my neighbors to also enjoy," he said.
The only thing he regrets is not starting sooner.
Planting the seed
Seven years ago at the age of 65, Toner took a job in the garden department at Lowe's. People routinely asked him questions about the plants, especially tomatoes, but he didn't always have the answers.
Being one who loves to research, he started looking for the answers to their questions. And being one to love history, he discovered stories of how the various tomato varieties came to be. He became so knowledgeable about tomatoes that he soon became known to others as Tomato Joe.
Today, he grows a garden of tomatoes in his front yard where he used to grow cactuses. Each tomato vine is individually planted in grow bags of dirt sitting in square laundry baskets. The baskets make it easier for him to move the plants.
In all, he has 25 tomato plants (mainly heirloom, but some hybrid), all from seed, all a different variety, and all with a story. He calls it "a specialty garden, a memory garden, a tribute garden all wrapped into one."
Historical harvests
"What I am growing are rare and unusual tomato plants, all with a story behind them. It is my way of honoring and paying tribute to the horticulturists who devoted their lives to giving us the tomatoes we all enjoy today," he said. "Plants from Thomas Jefferson's garden at Monticello grace my garden this year, along with one from Poland whose seeds were smuggled into our country hundreds of years ago on the back of a stamp."
Many of the seeds for the tomatoes in his tribute garden, Toner ordered from the Seed Savers Exchange. He grows their German Pink tomato in honor of the founders, Diane Ott Whealy and Kent Whealy. They founded the exchange in Missouri in 1975 to promote heirloom vegetables.
"Diane's grandfather entrusted to them the seeds of two garden plants, Grandpa Ott's morning glory and German Pink tomato. These seeds, brought by Grandpa Ott's parents from Bavaria when they immigrated to Iowa in the 1870s, became the first two varieties in the collection," Toner said.
He has also acquired a few seeds on his own.
Monticello doesn't sell plants, but they did sell him some seeds. The common name of the tomato is the Costoluto Genovese, but Toner just calls it the Monticello tomato. It looks like a little pumpkin.
Then there is Lillian's Yellow from Poland. Toner is intrigued by the story of how it was smuggled in on the back of a stamp. He said immigrants brought seeds from their homelands, because it reminded them of home and was a way of keeping a little piece of it with them always.
When ripe, Lillian's Yellow tomato is a deep yellow and can have uneven coloration with shades of pink.
Toner also grows the Cancelmo Family Heirloom tomato from Italy. The tomato was brought here from Popoli, Italy in 1917 by the family's matriarch, who was an avid gardener.
"She gardened up until the point she could no longer garden," Toner said. She had Alzheimer's disease.
Toner said he grows it in honor of her and the people with Alzheimer's disease whom he cared for when he worked as a certified nursing assistant.
Then there is the Goose Creek tomato, which is a small, firm tomato that gets bright red and has few blemishes. The seeds were brought to the United States from the Caribbean by a slave woman. Toner said he is fond of the tomato, because it reminds him of his maternal grandparents, who were from Barbados.
Wanting a tomato from his grandparents' homeland, he and his wife took a cruise, and an excursion to the island. With some help from a guide, he found his sought-after prize — a locally grown tomato.
Since he was not allowed to bring any produce on the ship, they ate the tomatoes and saved some seeds. Now, it's growing in his garden — the largest plant as well.
Heirloom vs. hybrid
An advocate for heirloom tomatoes, Toner encourages people to give them a try. He thinks they taste better than hybrid.
He said the hybrid tomato was developed to be sold commercially, so it has a tougher skin to prevent any damage during shipping and to give it a longer shelf life.
"This was achieved at the expense of the taste," he said. "Today, people are now clamoring for a better tasting hybrid tomato and the market is responding."
He doesn't know if the hybrid will ever taste as good as an heirloom.
"Who knows but one thing is certain, the hybrid varieties will never have the stories that go along with the heirlooms," he said.
As far as his favorite tomato, "I never tasted a tomato I didn't like, unless of course, it was a store-bought variety."
Toner acknowledges that taste is subjective and what tastes good to him might not taste good to another person, and vice versa.
"I do like a juicy one though," he said. "Sweet is also a plus, too."
Tomato tips
Tomato seed collector and passionate tomato gardener, Joe Toner of Palmerton, offers his tidbit tips and tokens about tomatoes.
• The tomato plant originated in Peru in the Andes Mountains around 500 B.C. It was grown by the Aztecs.
• There are about 17,000 varieties of tomatoes today.
• Tomatoes can absorb nutrients through the leaves, so spray them with a nutrient-rich water.
• Use rainwater instead of tap water on the plants to avoid exposing them to chlorine.
• Use organic fertilizers, because commercial fertilizers disturb the symbiotic relationship plants have with the microbes in the dirt. There are hundreds of thousands of microbes in one teaspoon of dirt. The microbes give off nitrogen that helps the plants grow. Occasionally, wet the plants with molasses mixed in the water, because the microbes love the sugar.
• Remove diseased or yellow leaves because they won't photosynthesize and help the plant.
• When saving seeds, it doesn't matter which tomato is used. Genetically, all of the tomatoes on the plant are the same.
• The tomato plant grows like a vine and is a perennial. With the right climate, it can continue to grow. The tallest plant is more than 30 feet long and is growing in a greenhouse.
• Determinant plants are hybrids and only blossom and produce fruits for a specific number of weeks. Indeterminant growth plants continue to produce.
• Plant marigolds or basil alongside the tomatoes to control insects.
• Toner considers Craig Lehoullier, the author of "Epic Tomatoes" to be the authority on tomato plants.
• The father of the American tomato is Alexander Livingston, who owned a seed company and started working on the best commercial tomato in the 1850s. It took him 20 years to perfect it, and he called it the Paragon after the name of the canning jar company.
Anyone with questions about tomatoes are welcome to contact Toner at tomatojoe@ptd.net. He is willing to help others interested in growing tomatoes.