Carbon environmental center documents its landscape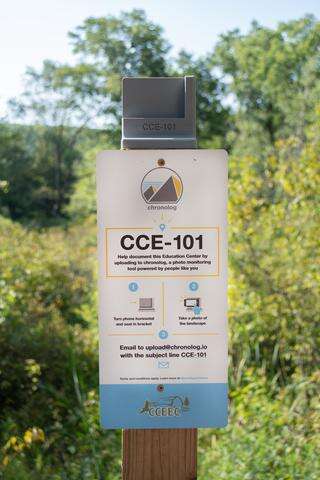 Published August 02. 2019 12:33PM
by Amy Miller amiller@tnonline.com
Have you ever looked at something — whether it was your child, your favorite vacation destination or even a beautiful spot in your backyard that you just like visiting — and thought about how things will change with that person or place over the next few years? Most people don't.
But Carbon County Environmental Education Center in Summit Hill is hoping to make people stop and think about the world around them through a new project that aims to document one area of forestry on the center's grounds.
A few weeks ago, naturalists at the center, located near Mauch Chunk Lake Park along Lentz Trail, installed a mobile phone bracket at the end of the boardwalk, a meandering trail that creates a loop on the property, overlooking the Bloomingdale Valley to allow visitors to snap a photo with their phone in the same location and upload it to a website.
The hope is to document how that area changes over the next year or so.
"It's a citizen science project," Franklin Klock, a naturalist at the center, said, noting that the project will show what the environment looks like and how it changes.
"Sometimes when people visit places, you go and you look and say, 'that's what this place looks like' and you tend to forget things aren't always the same every time you see it," he said. "It's the same thing here, even with going into the woods. People visit a certain place and say, 'I saw a squirrel' or 'I saw a raccoon' but there are other things there so you have to visit multiple times.
"This gives people a chance to visit that particular location multiple times without having to make the trip."
Klock said that pending on when people are here taking photos, the photos uploaded to the Chronolog website will show weather changes, season changes or significant changes to the landscape after significant weather events.
"It will be neat to see how things change over time, both short term and long term," he said. "It's interesting to see how the world changes before our eyes and we don't even notice it."
To participate in this project by Chronolog, which is the company heading this environmental monitoring project at many locations across the country, simply visit Carbon County Environmental Education Center and snap a picture at the Chronolog bracket on the boardwalk and email it to upload@chronolog.io with the subject line CCE-101.
Then visit https://chronolog.io/site/CCE101 and watch as the area you photographed changes by the day.
If you need help finding the bracket, visit the center during business hours and a naturalist can point you in the right direction.
To explore all projects that Chronolog is doing, visit https://chronolog.io[naviga:font color="#000120"].[/naviga:font]