Hope & Coffee celebrates one year in Tamaqua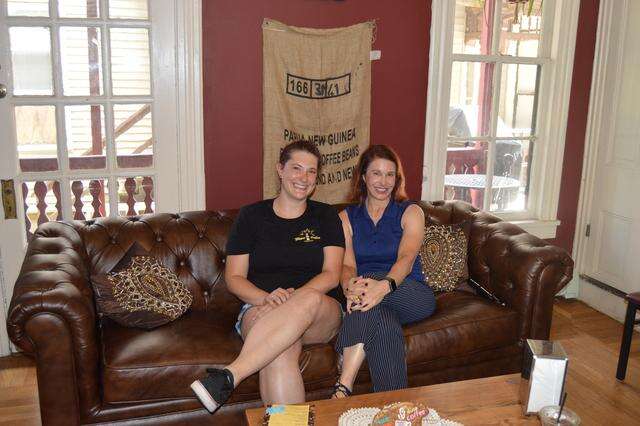 Published July 27. 2019 07:13AM
by Justin Carlucci jcarlucci@tnonline.com
Hope & Coffee changes lives one day at a time.
In fact, it's been over 365 days since its doors opened. The Tamaqua nonprofit was packed with locals last Friday afternoon to celebrate its first anniversary.
"We live in a real world and people need to have jobs," said Hope & Coffee benefactor Lisa Scheller. "Families have schedules, finances, budgets and we need to keep going on. We settle our own conflicts and find our own purpose. That's why this place is here. We train people for a return to the real world and we teach ourselves to find strength inside and to see ourselves not as victims, or people captivated by our addictions, but as people that can overcome, succeed and recover."
Scheller, who grew up in Tamaqua, battled addiction many years ago. She took her vision of developing a safe place in her hometown to give a second chance and turned it into reality. Scheller has been sober for over 35 years and shared her story with a full house of guests on Friday.
"Every person who struggles with addiction; we need to replace the drugs and alcohol with something better in our lives — with a sense of purpose and a sense of value," Scheller said.
"A sense of self-worth. The dignity of having a job. Friendships not based off superficial things, but friendships that are based off real affection of people; those hugs I get when I come in here. And the knowledge that each of us belongs to a community, a community that we can trust, and whose trust we are earning in return."
Loren Collura is the director of Hope & Coffee. She's been with Scheller every step of the way since the doors opened last summer.
"The employees that we have here are some of the best employees that I've ever had in my restaurant career," Collura said. "I'm so grateful to work with these people on a regular basis. We are truly a team. We literally change lives every day. I always joke, one of us always ends up in tears every day. They're happy tears, because we change the lives of each other, and also the people that come in here for a cup of coffee on a regular basis. It's been such a growth process for us. We have so many more awesome employees and have seen so many people grow in different ways. We've really built a camaraderie here in Tamaqua and within our organization."
Scheller shared success stories of her employees. She noted that eight of their members have made significant changes in their lives. Five of them have good jobs outside of Hope & Coffee, another regained custody of their child, and many others are training or further educating to pursue other careers.
"It was really founded on the basis that nobody is disposable," Scheller said. "Nobody is beyond hope and nobody is left behind. I grew up in this town and I absolutely and personally know the misery that addiction can bring, and what people have been going through. Everybody here is about recovery. It's not just about quitting drugs, it's about a reaffirmation and a restarting of life."
Hope & Coffee offers a wide variety of beverages and food options. The venue is also a perfect place for meetings and gatherings.
"We're very excited to celebrate with everybody and we're very fortunate to have the support that we've had since we've open," Collura said. "We've really planted ourselves here, we weren't sure what to expect but the community has welcomed us with open arms."