Spotlight: Tamaqua railroad attracts international study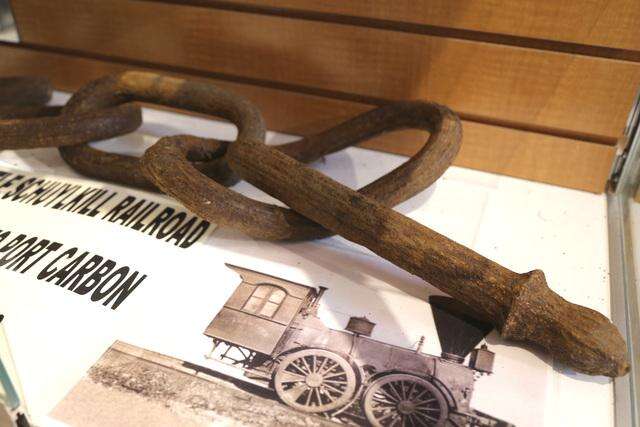 Published June 29. 2019 06:18AM
by Donald R. Serfass dserfass@tnonline.com
The railroad that built Tamaqua is an engineering marvel, significant to the importance of coal in early industrialization and a triumph in human ingenuity.
That's the message coming from a world-class economist and researcher.
On Friday, Professor Eugen Wendler of the University of Reutlingen, Germany, arrived in the Schuylkill County town to further research the 1829 Little Schuylkill Railroad and "its historical importance," Wendler said.
The rail line, still in use for its original purpose, was the first railroad in the nation to haul anthracite coal by steam locomotive. Running 21 miles, it was built to connect the rich coal mines of the Tamaqua area with the Schuylkill Canal at Port Clinton. Today, it runs under the banner of the Reading, Blue Mountain & Northern.
"This is the oldest active coal-hauling railroad in the entire New World," says Scott Herring, geologist and anthracite historian.
Tamaqua's railroad was built by a highly regarded pioneer in the field, Friedrich List, who went on to become the "Father of German Railroads," Wendler said.
Focus of book
On Thursday, Wendler, the world's foremost authority on List's life, traveled 4,000 miles on a cultural trip to America, his second such visit in five years.
A primary goal, he said, was to return to Tamaqua. He last visited in 2014 after releasing a biography: "Friedrich List (1789-1846) A Visionary Economist with Social Responsibility," a 278-page hardcover.
Wendler arrived in town Friday to tour the Tamaqua Historical Society Museum and further his understanding of challenges List faced in building a railroad through Tamaqua's rocky, mountainous terrain. The geological environment is so daunting it proved impossible to construct a canal.
Wendler said information gathered will be applied to another major work: "Friedrich List and the Little Schuylkill Railroad in Pennsylvania."
"I have to complete the draft, and it should be ready by September of this year," he told Dale Freudenberger, society president.
The book will be the 17th volume produced by Wendler and comes after his 2016 scholarly work, "Friedrich List's Exile in the United States."
Wendler has studied List's life for nearly 50 years and founded Germany's Friedrich List Institute for Current Economic Studies.
His weeklong visit is coordinated by Tom McMahon, former mayor of Reading, sister city to Wendler's town of Reutlingen since 1996. McMahon drove Wendler to Tamaqua, along with friend Charles J. Adams III.
List's achievements
List's presence in America saw him take up farming in Harrisburg and then journalism in Reading.
In 1826, he became editor of the Readinger Adler, a popular German-language newspaper and forerunner to today's Reading Eagle.
He lived in the U.S. for only seven years, Wendler said, but in that time met seven U.S. presidents or former presidents. He left an indelible mark, said Wendler, most notably his founding of the Little Schuylkill Railroad.
To build it, he traveled over 3,000 miles to secure financial backers. Bolstered by funds from Thomas Biddle and Co., Philadelphia, he raised $700,000, earmarked for Tamaqua's railroad. An astute businessman, he purchased 20,000 acres of land in and around town at a time when Tamaqua was enjoying the fruits of an 1825 business boom.
The rail course, third oldest in the nation, was surveyed by Moncure Robinson and engineered to overcome obstacles.
"It crosses the river 17 times between here and Port Clinton," Wendler said.
The railroad was built to use steam engines, as opposed to human or animal power. It could carry 3-ton loads twice a day, taking 2.5 hours for each trip to Port Clinton.
The railroad and canal allowed coal to reach the fertile Philadelphia market and provided impetus for growth of coal region towns.
Tragic end
List leaves a legacy as a visionary economist with an eye to social responsibility, Wendler said.
"He was a liberal and a Democrat who promoted an extended representative democracy."
List was an overachiever and well-rounded. He had respect for human rights and civil liberties to accompany industrial development.
In the end, he lived a busy, tumultuous life in political exile from his own country.
Sadly, at age 56, he took his own life by gunshot after suffering depression.
"It's a dark point of his biography," Wendler said. "He was frustrated in his life. He was misunderstood and he wasn't clear in his head from medicine."
A large granite monument in Kufstein, Austria, contains a verse in tribute, calling List "A hero whose vision reached more than afar. A sower, whose home was a tent made of stars."
Wendler, now 80, says he's unsure if he'll return to the U.S. He will focus on placing his life's work and memorabilia at a suitable repository.
But in the meantime, he says, he will pursue his mission for as long as his health allows.
"I must do this work because I have the knowledge. If I don't do it, it'll be forgotten," he says, and that would be a tragedy.
"It's important for German history and U.S. history."