Tamaqua arts center seeks big sponsor from Big Benefit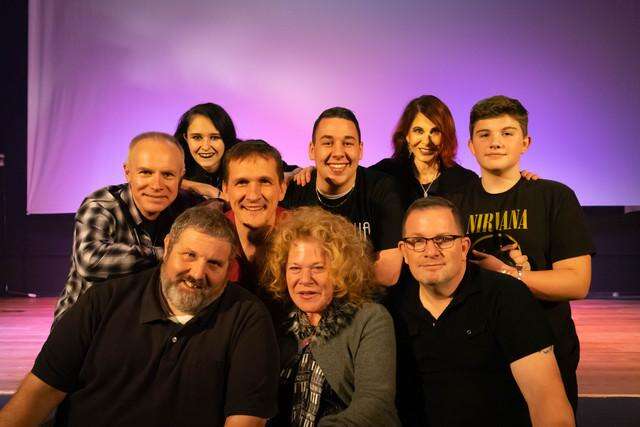 Published March 28. 2019 01:05PM
The Tamaqua Community Arts Center is looking for some big sponsors, which could result in the center being named after them or a song in their honor.
Eight short years ago, the Tamaqua Area Community Partnership established the Tamaqua Community Arts Center in the former Salem United Methodist Church. Since that time, the 1900s-era church has undergone multiple transformations, with more work still to be done.
The repurposed house of worship features large rooms, which are not cheap to heat or cool. When you add tables, chairs, a professional sound system and stage lighting, maintenance and a thousand other little bits and pieces, it's no surprise that it costs about $11,000 a month to keep the center running. That's a lot of money for a nonprofit organization that receives a small percentage of the fees collected for classes and shows and does not rely on state or federal grant funding to function.
Then there's the little matter of installing an elevator to make the performing arts hall, known as "The Stitch," accessible to all, which remains a priority of the center.
Five years ago, in an effort to help defray the annual costs, the "Big Benefit" was created as "a major player in keeping the center open and functional. These funds pay the overhead — taxes, insurances and utilities such as heat, light, water and more. The benefit is the center's largest fundraising activity," arts center coordinator Leona Rega said.
Large projects
To date, the benefit has brought in $355,450. This amount includes a large donation in 2017; the gift of $250,000 renamed the center's performance hall "The Stitch" after the famous patented waffle-stitch that helped John Morgan build his wealth and make him the region's pre-eminent philanthropist. Those funds specifically enabled the large scale construction project which installed two ADA-compliant bathrooms as well as a ticket window, outside facade improvements and LED signage.
Sponsorship levels range greatly for this unique event — including a $1 million sponsorship level that includes the renaming of the Arts Center.
Smaller gifts of $10,000 include the writing and performing of a new, original song for the donor and a gift of $5,000 features a ride to and from the event.
There are also $100 theater seat sponsorships for those looking to enjoy the entertainment and show their support.
This year, supporters hope to find the $1 million sponsor which will provide for the installation of the elevator and provide naming rights to the center for the donor.
While the center hosts a number of concerts by professional and semiprofessional music groups each year, the benefit is all about homegrown talent.
TACP Executive Director Micah Gursky serves as master of ceremonies, but has shown he's a man of many talents as he provides vocals for many of the musical numbers.
Gursky's talent hasn't been the only surprise through the years, as state Sen. Dave Argall accepted a challenge in the second year of the event, dusting off his trusty saxophone that had been quiet since his days in the Tamaqua High School Raider Band. Then there's former Tamaqua Mayor Christian Morrison and Amanda Miller, who have provided vocals, and former St. Luke's Miners Campus President Bill Moyer, who turned out to be an accomplished guitarist. Local businessman Larry Wittig performed several songs on his accordion, and youth performers have included Zach Yenser on guitar, Laura Williams re-enacting a tune from her role in "Oz" and Andrew Surotchak shared a few of his favorite songs.
The group "Redz Vision" has served as house band for each of the big benefits. Led by Traci Wehbe (Redz), the band also features Miles Coursen and John Nigrelli. Other entertainers for this year include Gursky; Ron Feltenberger, director of operations at St. Luke's Miners Campus; Lisa Scheller of Silberline; Tamaqua Mayor Nathan Gerace; with special guests Lexie Feltenberger, Owen Coursen and some very special surprise performers.
In the community
Keeping the center open and functioning is about more than the classes and being a home for a variety of artists. The center has become an integral part of the community, providing major art initiatives that have brought the community together since its very start. From the first National Night Out, to the Dear Tamaqua Project, through Tamaqua Has Heart to Raw Aspirations and this year's Art of Escape, the arts center is one of the most active organizations in the community. That's thanks in large part to its many volunteers, including the musicians who provide the talent for the Big Benefit.
"We're grateful for all of our benefit performers, who give of their time and talent to keep us going. We're also grateful for our financial supporters and to the community for attending events, classes, volunteering, all they do for us during the year. I am in awe of the support we receive from neighboring towns, local businesses and other art venues." Rega said. "I am often asked what is the key to our success, why do we stand out? I truly believe the secret formula is that we only see ourselves as one piece of the puzzle. It is everyone else who joins on all sides of us, working together with a common goal of giving our people something to be proud of. There is much to be done here, and we are not finished yet.
Tickets for the benefit, which is the "largest arts fundraiser in the area," are now available. Individual ticket prices for theater seating are $100 per person, while private pub tables for four cost $1,000. Sponsor packages are also available. All proceeds benefit the art center, a 501(c)3 nonprofit organization.
For tickets, sponsorships or more information, call 570-668-1192.