Spotlight: Tamaqua partnership celebrates 25 years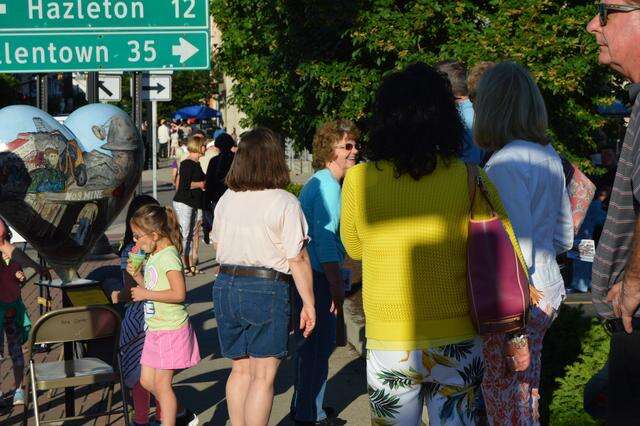 Published February 16. 2019 06:25AM
by Kathy Kunkel kkunkel@tnonline.com
For the past 25 years, the Tamaqua Area Community Partnership has been working mostly behind the scenes in almost every aspect of the revitalization of Tamaqua by bringing together volunteers, community leaders, business people, civic organizations and anyone interested in the Tamaqua area.
The success rate is actually staggering when you begin listing all of the accomplishments and completed projects since its creation in 1994. It started as a 10-year project, but no one wanted to quit and rest on their successes in 2004. Instead, the organization continued working toward making the Tamaqua area a happier place to live, work and play.
In 2011, the partnership entered into a new arena by establishing the Tamaqua Community Arts Center, turning a historic church into a thriving venue for the fine and performing arts. The former chapel was converted into an art gallery, with the original stained-glass windows serving as a bridge from the past. In addition to the gallery, the first floor now also houses ADA-compliant restrooms, a box office and an operations office shared by the art center and the TACP.
Pews in the second-floor sanctuary were replaced with theater seating and pub tables, while the former pulpit was extended to what is now a modest stage. The original intricate steel chandelier remains suspended from the ceiling, hearkening back to the past. The theater area was named "The Stitch" in honor of the late John E. Morgan, whose enduring foundation still benefits Tamaqua area residents.
The basement social hall was developed into a full-scale clay studio, which is also used by the Lehigh Carbon Community College for students pursuing an associate degree in the arts.
The partnership also focused on safety, with the creation of the Tamaqua Safety Initiative. That led to four very successful National Night Out events.
'Dear Tamaqua'
The next major undertaking was "Dear Tamaqua," where residents were encouraged to write a letter or note expressing what they loved or hated about Tamaqua and share their fondest memories and dreams for the future. More than 600 letters were submitted from people of all ages and from all walks of life.
Organizers and volunteers turned those letters into an interactive experience in August 2015. Dear Tamaqua was brought to life through a 1-mile, immersive walking experience attended by more than 1,500 people. Almost 125 volunteers were involved with research, donations, construction and serving as guides for the event, which ended with a fireworks display.
One of the submitted letters perfectly summed up the volunteer's efforts: "Dear Tamaqua, I know that you're doing the best you can. I also recognize that I wouldn't be where I am without you."
Tamaqua Has Heart
Not sure if they could top Dear Tamaqua, Rega and her crew of volunteers began working on a new initiative, Tamaqua Has Heart. Large fiberglass hearts were turned into 13 pieces of art, each with its own story of Tamaqua. In 2017, the hearts were installed at different locations in downtown Tamaqua with a grand tour in June. One of the fiberglass creations, known as the "Heart of Tamaqua" because it contains thousands of residents' and visitors' handprints remains on display in the heart of the community.
The project was spearheaded by volunteers Kyle Whitley and Wandie Zammer Little.
Whitley said, "Tamaqua has amazing history, and the possibilities are endless in the downtown area. I worried a bit when I thought of all the what-ifs. But I never let those thoughts stop me. I won't let them stop me."
Raw Aspirations was the community event in 2018, bringing together local and neighboring artists whose work focused on raw materials, such as wood, glass, copper, brass and steel. It was a cooperative effort with the Arts Barn in Schuylkill Haven.
Rega says, "The work of the arts center started as a small idea. The energy of the people who have a love for their town and a desire to make it prosperous as well as a hub for businesses and entertainment is what makes us special. Each and every activity, show or large-scale public art event all launch us to something else. Other members of the community step forward and take another foot forward in providing resources. Groups like STEP-Up and Safer Streets for Tamaqua's Little Feet tackle the tough to talk about issues that all small towns have in drug and alcohol abuse, addiction and death. Others seek to bind our community together through events like Tamaqua Remembers and the Historical Society Museum festivals. Supporting and overlapping in our missions is essential to building happy relationships with one another. We need to encourage one another as well as work together. Our children are watching, and all too soon, they carry the baton. If we create an environment they love, appreciate and feel happy to live in, they will stay, raise their families here, and the future of Tamaqua will no longer be in question."
The current art center project is an escape room designed and operated with help from gifted students at Tamaqua Area Middle School and the Raiders STEP-Up organization.
More than art
While the art center's activities were front and center since 2010, the partnership was also working with community leaders to fight the opioid epidemic through the Tamaqua Area Faith and Fellowship Network and STEP-Up Tamaqua. There was also the little matter of convincing Gov. Tom Wolf's administration to approve Tamaqua as one of only three Community Revitalization Investment Zones in the commonwealth.
The partnership and Lisa Scheller of Silberline Manufacturing teamed up to create a business dedicated to helping erase the stigma of addiction, Hope and Coffee. Located at 137 Pine St., just a few doors north of the Tamaqua Community Arts Center, the business officially opened on July 17, 2018. Unlike your standard business, every employee is someone whose life has been affected by an addiction, whether to alcohol or drugs.
CRIZ Zones are a pilot program focusing on returning certain tax dollars to the communities where they were generated in an effort to promote economic growth. In just two short years, the program has helped an existing business, Dawn's Vinyl Signs, purchase a property and expand operations; and save a historic building, the former Scheid's Department Store in the heart of downtown.
Current projects include the acquisition and renovation of 255 W. Broad St. by Child Development Inc. for an early learning center and 123 E. Broad St. for the expansion of the Pottsville-based restaurant "Wheel."
Micah Gursky, the partnership's executive director, spoke at a recent breakfast seminar sponsored by the Tamaqua Area Chamber of Commerce which focused on the CRIZ project and the need for temporary lodging, such as a bed-and-breakfast or an Airbnb.
Looking back, Gursky says, "My favorite project is "Dear Tamaqua … In a New Light" because for the first time we Tamaquans spoke in our own voices instead of having someone else tell our stories."
As for the future, "Communities are complex and ever-changing and we have to be agile enough to adapt to short-term projects and needs — like Tamaqua Remembers, the 150th Anniversary of Memorial Day. Over the years, we have become much more reliant on private funds. Hope and Coffee and the Arts Center are both entirely funded by private donations and nongovernment grants. We make sure no how matter big or small the donation is, it gets invested in a meaningful project that helps the people who live here," Gursky said.
In other words, stay tuned to discover how Tamaqua is the place where hearts and happiness combine.