Indians, Raiders have new coaches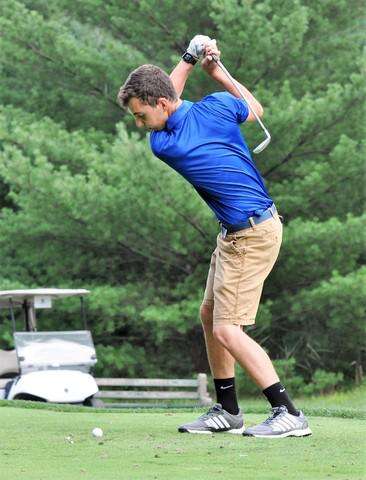 Published August 17. 2018 11:37PM
by
BY PATRICK MATSINKO
AND TJ ENGLE
TNSPORTS@TNONLINE.COM
The 2018 golf season will feature new head coaches at Lehighton and Tamaqua.
JIM THORPE
COMING BACK
... Jim Thorpe will be counting on seniors Carter Wolfe and Hunter Buskirk to provide veteran leadership for an otherwise young squad. Look for Jacob Schwartz, who was a member of the team as a freshman and sophomore but did not play for the Olympians last year, to be another key member of the squad. "Carter Wolfe has been our No. 1 golfer for the majority of his tenure with us. We're really focusing on him making it to the district qualifier and playing well in the league ... and maybe anything that comes after that," said head coach Mike Chapman, who noted Wolfe's experience will serve him well heading into the season. "He definitely has confidence. He's seen all of our courses that we play. I expect him to have a really good year."
FRESH FACE
... Chapman is also eager to see what freshman Ed Weaver can do for the team this season. Weaver's presence should boost the Olympians' depth.
MOVING FORWARD
... No matter their experience, Chapman always hopes for steady improvement from his squad. "For the most part, it's all really going to be individual goals. It's just about going out and posting a lower number in your last match than you did in your first match of the year, and continuing to improve throughout the season," he said. "Right now, I have three seniors, and after that, it is pretty much all freshmen. ... I'm just working on trying to develop younger golfers, and by the time that they're seniors, they're going to hopefully be competitive."
NEW LOOK
... Jim Thorpe will be playing its home matches at Jack Frost National Golf Club this season. "It's a challenging course, that makes them hit all the clubs in their bag. Playing more rounds at Jack Frost is going to help them as we get to some of the other courses that we play," said Chapman.
MARIAN
YOUTH IS SERVED
... Veteran head coach Len Brewleski will be counting on several underclassmen this season. Marian has six freshmen out for the team: Walter Pavlik, Alex Kokosky, Carl Moyer, Liam Leonard, Joshua Kuzmitsky and Bella Lesante. Brewleski will be hoping they adapt quickly, with only three other golfers returning from last season.
VETERANS
... The returning upperclassmen are seniors Jacob Artz and Johnathan Grutza, along with junior Emily Reaman. Artz, Grutza and Reaman paced the team in a win over Weatherly on Friday.
FAST START
... The victory against Weatherly moved Marian to 2-0 to start the season. Marian topped North Schuylkill Thursday in the season opener.
LOW NUMBER
... Brewleski can't recall a time during his tenure at Marian with so few golfers on the squad. "I have never seen a team like this. Ten years ago, I had 16 girls and 21 boys. I had almost as many on the golf team as they had on the football team. And I had those 16 girls for four years, and my boys number always stayed between 16 and 22," said Brewleski, who noted is still eager to coach the game he loves. "I'm just happy these kids came out. I'm just thankful these kids came out. If they want to learn the game of golf, I'll teach them."
HOME TURF
... Marian will play its home matches at Mahoning Valley Country Club this season.
PLEASANT VALLEY
BIG SHOES TO FILL
... Bears' head coach Steve Krechel will have to replace many of last year's key contributors, including Riley Held, Josh Schillinger and Nick Gattuso.
"I'm hoping to get a team together that can compete. We graduated three seniors last year that counted in every single match, so we have two kids coming back that have played before, other than that we're looking for some kids," said Krechel.
Look for returnees Andrew Stewart, Alex Markowski and Harrison Hanyon, as well as sophomores Steven Ottman and Mary Scully to step into bigger roles this season.
WHAT'S OLD IS NEW AGAIN
... Krechel, entering his 26th season as Pleasant Valley's head coach, always enjoys the start of the season. "It's a fun time of the year, getting to know some new kids, and spending some time with some older kids. Seeing the progression of getting a little bit more mature as the kids get older, I like to see. And using some of the skills that we've taught them over the years as they get older," he said. "I've always said since the beginning, I try to teach the love of the game, and doing the best that you can, and that will never change."
ONE DAY AT A TIME
... Though Krechel has seen almost everything in his nearly 30 years of coaching, his approach has remained the same. "The first day that we get to practice, they always write down the first score that they did the first day, and then we always like to see improvement over the year, and have them learn some different things. Overall, we want them to learn a game that you can play the rest of your life," said Krechel.
LEHIGHTON
CHANGING SPORTS
… During the last seven years, Mark Maholick has been an assistant women's basketball coach at Wilkes University. Before that, he spent over a decade coaching high school basketball in Maryland as well as at Lehighton and Palmerton. Maholick has decided in a change of pace and is now entering his first year as Lehighton's head golf coach.
NOT HELPING MATTERS
… It has only been a few days since fall sports have officially started, but all sports are in a similar situation. The Indians haven't been able to practice much – and have been spent most of their time inside the high school gymnasium. "It's been tough getting on the course," Maholick said. "It's raining here all the time. Mother Nature has dropped some serious rain on us."
RESPECT THE SENIORS
… Mason Barndt, Luke David, Stephen Heery and Sam Maholick enter their final season with the Indians. The foursome has plenty of experience under their belt. The Indian seniors look to end their high school careers on a good note – with success in either the Schuylkill League and District 11 championships.
MIND SET
… Maholick stated the Indians have set some objectives for the new season. "There's anticipation to play," Maholick said. "They just want to get better. Hopefully they continue to push each other to become better golfers and learn from each other. I just want to see them have a positive experience and build on it."
NORTHWESTERN
BIG SHOES TO FILL
… At the end of last season, Tigers' head coach Tim Miller had to say good-bye to a strong group of seniors that included captains Tyler Wiik and Mason Vogwill, as well as classmate Colin Rex. "They will be missed not only for their scoring averages (high 70s, low 80s) but for their leadership," Miller said.
SPECIAL HONOR
… A year ago, Gabby Smalley became the first female varsity letter winner in Miller's tenure at Northwestern. She's back for another yearwith the thought of making even more of name for herself.
BACK AGAIN
… Joe Fry, Jake Dellicker, Luke Hallman and Smalley are looking to be the ones to fill the voids left behind by the graduating seniors. Not only does Miller have faith in them, but he has the utmost confidence in those who follow right behind. "We have a good group of incoming freshmen who will be called upon to solidify a young team."
HOME SWEET HOME
… Nothing like having your home course literally right across the street. The only thing that separates Northwestern High School and Olde Homestead Golf Club is Route 309.
PALMERTON
BOMBER PRIDE
… Palmerton has several returnees from a year ago including senior Josh Mooney, juniors Logan Kresge, Mason Kistler and Matt Lalik, and sophomores Jake Sutton and Derek Rea. "We are a veteran team with a lot of varsity experience, so we should be in good shape for this season and years to come," Knoll stressed about his core group of returnees.
LONE DISTRICT REP
… Last year, Kresge was the sole Bomber to play in the District 11 golf championships. Kresge shot a 94 to finish in 14th place. He also had a 23rd place finish at the Colonial League championships
MOVING ON
… Last year's PHS graduation took along some Bomber golfers with it. Eric Baumgardt and Owen Reis graduated with the Class of 2018 back in June.
EYEING IMPROVEMENT
… A year ago, the Bombers finished the season with a record of 6-11 overall and 5-10 in the Colonial League. "We look to continue to grow as a team and program from over the past few seasons," Knoll said. "More and more of our guys are starting to practice hard over the summer, which pays dividends during the season."
FOCUS ON SUCCESS
… The Bombers pulled through in the end to capture some close matches. However, they also found themselves on the short end of the stick in a few nail-biters, losing three matches by 22 strokes or less.
TAMAQUA
MOVING UP IN THE RANKS
… The Blue Raiders have a changing of the guards as a very familiar face is taking over the head coach position. Last year assistant coach Matt Stine will be taking over as the Blue Raiders' head coach this season.
PROGRAM FIRST
… In its first-ever appearance in the District 11 team championship in the program's history, the Blue Raiders walked away with a silver medal in Class 2A.
EXPERIENCE
… Seniors Tavio Agosti, Tyler Disbrow and Nathan Shellhammer will be among the Raiders leaders this season.
HOME COOKING
... Tamaqua will play its home matches at Mountain Valley Golf Course.
WHEN HIGHER NUMBERS ARE GOOD
… With golf, lower numbers are usually a good thing. But when it comes to depth in the roster, higher number s are the goal and the Raiders have exactly that with 15 golfers on the roster. "We're returning a total of seven players from last year's team, including three starters, which is definitely a strength," Stine said. "However, we graduated a great deal of production in Brandon, Ryan, and Carson.We also graduated Jacob Triano, who made much needed contributions to victories along the way.Those guys will be missed, but their departure creates opportunity for players on this year's team."
LONG TERM FOCUS
… Stine said winning is great, but it's not the sole focus heading into the season. "As far as expectations, team and individual accomplishments are always enjoyable," said Stine. "But our focus is to open up this great game to the next generation by teaching it properly, allowing our players to enjoy themselves while playing it, and assisting in their development as successful young men and women of integrity. If we can reflect on our season and check those boxes, I believe that will constitute a successful year."
WEATHERLY
LOOKING FOR IMPROVEMENT
… After winning just one match a year ago, the Wreckers have al;ready matched that total just two days into the 2018 season. Third-year coach Brian Kaminski is looking for more success. "Overall, I think we will build off the win from last season," he said. "We return most of the starters from last year.The kids are willing to keep getting better and they are working hard to get this program back in the right direction.
LEADING THE WAY
… Returning members of the Wreckers' lineup this season are seniors Kevin Osifat, Ryan Fairchild and Jared Zaremba, as well as junior Ashton Gerhard. Kaminski said, "Ashton will be looked at to be our main scorer and our No. 1 scorer with Kevin, Ryan, and Jared a strong group in the No. 2 through No. 4 spots."
LOOKING TO CONTRIBUTE
… A trio of sophomores in Jacob Solonski, Ethan Broskoskie and Antonio Colecio, and senior Anthony Maguschak have caught the attention of their coach in the pre-season. The combination of experienced returnees and some added depth has Kaminski optimistic. "It's a great group to work with and I think this team could make a strong showing in the division this year," he said.