Palmerton vets mark Moving Wall visit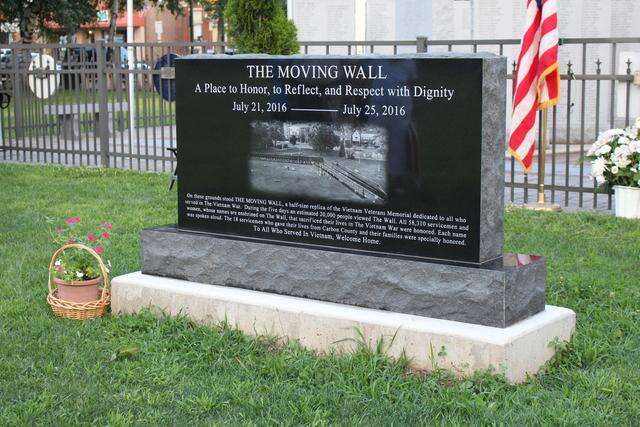 Published July 30. 2018 02:45PM
by Brian Myszkowski bmyszkowski@tnonline.com
The Moving Wall may have left over two years ago, but the memory of those who gave their lives in the Vietnam War will forever be a part of Palmerton Borough Park, thanks to a new memorial monument.
On Saturday evening, the Palmerton United Veterans Organization, consisting of members of VFW Post 7134 and American Legion Post 269, dedicated a monument recognizing The Moving Wall's time in the park.
Following the national anthem sung by Palmerton Area High School student Billy Drake and an invocation from First Vice Commander of Post 269 Joseph Uhnak, George H. Duell Jr., Army Reserve Ambassador and master of ceremonies, greeted the crowd.
"Tonight's ceremony will focus on the visit of the Vietnam Moving Wall that we had here in Palmerton in 2016. It has both a historical and personal significance to our community, and to our residents. We view it as a coming home for our Vietnam veterans, and at the same time, a recognition of all veterans who served, both living and deceased," Duell said.
The Wall, a half-sized replica of the Vietnam Veterans Memorial in Washington, D.C., lists the names of over 58,000 servicemen and women who lost their lives in the war. Since 1996, the Moving Wall has toured more than 600 communities, offering a place for veterans and their families and friends to honor those lost.
From July 21 to 26, 2016, about 20,000 people visited Palmerton Borough Park to observe the Wall. Working around the clock, a group of volunteers served to pay homage to those whose lives were lost by reading each and every name on the monument.
"First, the most important guests that I would live to recognize are those over 58,000 special guests who are here with us tonight in spirit, but nonetheless, they are here," Duell said, "Those are the names of our men and women who sacrificed all, and whose names appear on the Vietnam Wall. We especially welcome them here, and welcome them home tonight."
Remembering
Rep. Doyle Heffley, Carbon County Commissioners' Chairman Wayne Nothstein and Palmerton Mayor Christopher Olivia spoke, thanking the community for support, and the veterans both present and past who have protected the country.
Olivia, a Vietnam veteran himself, spoke of the honor of seeing the Wall in his town, and how the new monument will always provide a reminder of the Wall and the lives it pays tribute to.
"Now it's gone, and sometimes when I walk through the park, I stop here and look, and I try to remember. And now, I'm going to remember," Olivia said.
Henry "Hank" Desrosiers, Vietnam veteran and director of Veterans Affairs for Carbon County, called attention to the efforts of the Palmerton UVO, the borough's citizens, civic organizations and especially veteran Steve Vlossak, all who invested their time and effort to bring the Moving Wall to the park.
"Where we presently stand, this is a sacred place where those coming after us will recognize our desire to acknowledge those of us who have sacrificed so much for our freedom, and they will be encouraged to place the same importance on this site as we do this evening," Desrosiers said.
Commander of the Vietnam Veterans Organization of Carbon County Bob Paul spoke of the numerical tolls of the war — the 40,000 casualties who were 22 years old or younger, the 997 lives lost on the first day of Vietnam, the 1,448 lost on the last day, the eight women who were nursing wounded when they died — and the reality behind those numbers.
"We are, until we soon pass away, haunted by what these numbers created, because they were our friends, fathers, husbands, sons, wives and daughters. There are no noble wars, just noble warriors. Thank God, and bless this country. We love you," he said.
Unsung heroes
Sons of the American Legion member Joseph Plechavy presented a musical selection, "Song for the Unsung Hero."
Keynote speaker Steve Vlossak, a Vietnam veteran and a driving force behind the effort to bring the Moving Wall to Palmerton, gave a harrowing account of his time in the war, and the struggle of life after coming home to a country that turned its back on him and his fellow servicemen and women, survivor's guilt, post-traumatic stress and all the other issues that plagued those who came back.
It wasn't until the early 1980s, Vlossak said, when the Vietnam Veterans Memorial went up in Washington, D.C., that the tide began to turn. Veterans began to receive recognition for their service, and those men and women who were there stood up to embrace one another.
"Vietnam vets began to take another step. We began greeting each other with the words 'Welcome home, brother.' If no one else welcomed us, we were going to welcome each other home," he said.
When the Moving Wall came to Palmerton, it served as a proverbial landmark for the Vietnam veterans on their eternal journey.
"During those five days, Vietnam veterans living and deceased came home together. We greeted each other with handshakes and hugs. For those who didn't make it home, we stood by their panel with tears and memories. Our journey home is not yet ended, but on that journey, now there will be a marker, a memorial, that will remind us and future generations of a time in this park when all Vietnam veterans, living and deceased, were truly and most beautifully welcomed home," Vlossak said.
The unveiling
Legion Post Commander Ed Moyer took to the stand for the grand unveiling.
"The Palmerton United Veterans, under the leadership of Mr. Vlossak, wanted to remember the presence of the Vietnam Moving Wall that was brought to Palmerton, plus bring attention to the Vietnam War, to the 58,300-plus names of the men and women that died, especially the 18 from Carbon County, that died, the thousands of veterans still fighting the effects of the war and their families," Moyer said. "The last line engraved on this stone states 'To All Those Who Served, … Welcome Home.' I would like to also add, 'You will always be remembered.'"
The stone monument, crafted by Walters Monument Company in Summit Hill, features a highly detailed photograph of the Moving Wall in the park. The inscription includes the date and the pivotal welcome home message that Moyer highlighted. The stone's base was donated and installed by Todd Wentz.
"I ask God to bless all 58,300-plus named on the Wall, and I ask God to bless all veterans, especially tonight, all Vietnam veterans, and I ask that God bless America," Vlossak concluded.