Miller 'pumped' for Open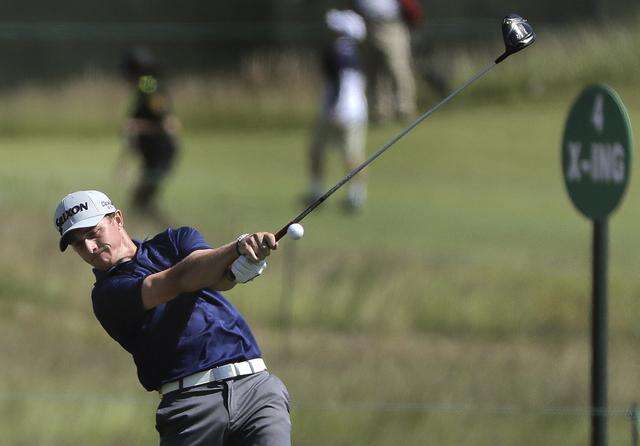 Published June 13. 2018 02:42PM
by Mike Haines mhaines@tnonline.com
Right around 8:46 a.m. Thursday morning, the first-tee announcer at Shinnecock Hills is going to announce Cole Miller of New Tripoli, Pennsylvania.
The Northwestern Lehigh graduate anticipates his usual first-tee jitters before teeing off at this year's U.S. Open. And he embraces the feeling.
"Nerves are good," he said Tuesday evening in a telephone interview after an 18-hole practice round and some prep work on the practice facility.
Miller knows the nerves reflect how much he wants to be on that first tee competing against the best in the game. It's what he's been preparing for his whole life, and especially the past four years playing at Penn State University.
He had attempted to qualify for the U.S. Open at least three times in the past. He kept persevering. Two weeks ago, Miller proved he belongs at the game's highest level when he got through qualifying and earned one of the 156 places in the field.
Since then, Miller played in his first professional tournament, finishing tied for 23rd last week (6-under par) at the Bayview Place DC Bank Open in British Columbia, a Canadian PGA Tour event, also known as the Mackenzie Tour.
He got to Shinnecock in time to get in a nine-hole practice round on Monday and an 18-hole round Tuesday. After today's round, he went to the driving range where he was stationed next to the current top player in the world, Dustin Johnson.
The past few days have been a whirlwind.
"It's been crazy in the best possible way," Miller said.
Miller called the 7,440-yard U.S Open course a "beast," but also said the course is fair. He feels that it suits his game. Miller is comfortable with big courses, and said he hit only one club longer than a 7-iron coming into greens in the practice round.
Miller's approaching it the same way as any other round.
"For the most part, it's the same game plan," he said, adding that "fairways are at a premium" and the greens have a lot of shape on the edges so approaches have to find the right spots.
He enjoyed the practice-round spectator interaction and can't wait to play in front of the larger crowds that will be there when the tournament is underway.
At one point in his practice round, Miller hit a shot off line and spectators encouraged him to drop a ball and hit another. He did just that. This time he executed the shot perfectly and received a round of applause.
"I absolutely love playing in front of big crowds," he said.
He's received a flood of calls and texts from friends, family and golf buddies. He's excited to see some familiar faces on Long Island this weekend.
"A lot of people are coming to support me from the Lehigh Valley," Miller said. "I can't thank everyone enough for the support."
One familiar face from the Lehigh Valley has been on Long Island for nearly a week helping in preparations. Former Northwestern golf teammate Nick Vecellio will caddy for Miller this weekend, and could become his full-time caddy at some point in the near future.
"He knows my game so well," Miller said. "We really work well together as a team."
Vecellio went to the course a few days early to get yardages, read greens and make sure he has all the information necessary to help his good friend succeed.
While Vecellio was checking out Shinnecock, Miller was finishing up playing in Canada and then heading across the country to register for this week's tournament and start preparing.
By Thursday morning when the two former Tigers step onto that first tee, all the preparation will be done and they'll just be playing golf like they had so many times at Olde Homestead and Blue Ridge Country Club. Or on the Golf Association of the Lehigh Valley junior events.
This time, there will be many more people watching, and the stakes are considerably higher. The competition will include all of the worlds best.
Miller has been waiting a long time to tee it up against the best in the world.
"I'm pumped," he said. "I've prepared. This is what I've been working for the past four years. It's going to be a test. We'll see where it goes."