Spotlight: Vintage anthracite locomotive to be relocated to West Penn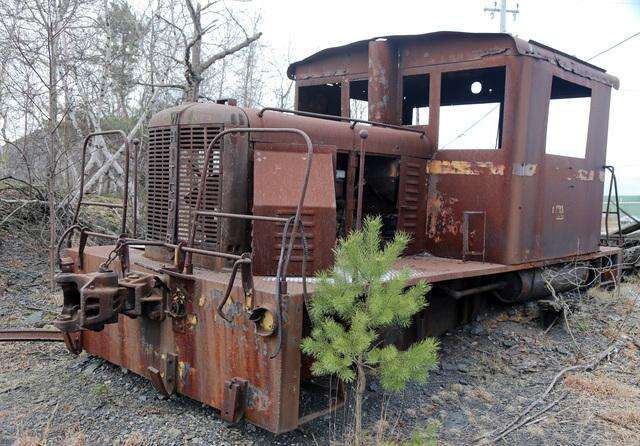 Published April 21. 2018 11:07PM
by Donald R. Serfass tneditor@tnonline.com
Rail lines were abandoned in West Penn Township 57 years ago.
But the area's rich railroad heritage will be permanently saluted thanks to hard work by local volunteers.
The township will soon take acquisition of a historic Whitcomb industrial locomotive once used in anthracite mining.
Last weekend, a group of men spent the day fastening iron rails and prepping ties at a highly visible hilltop site at the township municipal building just off Route 309, 5 miles south of Tamaqua.
Volunteers say the area, known as the Ridge Cup, will provide a suitable venue to showcase a vintage locomotive previously used in anthracite coal mining. The engine, long abandoned at a mining site along Route 309 north of McAdoo, will be donated to the township by Pagnotti Enterprises after a resident made the request several months ago.
"I contacted Pagnotti in January," said Dave Frederick of Chain Circle, near Mush Dahl Road. Frederick is a local contractor and rail hobbyist who constructed his own private, standard-gauge rail line on private land in the township many years ago.
The corporation agreed to Frederick's request and, with it, a spark was ignited. The idea gained momentum and volunteers stepped forward.
Strategy and donations
Much planning and strategy is involved in the process.
For instance, the locomotive is partially sunken into the ground and will need to be dug out.
Cranes will be required to hoist the 35,000-pound machine, and transportation permits will be needed to haul it.
But before that happens, the township must prep the site to receive the piece of anthracite history. To get it done, a crew of railfans and other volunteers have been busy finding ways to make it happen.
Frederick donated railroad ties and spikes, and then secured a donation of steel joint bars from Atlantic Track and Turnout Company of Pottsville.
Frederick also came up with four sections of rail, each 8 feet long, donated by neighbor Harold Troutman. Additional rails came from the Pagnotti operation.
Stone for the rail bed was donated by Andreas Stone Quarry, while M&S Hardware, Tamaqua, agreed to donate rust-preventive paint.
Art Sterling Jr. of Andreas will use a semi truck donated by Horwith Trucks of Northampton to transport the heavy load from McAdoo to the West Penn Township municipal building.
Rebuilding the tracks
On Saturday, volunteers completed a 40-foot section of track, carefully applying joint bars and welding holes to accommodate steel bolts.
Other workers on hand were: Peter Sterling of Andreas, Dylan Smolar of New Ringgold, Jason Binder of Coaldale, and David Bowes and John Shucavage of Tamaqua.
Shucavage, a rail historian, says the township was known for two main railroads — the Lehigh Valley Railroad and the Lehigh and New England, with both having depots in the township. However, not much, if any, of the original steel rails remain.
"The Lehigh Valley Railroad was abandoned in April of 1953," says Shucavage.
"The Lehigh and New England, which went through Tamaqua to Pen Argyl, was abandoned on Oct. 31, 1961, and was torn out during June to September 1962." Hauling the load in coming weeks, Ted Bogosh of South Tamaqua, township supervisor, will extricate the old engine from a resting place where it's slowly been reclaimed by nature over the past 50 years.
"It's a diesel with a mechanical transmission, so it came before electric (models)," he says.
Bogosh remembers watching the locomotive in action at its McAdoo location.
"I was 10 or 12 and my dad and I would drive by the spot where it crossed the highway," he says.
Bogosh has keen interest in the coal industry because his family once earned a living by mining their own operation in South Tamaqua.
"My grandfather had a breaker — Spring Creek Colliery. It was the southernmost breaker of the anthracite region."
Bogosh, like others, hopes the engine can be restored.
"Maybe we can make it run," he says.
But for now, the priority is to get it into the township and secure it to the staging area. When positioned, it'll impart a strong visual story about the role of railroads in rural West Penn, where folks normally tend to think of agriculture and farming.
Truth is, West Penn also played a key role in the black diamond industry and the glory days of rail.
"We had railroads and coal, and this train will be a representation of both," says Bogosh.