Tamaqua Remembers Committee unveils website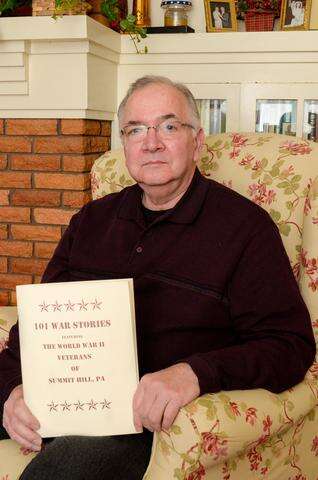 Published February 10. 2018 11:05AM
by Kathy Kunkel kkunkel@tnonline.com
The Tamaqua Remembers Committee has unveiled its new website and it's chock-full of information about the upcoming 150th observance of Memorial Day, as well as bringing to life the 91 Tamaqua men who lost their lives during America's wars.
The website's homepage offers an updated list of coming events and a rotating display of the borough's war dead, going all the way back to the Civil War. There are also individual links for a more in-depth calendar, "The Wall," a veterans' tribute page and a way to contact the committee.
The Wall is where you will find information on each of those 91 men. This information was researched by two men, Christopher Fulmer of Tamaqua and Joe Nihen of Lansford. Over the past two to three months, the two men, both well versed in genealogy, combed through the internet at sites such as Ancestory.com and newspapers.com. Fulmer also pored over reel after reel of microfilm at the Tamaqua Public Library, a daunting task at best.
The men they researched were listed on one of Tamaqua's war memorials, in the Tamaqua Evening Courier's list of those killed in action or were found in government records listing Tamaqua as the deceased's residence.
Both men noted their research wasn't difficult, just time consuming.
Nihen says the research was a "good winter project."
"Most of it could be done from home if you have a computer," he said.
An interest in the Civil War, partly thanks to his great-great-grandfather's participation, meant he already had some records in his "library" and was familiar with the websites ancestry.com, newspapers.com and fold3.com.
His love of history led him to begin compiling information on the 1,000 men who served with his great-great-grandfather, Henry Werline, in the 208th Regiment of Pennsylvania Volunteers during the Civil War. Many of the men hailed from Carbon and Schuylkill counties. As an active member of the Summit Hill Historical Society, he has helped keep history alive by guiding tours of the borough's Grand Army of the Republic Cemetery, writing a book about Summit Hill veterans who served in World War II and more.
Fulmer is also an author and a bit of an historian. His book, an autobiography titled "Welcome Back to Saturday Morning," recounts the highs and lows of growing up with autism. He too touts ancestry.com as an effective way to delve into genealogy and personal history.
It was the library work that was most taxing, as looking at microfilm for hours isn't exactly good for the back or on the eyes. But, that research he says, "Shows me that any of us, all of us, can rise to greatness when the circumstances call for it. These 91 men were just average people, doing their civic duty. All of them are heroes."
While there were many more who lived in the townships that encompass the greater Tamaqua area, the committee focused on those who actually resided within the borough's limits. That includes the former Rahn Township.
The veterans' tribute page offers website visitors the opportunity to share photos and information about the veterans who have touched their lives. Any veteran, living or dead, who served in any military branch in peacetime or war, can be added to the site. This page is not just for Tamaqua Borough residents, but for anyone who wishes to honor a veteran.
Whether it's to keep up to date on the plans surrounding this Memorial Day, or to pay tribute to our area's veterans, visit www.tamaquaremembers.com for a mini trip into local history.