Mason George follows his brother Cole into the rank of Eagle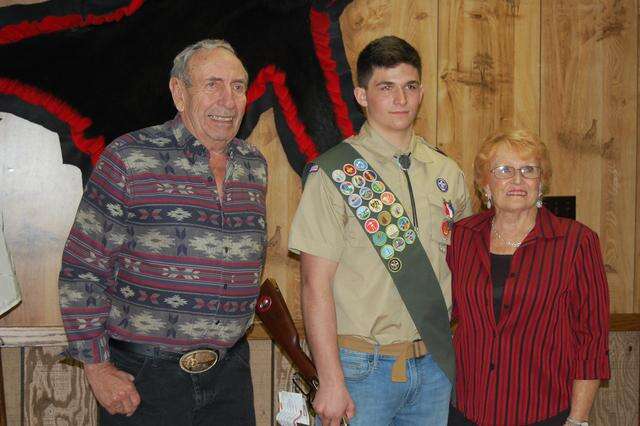 Published January 04. 2018 12:47PM
Roads were snow-covered on Dec. 30 but the guests invited to Mason Richard George's Eagle Scout Court of Honor considered it important enough that they made the trip, a few from several hours away. The ceremony was held at Palmerton Rod and Gun Club, the chartering organization.
Committee chair Kelli George thanked everyone for coming including Channels 13 and 16 and the Times News.
She said, "This has been quite a road for us. We learned so much. The boys learned life skills. They learned to actually talk to each other without electronics. It's a family thing. We're really honored that Cole is home from the Army."
He is training at Fort Gordon, Georgia.
Cole George, who earned Eagle in 2016, took over and asked James and Jackson Pudleiner, Cub Scout cousins from Chester County Council, to present the colors, which was followed by the Pledge of Allegiance.
This is an occasion of joy. Eagle is the highest advancement. Only a small number of Scouts make Eagle, Kelli George said.
Steph Anderson gave the invocation.
She said, "We celebrate the accumulated badges he earned. Along the way we celebrate the Scout leaders. So, God, we ask you to bless this celebration."
Steph Stroup, advancement chair, said Mason George is marked by the Eagle badge. The Eagle was a messenger of the gods, and to the American Indian it is a symbol of courage.
An Eagle Scout lives with honor. Living honorably reflects on his home, church and community. He is true to family, Scout leaders, school and community.
Candles were lit for each of the obligations included in the Boy Scout law: trustworthy, loyal, helpful, friendly, courteous, kind, obedient, cheerful, thrifty, brave, clean and reverent.
Kelli George declared by the authority of the Boy Scouts that the Court of Honor was convened. Mason was presented to Assistant Scoutmaster Rocky Borger and escorted by three previously honored Eagles: Cole George, 2016; Jim Pudleiner, 1994; and Joshua Pudleiner, 2000. The latter two are cousins.
All along the trail to Eagle they have given him encouragement. Mason repeated the Scout Oath. Scoutmaster Rick Anderson gave assurance that Mason has practiced the requirements of the oath.
Borger said Mason now has a more intense responsibility. "Be prepared" takes on more meaning.
His parents, Shawn and Kelli George, agreed that they would continue to offer parental support.
Mason's Eagle Scout project was to make picnic tables and benches for Jerusalem United Church of Christ.
The Eagle Charge said Mason has been judged as worthy of the honor of Eagle. He was told he assumed an obligation to bring honor to himself and fellow Scouts. You live to serve those who know you. You practice unselfishness and citizenship regardless of what others may do. And from the Declaration of Independence came "We mutually pledge to each other our lives, our fortunes and our sacred honor."
Borger said, "You will become a guide to other Scouts. To falter would reflect not only for you but for all Scouts." Anderson presented the Eagle pin to Mason.
"No one will know the sacrifice his parents have made. He will present Eagle pins to his parents," Borger said. "May I congratulate you again. This will bind you more closely as a family that God may bless you."
Mason presented a rose to his grandmother Elaine George and had one for his other grandmother who was not present.
State Rep. Doyle Heffley said Eagle was not earned in a vacuum, but it takes a lot of people. He said he has attended many Eagle ceremonies with Troop 209.
He presented Mason with a citation from the House of Representatives.
On the wall were nameplates with the ranking of each Scout. Mason moved his from Life Scout to Eagle.
He gave mentor pins to his mother, Kelli; his dad, Shawn, whom he said had always been there for him; Borger who helped him with badges; Anderson; and his brother, Cole.
A slideshow let guests accompany him through his trail to Eagle. It included Camp Rodney, hobo breakfast, hike the Appalachian, Order of the Arrow, Scout Sunday, peach cobbler with ice cream, Sea Base, Philmont, the Air Force Academy and white-water rafting.