NW's Vogwill progressed through the years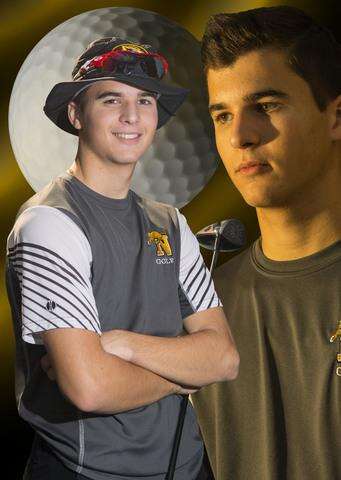 Published December 26. 2017 02:45PM
by Mike Haines mhaines@tnonline.com
Like many golfers, Mason Vogwill learned the game from his father, getting his start when he was still not much taller than a standard driver.
Jerry Vogwill took his 6-year-old son to the par-3 course at Olde Homestead and taught him the game. While baseball was his favorite sport growing up and still is, Mason Vogwill also loved golf and eventually joined his high school golf team as a freshman.
He progressed through the years, moving into one of the top two spots as a senior on the Northwestern Lehigh team. He posted his best average in his four-year high school career this past fall, then validated his status with three solid rounds in the postseason to earn this year's Times News Golfer of the Year.
"I'm extremely happy," Mason Vogwill said of his senior season. "I was expecting to do well in leagues, but I wasn't really expecting to do well in districts."
After posting a 79.2 average in 12 regular season matches, Vogwill played some of his best golf of the season when the stakes were highest. He shot 86 to tie for 12th place at the Colonial League Championship, held at Bethlehem Municipal.
His season average put him in the district championship qualifier for the first time in his career. A weather postponement moved the event from Lehigh Country Club to Olde Homestead, Northwestern's home course. But that wasn't necessarily an advantage as the course played a full tee box longer at districts than the course Vogwill had grown accustomed to over the years.
Playing in the Class 3A field, Vogwill fired another 86 to make it through the qualifier one stroke above the cut. He went on to shoot 82 in the district championship for ninth place. The finish was one stroke and one place away from earning a trip to the PIAA East Regional, but it was still a great way to finish a stellar high school career.
Vogwill put in a lot of time in the offseason to improve his game. In between baseball and a part-time job, he found time to meet with Northwestern head coach Tim Miller to practice during spring and summer.
But his improvement over the years was more than physical. He admits this year he learned to let the bad shots go and concentrate on the next shot instead of the previous one.
"He really matured from junior to senior year," said Miller. "In years past you could tell when he got frustrated. He tended to get down on himself and lose his focus. This year he realized his abilities and understands the game. He was very composed on the golf course."
Vogwill has plenty of talent for the game of golf, but he's also had to work hard to improve. A 6-foot-1 starting pitcher for the Tiger baseball team, he earned all-league honorable mention status last year in his first sport, the one which he'll continue at Penn State Harrisburg.
His athleticism also helps him on the golf course.
"He's got great hand-eye coordination," said Miller. "He hits the ball a ton, length is one of his strengths. He's a very athletic young man."
Vogwill progressed all four years of his high school career.
Before joining the team as a freshman he played in some Golf Association of the Lehigh Valley events to get a feel for playing in competitive matches and tournaments. He joined the Northwestern team as a freshman but didn't break into the varsity lineup.
As a sophomore, just months removed from a broken arm that kept him out of the spring baseball season, he brought his average down into the low-to-mid 90s and got into the Tigers' lineup. As a junior, Vogwill played in the No. 4 spot on the golf team and brought his average down to the mid-80s.
This season he played in one of the top two places on the team, along with golf and baseball teammate Tyler Wiik.
Vogwill shot 80 or better in eight of his team's matches this season, including a season-low round of 73.
This past fall, while he prioritized golf over fall baseball and umpiring youth games on weekends, he was able to have the best season of his career and finish it off about as well as he could have hoped.
He attributes much of his success to time spent on the driving range and credits Miller with giving him the necessary guidance to reach his golf potential. At the same time, Miller couldn't be happier to share his love of the game with a willing student.
"He never second-guessed me," said Miller. "He matured as a young man as much as he matured as a golfer."