Defensive play key to Indians success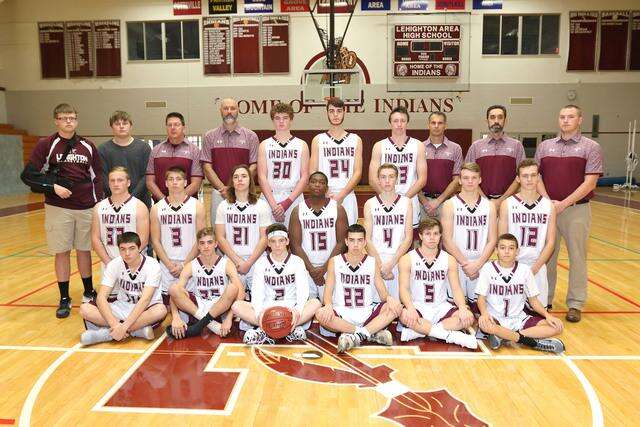 Published December 05. 2017 02:45PM
First-year Lehighton head coach Trevor Miller is new to the Schuylkill League.
But he sure knows about its reputation.
And the league's style of play is exactly what he's hoping to receive from his players this year.
"It's definitely different for me going from what I know, the Colonial League, to the Schuylkill League, which is certainly a lot more hard-nosed basketball, get-in-your-face defensive kind of style," said Miller.
"One of the things that we've stressed since I got here is we need to get better on the defensive end. We're going to throw different looks at different teams. We're going to try and get that Schuylkill League hard-nosed, man-to-man defense and mix in some different zones. But for us, everything is going to depend on our defense."
Lehighton finished with a 16-7 record a year ago, including a 9-5 mark in the league's competitive Division 1. Its defense held opponents to 45 points a game, which helped produce a successful season. But three keys members from that squad — Andre McDowell, Donnie Buchinsky, and Damian Mele — were lost to graduation.
That leaves its two returning starters — senior Caine Carpenter and junior Addison Howland — as well as its other senior players, to step up and take charge.
"There's a very solid core here between the seniors that I have, along with the younger guys getting involved," said Miller, who takes over for Rich Oertner. "But our senior class is a good solid core to lead this group.
"We're going to have that hard-nosed, gritty type of attitude. We're going to get up in people and be physical, press with different looks ... where every night opponents aren't sure what they're going to get."
If the Tribe can excel at the defensive end, Miller believes his offense will be able to produce.
Howland averaged 9.2 points per game and made 32 three-pointers a year ago, while Carpenter hit for 8.6 ppg and 16 treys. The two lead a deep group of guards ready to contribute.
Inside, the team will look to senior Greg Venuto, freshman Zack Hunsicker, and sophomore Ben Schatz to provide a strong presence in the post.
"We're going to have a real solid rotation at guard between the returning guys from last year along with some guys who played a lot at the JV level last year in Jack Schaeffer, Collin Troxell and Steven Heery," Miller said. We have some guys who can shoot it, and we have some guys that can attack the rim.
(Venuto) is a good post-up player ... (Schatz) has excellent footwork and (Hunsicker) is a freshman who can play all five spots on the floor. We're a unique team because I think we can be very balanced. We could have a different leading scorer every game. We have a nice mix of big guys along with our guards that can contribute on any given night."
Miller, whose high school coach (Caszy Kosciolek) will be on the bench assisting him, is anxious for the season to start.
"(Being in the Schuylkill League) is an exciting challenge for me," said Miller. "We expect to compete with everyone in our division ... It's a solid division, and we expect to be right there at the end of the year.
"I have what I feel is one of the best coaching staffs in the area. The players have worked hard for me from the start, and have given me everything they have, which is all you can ask coming into a new program."