Panthers focus on improving defense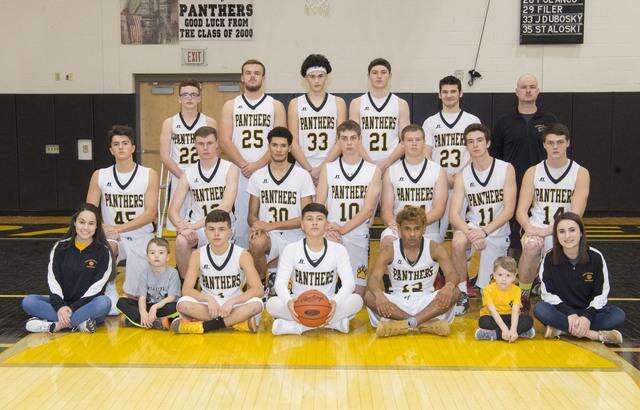 Published December 04. 2017 03:11PM
Panther Valley has the potential to be pretty good offensively this season.
The Panthers return their top two scorers from a year ago in senior Tristan Blasko (14.4 points per game.) and junior Rene Figueroa (13.7 ppg.), and will have several other capable offensive players join them in the starting lineup.
But if Panther Valley is going to improve on its 7-15 record from a year ago, head coach Pat Crampsie said it won't be because of its offensive potential.
"The key for us this season will be how well we defend and how well we rebound," said Crampsie. "We need to get tougher and more intense on defense. I'm looking for a lot more passion and focus then we showed last year.
"I thought we had a pretty good tradition of playing with grit and toughness on the defensive end and on the boards during my time here at Panther Valley. There were years where we didn't always have a lot of offensive weapons, but for the most part we really competed on the defensive end."
Crampsie said the Panthers lost some of that defensive tenacity a year ago when they allowed an average of 56.5 points a game. He wants to get it back.
"That's a major point of emphasis for us," Crampsie said. "Defense and rebounding are both about attitude. If we want to be better this season, that's where it has to start.
"It's not acceptable to allow over 50 points a game. We lost games last year where we scored 58 and 61 points. That can't happen."
Crampsie will be looking to some of his veteran players to help rebuild the defensive attitude.
"Tristan (Blasko) will be in his fourth year starting for us and Rene (Figueroa) will be in his third year," Crampsie said. "I know they can score. But I'm looking for them to make a big jump in other areas.
"We need them to be a force on defense, to rebound the ball, and to step forward in the leadership department."
Joining Blasko and Figueroa in the starting lineup will be junior Trey Turner. Turner, who Crampsie said has shown tremendous all-around improvement, will also be one of the team leaders.
As many as seven other players could see time either in the starting lineup or in the playing rotation. They include seniors Allen Perez, Ronnie Distler and Mark Sanchez; sophomores Brandon Stilitino, Erick Marcharro and Blake White; and freshman Tommy Edwards. White is currently injured, but should be back in early January.
Rounding out the Panther roster are seniors Anthony Prudente and Jason Wallace; and juniors Bradly Buzzard, Carter Brettle and Adam Depew.
"I think we have the pieces to be successful," Crampsie said. "We aren't anywhere near where we need to be right now.
"But if we keep working hard and improving, I believe we can be in the mix in both the league and the district. We have some potential, and the areas where we need to improve are definitely fixable."