Santa comes to visit Coaldale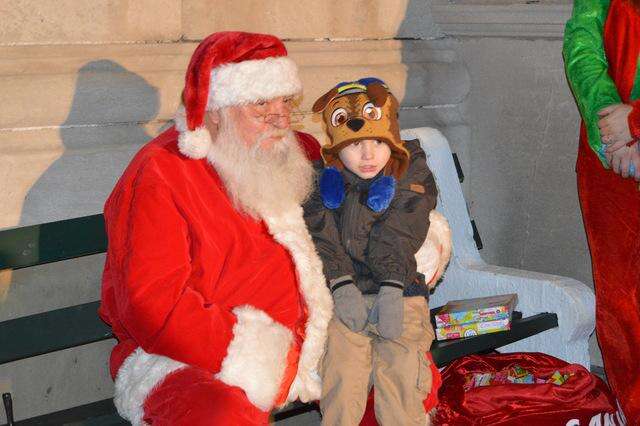 Published November 27. 2017 11:49AM
by Jarrad Hedes jmhedes@tnonline.com
Coaldale ushered in the Christmas season Sunday night with the annual lighting of its Christmas tree outside borough hall.
The ceremony was sponsored by C.H.O.S.E. (Church, Home, Organization, School, Environment), a nonprofit Coaldale community organization.
"This group puts in a lot of hard work organizing events like this one," said future Coaldale Mayor Herb Whildin. "I've seen a lot of progress in this town and they're a big part of that."
Whildin said that to him, a tree lighting is more than wrapping some lights on a tree and turning on a switch.
"The Christmas tree was chosen hundreds of years ago because it was ever green," he said. "In the winter, when other trees are barren, the evergreen stands strong, just like our community. When you put lights and ornaments on it, that signifies the start of the holiday season, a time of celebration and hope."
A crowd of nearly 100 residents sang Christmas carols including "Oh Christmas Tree," during which the tree lighting took place, and the locally popular "Black Christmas," hearkening back to the days when the area buzzed with coal mining activity.
Three firetrucks rounded onto Third Street, including one carrying Santa Claus, who made his way through the crowd to meet with Coaldale's youngest residents.
After sharing their wish list with the man in the red suit, children and their families headed inside borough hall for cookies and other refreshments.
"For a small community like this, I think it's important to come together for events like this," said Shannon Miller of Coaldale. "Any time the kids get to see Santa, they have a smile on their face. I'm glad we have volunteers that do this."
Joy and cheer were evident Sunday night, and it's a feeling Whildin hopes will continue throughout 2018 in Coaldale.
"The challenge is to not let that hope fade when the lights do," he said. "Treat every day as a tree lighting to make ourselves, our families and our town, the best it can be. There is always hope."
C.H.O.S.E. is also sponsoring a giving tree, which is ready to go for the winter season. Anyone in need of hats, gloves or scarves can stop at borough hall during business hours.
Anyone who can donate any of those items is free to leave them on the tree.