PASR awards grants to teachers at fall luncheon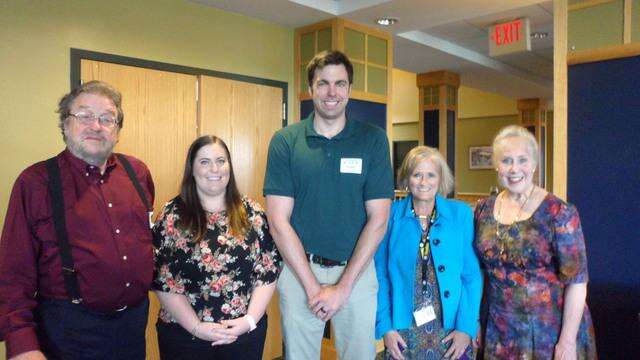 Published November 11. 2017 09:00AM
The Fall Membership Appreciation Luncheon for the Pennsylvania Association of School Retirees, Carbon Chapter was held at the Blue Shamrock Restaurant and Pub.
The PASR is an association consisting of men and women who are retired employees of the public schools of Pennsylvania. Members included former teachers, administrators, counselors, nurses, secretaries, aides, bus drivers, cafeteria worker and maintenance staff.
A small business meeting was held before the lunch. President Molly Phillips announced the winner of the John J. Dillon Award. Cindy Sabol was chosen by the members as someone who has given much service to the association throughout the year. Since 2004 the chapter has granted this award to one of their outstanding members each year who has volunteered their time and talents to the organization. There are more than 70 local PASR chapters, and the Carbon chapter consists of 295 members.
John Philips, educational/support chairman, announced the 2017 Practitioners Grant recipients. These grants are available to all employees of public schools in Carbon County. PASR encourages anyone who is doing something special with their students to apply. Although PASR can't always provide all of the money that is requested, they try to help get the project off the ground. The criteria for the grant is creative projects that involve more than a few students and in each of the levels: elementary, middle school or high school.
This grant helps a few teachers realize their plans. Teachers throughout Carbon County are invited to submit their project plans and cost to the PASR. Four will be selected that the organization feels they can help the best.
The 2017 recipients are:
• Ryan Chlubicki of the Jim Thorpe School District, Penn-Kidder, grades 4-6 for an arcade gaming kit for science, technology, engineering and math.
"A fellow teacher told me about this grant, so I applied, and I was so surprised and happy when I heard I was accepted," Chlubicki said.
• Diane Brownmiller of Mahoning Elementary in Lehighton Area School District wants to purchase a "Maker's Space for STEM activities" for second, third and fourth grades.
"The Maker's Space is a hands-on project that teaches the kids about the science of computers, and they are so interested to build their own," Brownmiller said.
• Christine Brong of Franklin Elementary School, Lehighton Area School District, will be purchasing mindfulness games to help with self-regulation.
"I am really excited about this project, so when I heard I was accepted to receive the grant I was so happy," Brong said.
• Pauline Romanofski of Panther Valley is planning to purchase a die-cutting machine for a tile one behavior program. She was not present for the luncheon.
Members also brought canned goods and nonperishable items for the Carbon County's food pantries. It was also noted they will accept donations of small appliances and gently used clothing for the Keystone Military Families and small amount gift cards for area fast food restaurants for the Peaceful Knights.
Activities coming up in which the members of the PASR will be volunteering will be the "Dream come True" telethon and in December the Toys for Tots program in Carbon County.
The PASR was established in 1937 and is a nonprofit voluntary membership organization whose motto is to serve others in need and to help one another enjoy retirement.