Heroes program helps improve E. Penn fire department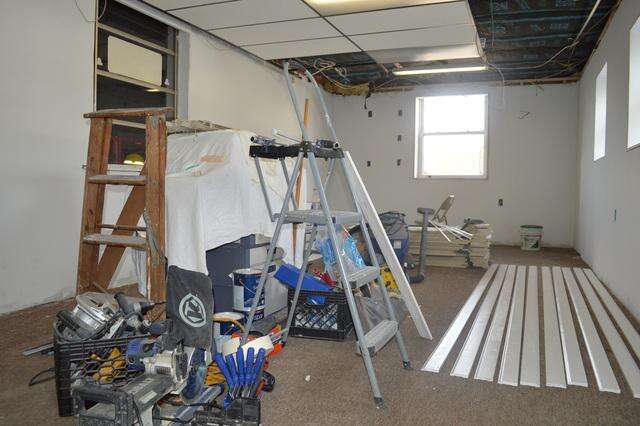 Published October 31. 2017 02:45PM
The East Penn Fire Company's Emergency Management and training room received much-needed improvements this week from insulation to a fresh coat of paint.
The renovations were made possible by Lowe's Heroes program, a 10-year-old program created to help community nonprofits with improvement projects that would normally be to costly for a limited budget. Lowe's Heroes has participated in more than 1,300 projects since its inception and has contributed more than $1.3 million in materials to these community improvements.
For the East Penn Fire Department, the Lehighton location donated $2,500 to install insulation in the exterior walls, hang new drywall, coat the walls in a golden yellow hue and retrim the newly installed windows over the course of the week.
A crew of 15 started early in the week with Mark and Dawn Murray donating their time to install three new windows.
According to project manager and five-year Lowe's employee Josh Everette, the improvements will drastically cut energy costs for the department.
Everette said there were a handful of hurdles for the job but it will be finished just under budget.
"There was a lot more work than we first thought. The first day we were here for 12 hours, then 10 the next," he said.
"The biggest challenge was knowing how to match workers with their skill sets and getting the materials list together."
Everette said he worked to keep the project under the donated budget saying, "All the paint was donated by Valspar and the work was down by Lowe's employees," he said.
Lowe's Assistant Manager Kay Kankia was in charge of selecting this year's important recipient.
"The Lehighton Police Department doesn't have a break room, and the Mahoning Fire Company applied for improvements, but this project was more urgent with the winter weather coming. It had baseboard heating and we thought this was more important, so we picked it," he sad.
"It's making our management room more efficient," said fire Chief Robert Kleintop.
"We are going to install a split pump system and get rid of the baseboards, but there was no point in insulating the walls with the old heating system, so we worked together on this," he said.
The volunteer department operates on limited funds with a majority of the money coming from fundraisers. The department has purchased the new heating system under its own budget.
"It's a big project for us," Kleintop said.
"The fire company is very thankful that Lowe's picked us for this year."