Franklin fires police officer for willful misconduct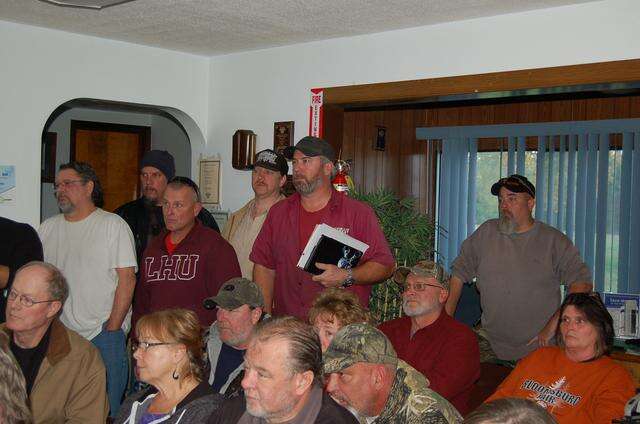 Published October 27. 2017 02:45PM
A decision by Franklin Township supervisors to dismiss a police officer at a special meeting on Thursday was met with resistance.
On a 2-0 vote, township supervisors accepted the recommendation of acting police Chief Jason Doll to terminate an unnamed employee for willful misconduct. Supervisor Barbara Beltz was absent.
About 25 residents attended the meeting, many of whom asked the board to disclose the reason why the board was considering taking the action against the employee at this particular point in time.
Throughout the meeting, supervisors refused to identify the employee except as Employee No. 31, as well as the reason for their action, because it was a personnel issue. The employee was not in attendance, nor was Doll.
Resident Dave Bradley peppered the board with questions, and told the board he doesn't believe the acting police chief should be making the recommendation.
"Is there a safety issue with the township that this has to be done today," Bradley asked.
Board Chairman Rod Green said it was a legal matter.
Resident Gail Maholick asked if the board would share what the willful misconduct was.
But, board solicitor William Schwab said no.
"The board is not able to respond at this time," Schwab said.
Several residents said they've heard rumors in the community.
Bradley asked the board why Doll's recommendation had to take precedent rather than wait until the next meeting.
Again, Green said the board could not discuss the matter.
Bradley asked why the board called the meeting if there was no safety issue, and inquired if Green had a personal vendetta against the employee.
Green said there was no vendetta.
The board then voted to terminate the employee, a move which clearly peeved the audience.
Green attempted to restore order.
"Next time I'm going to have the room cleared," Green said.
After the meeting, Green said the township currently has two full-time officers including Doll and Frank Buonaiuto, along with six part-timers.
The other full-time officer listed on the township's website is Frank Lorah.
Green said the township would add another full-time officer likely sometime next year.