Students let their skills SHINE at annual celebration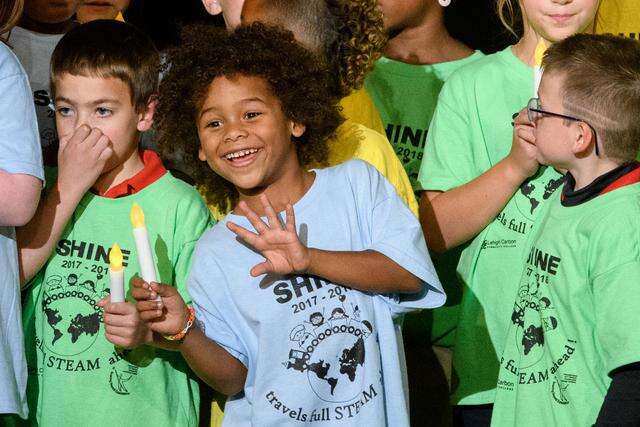 Published October 20. 2017 08:45PM
Growing up, Trevor Keefer never imagined one day applying for college to pursue a chemical engineering degree.
But the Jim Thorpe Area High School senior is doing just that and he credits the Lehigh Carbon Community College SHINE Afterschool Program's Career Academy for showing him a field that fascinates him and will lead him well into the future.
"When I was in fourth grade (at Penn-Kidder Elementary in Jim Thorpe), I was introduced to the wonders of the Schools In Home and Education program or SHINE," he said Thursday at the annual Lights On Celebration at Jim Thorpe Area High School. "When I heard they were building hovercrafts at CCTI, my jaw dropped to the floor. I needed to be enrolled."
He didn't make the enrollment for the hovercrafts, but he enrolled in the SHINE Career Academy the next project round.
He had been hooked ever since.
"The way I view the SHINE Career Academy is as an experiment seeking middle-school aged kids," he said, adding that in addition to projects that focused on science, technology, engineering and mathematics, the program offered homework help and allowed the middle-school children the opportunity to see what Carbon Career & Technical Institute had to offer high school students wanting to build on a trade.
Keefer went on to high school and is currently the president of his class, a member of National Honor Society and has a 4.0 grade-point average.
"My eyes would have been completely blind to all of this if it wasn't for Rachel (Strucko, director) and the SHINE program," he said. "SHINE is a wonderful opportunity for each student here tonight."
[naviga:iframe allowfullscreen="" frameborder="0" height="315" src="https://www.youtube.com/embed/-XLhgoyEkgM" width="560"][/naviga:iframe]
Keefer's story is just one of many successes the SHINE program has helped create over the past 14 years.
During Thursday night's celebration, current SHINE students from Panther Valley, Shull-David, Shenandoah, Mahanoy, L.B. Morris and Penn-Kidder elementary schools, as well as Shenandoah High School and the SHINE Career Academy, showcased the hands-on activities they have been working on, much like things Keefer did years before.
The students showed that the SHINE program is "traveling full STEAM ahead," with robots, stop-motion animation, music and more.
"Afterschool programs provide unique enrichment," said Thomas Lesisko, principal of the Jim Thorpe Area High School, adding that the students are getting extra time with teachers and are learning things that they may not get in the classroom. "We see the benefits of that extra time and support and the community coming together."
The SHINE Afterschool program is an initiative through Lehigh Carbon Community College that helps school students in Lehighton, Jim Thorpe, Palmerton, Weatherly, Panther Valley, Mahanoy City, Shenandoah and soon Tamaqua in their studies.
Last year, the program helped more than 700 children build socialization skills and a stronger relationship in the family.
Since its inception in 2004, the SHINE program has served thousands of area students and has taken them to higher levels in education.
The SHINE model has been replicated in neighboring Luzerne County and has received national recognition as an afterschool program that works.