A positive outlook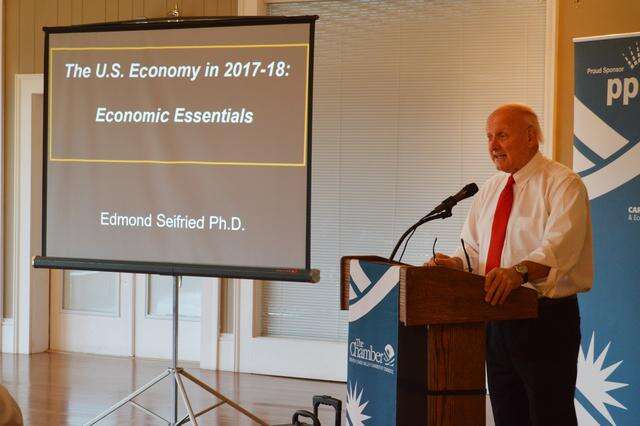 Published October 13. 2017 06:27PM
Let the good times roll.
While many pundits are watching for a possible economic downturn with an unwinding of the Federal Reserve's Asset Purchase Program, Dr. Edmond Seifried delivered a positive message for local business owners Tuesday morning during the ninth annual Economic Outlook Breakfast Presentation at Mahoning Valley Country Club.
"Though we're in the second-longest recession-free period in history, I don't foresee us being in danger of a recession anytime soon," Seifried said.
Seifried, co-chairman of Seifried & Brew, executive director of the Sheshunoff Affiliation Program and professor emeritus of economics and business at Lafayette College in Easton, each year presents the outlook for businesses at the Carbon Chamber and Economic Development event, in conjunction with Mauch Chunk Trust, Coordinated Health, Adams Outdoor Advertising, Tamaqua Area Chamber of Commerce and PPL.
"The (Institute for Supply Management) manufacturing index hit 60.8 last month and really, as long as that stays above 42, we're probably not at risk for a recession."
The average length of time between recessions is 60-70 months and the economy is currently approaching 100 months without the steep decline.
Seifried focused his talk on the asset purchase program, which saw the Federal Reserve acquire $4.5 trillion in bonds in a 2008-09 response to the financial crisis.
A plan to reduce the balance sheet would see $10 billion a month unloaded initially, followed by $10 billion every quarter, and up to a maximum of $50 billion a month.
Fully reversing the program could take six to eight years. Seifried's estimation is also dependent on how fast United States homeowners move, buy new houses or refinance their mortgages.
"Did it work, probably so," Seifried said of the purchasing program. "Housing recovered somewhat, unemployment dipped to a new low at 4.2 percent and the stock market is a lot better than it was in 2008."
The faster growth, however, never arrived, according to Seifried, "despite the predictions that a 3 percent annual gross domestic product growth was right around the corner. That being said, prices have risen in stocks, real estate and other assets."
The rollback could cause a slight increase in mortgage rates, but nothing drastic, Seifried predicted.
For every $190 billion cut from the balance sheet, the long term interest rate is set to rise 4.4 basis points. That equates to less than a quarter percent rise in mortgage rates over a year.
"If the rate is 4 percent, it would go up to 4.15 percent the next year," Seifried said. "I don't think it will be high enough to kill the housing market."
Seifried also offered his suggestion to business owners on fair wage increases for employees in 2018.
"I would argue somewhere around 2 percent is fair," he said.
"Unemployment has gone down and with that, inflation typically rises. Structural inflation, however, has been overwhelming cyclical inflation and keeping the overall rate low."