Northwestern Vogwill, Tamaqua's Schoener have best area performances at District golf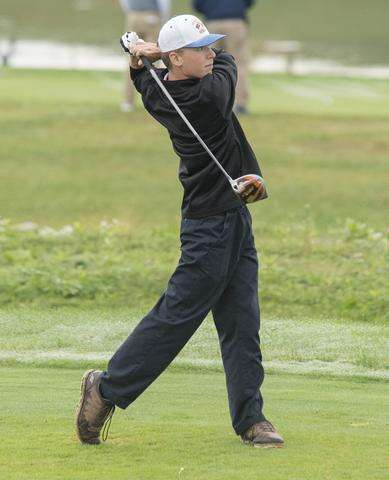 Published October 12. 2017 02:45PM
by CODY GROHOTOLSKI TNSPORTS@tnonline.com
NEW TRIPOLI — None of the five Times News area golfers competing in the District 11 tournament on Wednesday at Olde Homestead Golf Course advanced to Regionals, but they sure "enjoyed the run," said Carson Schoener
The Tamaqua senior had qualified for the district tournament three consecutive years before making this his fourth in four years.
"The greens were slow and I wasn't hitting my irons well today," explained Schoener.
Still shooting a respectable 83, Schoener missed the cut to move on to regionals by just three strokes.
The senior spoke positively about his high school golf career and looks to continue playing as he chooses a four-year university.
Schoener and his team did achieve one of their goals Wednesday that being to, "place top 3 for Coach K."
The Blue Raiders were one of four Class 2A schools to earn a spot in the District 11 team championship that was also taking place Wednesday. trying to get their coach a medal in his final season.
William Kaczmarczyk has been the golf coach at Tamaqua during Schoener's career and recently announced that he would be stepping down following the season.
Out of four teams competing, Tamaqua took second place earning their coach and themselves a silver medal.
"They did what they had to do. I told them that every stroke counts. This is my last year with these boys and I'm very proud of them," explained Kaczmarczyk.
In boys 2A, only the top four golfers in the field moved on. In 3A boys, the top eight golfers moved on to the Regional Tournament.
Northwestern's Mason Vogwill missed the cutline by just one stroke in 3A, firing an 82.
"It's hard. There's obviously a couple shots or putts that could have been better," said Vogwill. "Those are the ones that really matter.
"I just made the cut to get here and I did better than I did in the qualifier so I made improvement from last time, so overall it was good.
Vogwill finished strong but couldn't quite earn a berth in the Regional.
"I started off pretty bad. I started on hole No. 6 and through five holes I was six over," He said. "I had all pars, one birdie and one bogey on the back for 37, so the back nine was awesome. The front nine, a couple tough holes got me."
OTHER LOCALS ... In Class 2A, Marian's Nick Kurzinsky shot an 89 and teammate Jacob Artz fired a 96, while Palmerton's Logan Kresge shot a 94. In Class 3A,.
WINNERS ... The lowest score of the day came from William Mirams from Notre Dame of East Stroudsburg. Mirams shot a 69 on a wet, rainy course and took the 2A gold medal. The top 3A round was by Collin Seip of Nazareth, who shot a 74.
GIRLS CHAMPS ... The lowest girls score of the day came from Sophie Orsulak from Blue Mountain. Competing in Class 3A, Orsulak shot a 77, five strokes better than any other female. Allentown Central Catholic's Emilie Wright was the only Class 2A golfer. She had a 97.
TEAM TITLES ...The team competition had each team choose five golfers to play, and then used the best four scores of the group. Moravian Academy easily won the 2A title with a 319. Tamaqua followed with a 397 and Marian finished third with a 403. In Class 3A, Liberty had a 324 to take gold with Northampton (346) and Blue Mountain (350) rounding out the top three. Moravian and Liberty both advance to States.