Local sports roundup: Games of October 11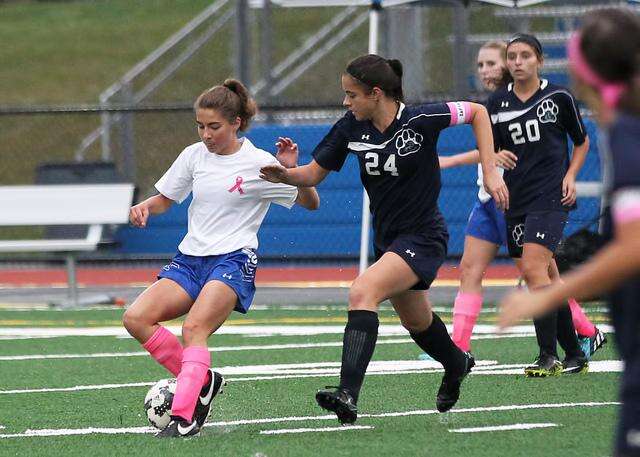 Published October 12. 2017 12:44PM
Northwestern and Palmerton both picked up convincing Colonial League boys soccer victories on Wednesday.
BOYS SOCCER
Catasauqua-Northwestern
Zachary Creighton scored twice and led Northwestern to a 9-0 Colonial League win over Catasauqua.
Noah Meyers added two goals, while Kevin Slack chipped in with a goal and two assists. Kenny Gawelko finished with a goal and an assist.
Northern Lehigh-Palmerton
Palmerton blanked Northern Lehigh in Colonial League action, 8-0.
Jesse DeKorte led the Bombers with two goals, while Jonathan Perloni, Connor Russo, Nate Taylor, Mattis Wiluhn, Ryan Yacone, and Marc Roselli all scored.
Josh Long, Yacone, and Mattis Willuhn each contributed assists.
Schuylkill Haven-Tamaqua
Three second-half goals lifted Schuylkill Haven to a 3-2 Schuylkill League victory over Tamaqua.
The Raiders' Nathaniel Noftz posted the game's first goal, while Jacob Rudy was credited with the assist. Tamaqua's Luke Verta added another goal.
FIELD HOCKEY
Northern Lehigh-Palmerton
Paige Frantz's goal helped spark Palmerton to a 2-1 Colonial League win over Northern Lehigh.
The Bombers' Sayler Burke was credited with the assist, while she also opened the scoring with the game's first goal.
Catasauqua-Northwestern
Catasauqua needed an overtime period to edge Northwestern for a 2-1 Colonial League victory.
The Roughies' MaKenzie Bradley scored the game's first goal in the first half. Bradley then posted the game-winning goal in overtime.
The Tigers' Leighanna Lister spoiled the shutout, recording a goal with 3:49 left.
GIRLS SOCCER
Northern Lehigh-Palmerton
Carissa Fallon's hat trick sparked Palmerton to a 4-2 Colonial League victory over Northern Lehigh.
Jenna Blynn added the other score for the Bombers.
Molly Wilk and Abby Merkle both scored for the Bulldogs.
Catasauqua-Northwestern
Northwestern blanked Catasauqua for a 5-0 Colonial League victory.
Maggie Motolese paced the Tigers with two goals, while Abby Chisdak, Logan Collins and Sara Hathaway each tallied scores.
Jim Thorpe-Tamaqua
Tamaqua edged Jim Thorpe in Schuylkill League action, 2-1.
Jamie Zuber scored twice to lead the Raiders.
Lydia Wallace tallied the Olympians' goal.
VOLLEYBALL
Northwestern-Jim Thorpe
Jim Thorpe swept Northwestern in a non-league match 25-22, 25-20, 25-11.
Kelsey Carroll paved the way for Jim Thorpe with 11 digs and 18 assists. Emma Dunbar had 10 digs, Mackenzie Roenberger added 11 kills and Tamara Encarnacion had nine digs.
CROSS COUNTRY
Jim Thorpe-Pine Grove-
Tamaqua
The Jim Thorpe boys and Tamaqua girls both earned Schuylkill League sweeps on Wednesday.
The Raider boys and the JT girls ended up splitting their races.
Tamaqua's Frances Kabana crossed the finish line first in the girls' meet, while teammates Sarah Maue, Kailee Carroll, Lottie Mateyak, Brianna Dumond and Madelyn Jones followed right behind to finish off the top-six runners.
Tessa Bevilacqua finished sixth for the Thorpe girls.
Brad Clemson led the Blue Raiders with a second-place finish. Chris Valdez paced the Olympians with a third-place finish, while Sam Hydro ended up in fourth.
BOYS
Jim Thorpe 23, Tamaqua 33
Jim Thorpe 23, Pine Grove 38
Tamaqua 24, Pine Grove 37
1. Travis Anderson (PG) 17:48.7, 2. Brad Clemson (T) 18:06.1, 3. Chris Valdez (JT) 18:24.6, 4. Sam Hydro (JT) 18:56.6, 5. Ivan Wissinger (PG) 19:11.7, 6. Derian Stianche (T) 19:28.3, 7. Mark Waselyn (JT) 19:35.1, 8. James Schwartz (JT) 19:44.6, 9. Nujai Walcott (JT) 19:45.0, 10. Brandon Fogarty (T) 19:50.8, 11. Isaac Miller (T) 19:54.3, 12. Blake Killmer (JT) 19:55.0, 13. Dair Miller (T) 19:57.3, 14. Detrick Borden (T) 20:16.3, 15. Noah Rodgers (JT) 20:30.8.
GIRLS
Tamaqua 15, Jim Thorpe 50
Tamaqua 15, Pine Grove 50
Jim Thorpe 15, Pine Grove 50
1. Frances Kabana (T) 20:38.8, 2. Sarah Maue (T) 20:52.4, 3. Kailee Carroll (T) 21:10.4, 4. Lottie Mateyak (T) 22:27.1, 5. Brianna Dumond (T) 22:29.0, 6. Madelyn Jones (T) 23:14.4, 7. Steph Boyer (PG) 23:51.4, 8. Olivia Stanek (T) 23:54.1, 9. April Gerber (T) 24:16.3, 10. Arianna Ryan (T) 24:23.2, 11. Melanie Shimko (T) 25:04.9, 12. Tessa Bevilacqua (JT) 25:19.6, 13. Kailyn Erbe (T) 25:52.7, 14. Abby Fiorilla (T) 26:06.5, 15. Emma Gavornik (JT) 27:31.8.
Blue Mountain-Pottsville- No. Schuylkill-Lehighton
The Lehighton girls' swept a Schuylkill League showdown on its home course.
The Indian finished 1-3 on the boys' side.
Kelsey Gaston was the lone Lady Indian to finish in the top-five with a fourth-place finish. Tinaya Klotz (eighth place), Asia Ahner (ninth), Kendall Mease (10th) and Madison Cressley (11th) all finished in a close pack to help seal the deal.
Anthony Tavella recorded an Indians-best 13th-place finish.
BOYS
Lehighton 18, Pottsville 42
Blue Mountain 15, Lehighton 49
North Schuylkill 15, Lehighton 48
1. Sean McCabe (NS) 17:36, 2. Jake Nahas (NS) 17:52, 3. Kevin Haas (BM) 18:00, 4. Matt McCormick (NS) 18:04, 5. David Sokoldki (NS) 18:05, 6. Blasé Carr (BM) 18:14, 7. Jacob Kluge (BM) 18:18, 8. Jack Flynn (NS) 18:22, 9. Coltin Abitz (BM) 18:36, 10. MJ Oswald (BM) 18:46, 11. Tanner Rabenstein (BM) 18:55, 12. Mike Russell (NS) 19:06, 13. Anthony Tavella (L) 19:06, 14. McClay O'Donnell (BM) 19:23, 15. Jalen Phillips (BM) 19:24.
GIRLS
Lehighton 23, Blue Mountain 36
Lehighton 29, North Schuylkill 30
Lehighton 20, Pottsville 43
1. Cori McCormick (NS) 19:38, 2. Brenna Nagle (P) 21:34, 3. Brinn DeAngelo (NS) 21:55, 4. Kelsey Gaston (L) 22:18, 5. Chole Stravinsky (NS) 22:26, 6. Grace Scheibel (BM) 22:46, 7. Laura Laughlin (BM) 22:53, 8. Tinaya Klotz (L) 23:04, 9. Asia Ahner (L) 23:19, 10. Kendall Mease (L) 23:24, 11. Madison Cressley (L) 23:25, 12. Rebekah Dolbin (BM) 23:46, 13. Alyssa Williams (L) 23:55, 14. Sarah Laible (L) 23:59, 15. Nevaeh Mitchell (BM) 23:59.
JR. HIGH BASKETBALL
8TH GRADE
Tamaqua-No. Schuylkill
North Schuylkill defeated Tamaqua, 39-27
Zoe Seltzer led the Raiders with 12 points.
7TH GRADE
Tamaqua-No. Schuylkill
North Schuylkill routed Tamaqua, 59-4.
Tags:
High school,
Jim Thorpe Area School District,
Lehighton Area School District ,
Northern Lehigh School District,
Northwestern Lehigh School District,
Palmerton Area School District ,
Tamaqua Area School District ,
Cross Country-Boys ,
Cross Country-Girls,
Volleyball ,
Soccer - Boys,
Soccer – Girls