Air Supply returns to the Sherman Theater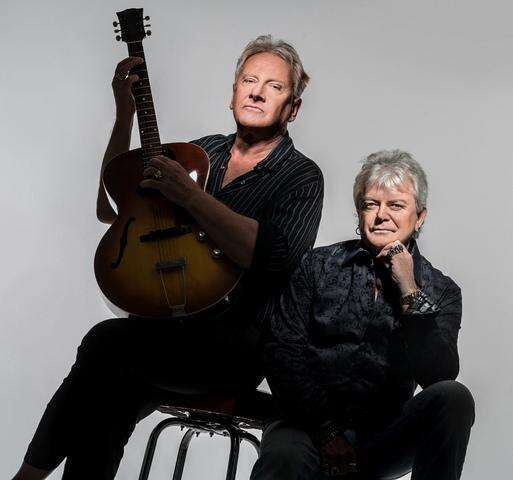 Published October 12. 2017 12:34PM
It's been 38 years since their first show at the Sherman Theater, when the Australian-based duo Air Supply opened for Rod Stewart, but Saturday they will headline their own hour and 45-minute show in the Stroudsburg venue.
According to songwriter and guitarist Graham Russell, the band has played over 5,222 live shows since its 1975 inception, with Russell Hitchcock belting out iconic love songs like "All Out of Love," "Lost in Love," "I Adore You" and "Making Love Out of Nothing at All," and Russell backing him up on guitar.
"We are actually celebrating our 42nd year together," said Russell, who was born in England.
"That contact when you walk on stage and the audience lights up, that's what we do it for. I don't think there is another band that works like we do. We do a lot of live shows. One day we might not be able to do it or want to, so we have a hard time turning down shows. It's a great experience for us as well as the audience. It's about an entertaining night where people laugh and cry. It's like an evening with us, not just about the big hits," he said.
The recognizable name of the pair came to Russell in a dream.
"We were just signed in '75 but we didn't have a name. We agreed whatever name we thought was best, we would use. I had a dream that night that I was driving by a giant white billboard with flashing lights around the outside and big black letters on the inside that said 'Air Supply.' Russell didn't have any names so we went with it," said Russell.
The duo began its musical voyage after playing in pizza shops and coffee bars in the early '70s when Russell and Hitchcock became music-making partners after both auditioned and made the cut for an Australian version of the musical "Jesus Christ Superstar."
Russell had boarded a ship from England at the age of 17 with his soon-to-be wife and just 5 pounds in their pocket. Not long after settling in with his father and sister, Russell began working as a solo artist in local hangouts.
"I started playing guitar when I was 11, on an old beat-up acoustic that I borrowed from a friend across the street. I played it upside down because I'm left handed so it just sounded totally different."
Russell now plays the majority of the famous hits on a 12-string Collings guitar with the occasional electric riff from a standard six-string.
"It takes a lot of hand strength to play a 12-string," he said.
"I started to play it when I was 14 and the sound just struck me. It sounds like a harp. The Air Supply sound is built around the 12-string, that big drone sound," he said.
Russell said he never wanted to play anything but original music, with one or two Beatles covers as the exception.
"Sometime I got grief for it at pizza shops or bars, but I always played my own songs," he said.
"I learned from books, and once I learned three chords and became really good at playing certain songs but I'm just a rhythm guitar player. The style I play is unique because I play backward, but it fulfills what we need it to be," he said.
Songwriting is where the musician's real love lies. He said he takes being a writer "very seriously."
"Just like life lessons, as a writer you become wiser. The older you get the more you understand the process. I can put myself in that zone, but when you're younger, you don't understand the process that much. I spend a lot of time thinking about things, just processing things that I'm thinking or feeling. It's a beautiful mystery you can't grasp. Like love itself, no one can really figure it out," he said.
"I hear a groove and put it all together but then I have to separate the pieces for the strings or melody. A song needs to move and breathe. It's alive, elastic. If I try and force anything it's wrong."
"Russell said he would never give me lyrics because I'm the 'romantic song master,' and I've never wanted to be the voice, so we balance each other out. There's no ego or competition," said Russell.
Russell said the audience for Saturday's show can expect the unexpected.
"It's everything you think it's not. We play almost all the hit songs, but it's a rock 'n' roll show. It's loud. But it's a beautiful evening with great songs, great lights, great singing and a great band. It touches emotions people are not familiar with and when people come they get it, but they don't know what 'it' is. They just keep coming back."
Show time is 8 p.m. For tickets or for more information, visit www.shermantheater.com. The theater is located at 524 Main St. in Stroudsburg.