Local sports roundup: games of Oct. 4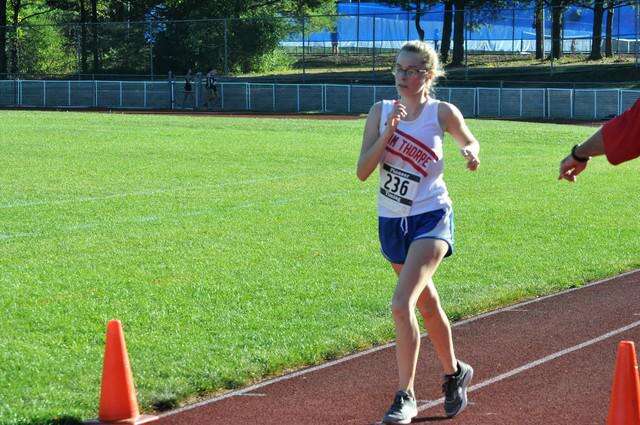 Published October 05. 2017 02:45PM
The Jim Thorpe boys and Tamaqua girls posted cross country sweeps on Wednesday
CROSS COUNTRY
Lehighton, Tamaqua, Blue Mountain at Jim Thorpe
Lehighton, Tamaqua, and Jim Thorpe competed in a four-team Schuylkill League meet.
On the boys side, Jim Thorpe went 3-0, Tamaqua was 1-2, and Lehighton finished 0-3.
Tamaqua's Brad Clemson was victorious with a time of 17:52.8. Jim Thorpe's Sam Hydro finished second.
Tamaqua went 3-0 on the girls side, while Lehighton was 2-1 and Jim Thorpe finished 0-3.
Tamaqua's Sarah Maue came in first (21:28.9) and Thorpe's Kailee Carrooll finished second.
BOYS
Jim Thorpe 20, Tamaqua 43
Jim Thorpe 31, Blue Moutnain 24
Jim Thorpe 15, Lehighton 45
Tamaqua 24, Lehighton 35
Blue Mountain 15, Lehighton 48
Blue Mountain 20, Tamaqua 43
1. Brad Clemson (T) 17:52.8, 2. Sam Hydro (JT) 18:07.8, 3. Kevin Haas (BM) 18:09.3, 4. Collin Abitgz (BM) 18:18.3, 5. Chris Valdez (JT) 18:53.8, 6 . Blase Carr (BM) 19:04.6, 7. Tanner Rabenstein (BM) 19:11.0, 8. Noah Rodgers (JT) 19:15.6, 9. Jacob Kluge (BM) 19:24.0, 10. James Schwartz (JT) 19:41.8, 11. Marc Waslesyn (JT) 19:41.9, 12. Anthony Tavella (L) 19:44.4, 13. MJ Oswald (BM) 19:40.9, 14. McClay O'Donnell (BM) 19:53.7, 15. Jalen Phillips (BM) 20:01.7
GIRLS
Tamaqua 15, Jim Thorpe 50
Blue Mountain 17, Jim Thorpe 41
Lehighton 15, Jim Thorpe 46
Tamaqua 17, Lehighton 42
Lehighton 23, Blue Mountain 35
Tamaqua 15, Blue Mountain 48
1. Sarah Maue (T) 21:28.9, 2. Kailee Carroll (T) 21:33.1, 3. Frances Kabana (T) 21:42.2, 4. Kelsey Gaston (L) 22:49.7, 5. Lottie Mateyak (T) 22:53.6, 6. Brianna Dumond (T) 23:09.5, 7. Madelyn Jones (T) 25:42.5, 8. Laura Laughlin (BM) 26:99.9, 9, Grace Scheicel (BM) 24:03.9, 10. Olivia Stanek (T) 24:03.0, 11. April Geber (T) 24:04.2, 12. Tinaya Klotz (L) 26:05.4, 13. Sarah Laible (L) 24:42.0, 14. Asia Ahner (L) 24:51.5, 15. Madison Cressley (L) 24:59.5
BOYS SOCCER
Pottsville-Lehighton
Pottsville edged Lehighton in a Schuylkill League match, 1-0.
Roos scored on a penalty kick for Pottsville in the first half. Lehighton keeper Zach Andrews recorded seven saves.
Northwestern-Northern Lehigh
Northwestern blanked Northern Lehigh 9-0 in Colonial League action.
Kenneth Gawelko scored twice to lead the Tigers.
Noah Meyers, Andrew Goodolf, Connor Winter, Luke Bryan, Riley Shafer, and Leighton Gift each added goals.
Notre Dame ES-Palmerton
Notre Dame earned a 3-0 Colonial League win over Palmerton.
Ryan Yacone had nine Bombers' saves.
ES North-Pleasant Valley
Pleasant Valley defeated East Stroudsburg North in an Eastern Pennsylvania Conference contest, 3-0.
Ryan Keller, Zion Moore, and Evan Thomas all scored for the Bears.
Malichai Jones and Kyle Dooner added assists.
GIRLS SOCCER
Northwestern-Northern Lehigh
Northwestern rolled to an 8-1 Colonial League win over Northern Lehigh.
Sara Hathaway four times to lead the Tigers. Morgan Moss and Maggie Motolese each scored.
For Northern Lehigh, Jill Olewine score the lone goal.
VOLLEYBALL
PM West-Pleasant Valley
Pleasant Valley defeated Pocono Mountain West in Eastern Pennsylvania Conference action 25-19, 25-17, 25-6.
Renee Mapa led the Bears with 13 kills, six blocks, and three digs. Arianna Weaver added eight kills and eight assists, and Cameron Caffrey ended with 19 assists, five kills, and eight digs.
TENNIS
PM East-Tamaqua
Pocono Mountain East earned a non-league win over Tamaqua, 4-1.
PM East 4, Tamaqua 1
SINGLES
Sarah Naughton (PME) def. Brooke Williams 8-0, Sam Passmore (PME) def. Alexis Breiner 8-1, Jessica Passmore (PME) def. Molly Clemson 8-5.
DOUBLES
Emily Fisher/Madison Wickersham (T) def. Noran Shahin/Clara Sollor 8-4, Lamma Shahin/Melanie Balosh (PME) def. Julie Billig/Sabrina Moyer 8-4.
MS BASKETBALL
8TH GRADE
Weatherly-Mahanoy Area
Mahanoy defeated Weatherly 44-28.
Ashley Pleban and Jackie Guth each had nine points for the Wreckers.
Jim Thorpe-Tamaqua
Jim Thorpe topped Tamaqua 51-14.
Searfoss had 21 for Jim Thorpe, while Lella added 17.
Meckes scored six for the Raiders.