It's scarecrow time in Palmerton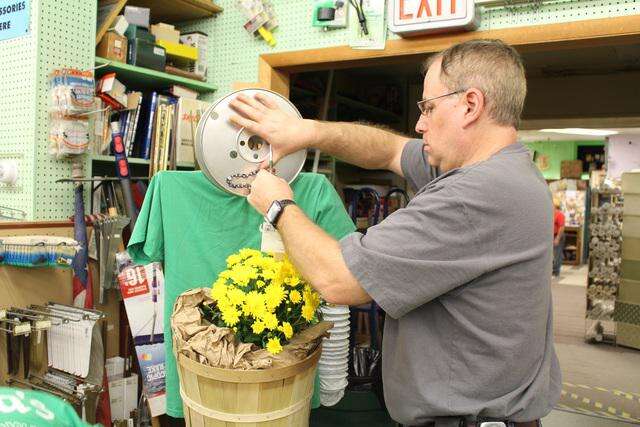 Published October 02. 2017 12:40PM
Halloween is just weeks away, and the scarecrows are popping up along Delaware Avenue in Palmerton to celebrate the spooky season.
The Palmerton Area Chamber of Commerce is holding its sixth annual Scarecrow Time this year, with area businesses, schools, restaurants, homes and more decorating their steps with (sometimes) straw-stuffed gentlemen, ladies and other creatures.
Shea's Hardware, well-known for its creativity with designing its scarecrows, will be partaking in the event again this year.
"Every year, we try to come up with a different theme, always tied in with something we sell here," Debby Shea said. "We use a different idea all the time, and try to come up with a different face, because the faces are always enjoyed by everyone."
Shea said that the team keeps a supply of commonly used items, such as stovepipes, mops and such, stored away each year. The design of the scarecrow often develops while they work, guaranteeing a unique and fun theme each and every year.
The Shea's team, with Shea, Donnie Gildea and George Kattner, start off by fixing a Shea's T-shirt to the cross-section of their scarecrow frame. Frames are available from the Palmerton Lumber Yard for a small fee.
Next, the team sets some stovepipes into work boots, cinching them tight at the top of the boot. After the scarecrow gets some shorts mounted to his waist, the tops of the pipes are tucked into the shorts, and the legs are complete.
After that, Gildea secures a basket to the center of the frame, right around the midsection. Shea fills the basket with some stuffing, and then "plants" some flowers in the center.
The head of the scarecrow is made from an empty metal spool, mounted to the top of the frame. Kattner stretches a small piece of chain-saw chain between some screws to form a mouth, and mounts a long light bulb with a red tip for a nose, along with two smaller, rounded bulbs for eyes. With the addition of a mop for hair, the head is complete.
Last up, the crew secures two vents to the shirt sleeves to serve as arms. A pair of gloves connects the arms to the basket, giving the appearance that he is holding those flowers up himself, and the scarecrow is complete.
"I think it's great," Shea said of Scarecrow Time. "I think the businesses enjoy it. I think the customers enjoy it. And I would like to see more people get involved. I'd love to see a crossing guard scarecrow and things like that. Palmerton is a great town, and it's very worthwhile having this type of thing. It gives a good sense of community."