Bishop celebrates Shower of Roses festival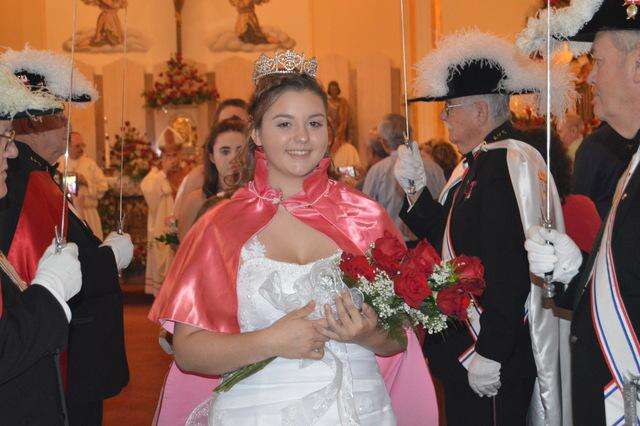 Published October 02. 2017 02:45PM
Courtney Kovatch, a Marian High School junior, was crowned Rose Queen on Sunday during the 85th annual Shower of Roses Festival in Nesquehoning.
Kovatch was crowned at a Mass celebrated inside the Shrine of St. Therese of Lisieux, the former Our Lady of Mount Carmel Church, in the New Columbus section of the borough.
The event honors the woman known as "the little flower of Jesus."
Serving as celebrant Sunday was the Most Rev. Alfred Schlert, the recently installed bishop of the Diocese of Allentown.
"It's a historic day and a great symbol of devotion to St. Therese," Schlert said. "We're here to celebrate a beautiful person who was a saint for every person."
In his homily Sunday, Schlert said what made Therese a saint was her ability to see the will of God in the simple things in life.
"She didn't go convert thousands of people," he said. "She did no great theological teaching. She lived God's will every day quietly among her sisters in the convent."
Joining Kovatch in the Rose Queen court were Carly A. Bachert, Maria Cerimele and Gabriella Rose Greek. Following Mass, the court participated in a short procession around the streets adjacent to the shrine.
The event's finale, the popular rose drop, was canceled due to an issue with the helicopter pilot, according to the Rev. Allen Hoffa, administrator for St. Joseph of the Panther Valley parish.
Last year's rose drop could not take place due to adverse weather conditions. Instead, like a year ago, roses were handed out to those in attendance.
Despite the lack of a rose drop, the festival drew a large crowd on a day blanketed with sunshine.
"We're very fortunate to have great weather and it's been a fantastic outing," said Jean Faust of Jim Thorpe, who attended the festival with her husband. "The food is outstanding and everything inside the church is just so beautiful. We've been here a few times and it is really special."
The festival restarted in 2012, four years after the Allentown Diocese closed Our Lady of Mount Carmel, folding it, along with Sacred Heart and Immaculate Conception churches, into a new church, St. Francis of Assisi, which was closed last July. St. Joseph of the Panther Valley in Summit Hill now serves the shrine.
Roses are a big part of the day and represent the belief that when St. Therese answers someone's prayer, that person will smell the fragrance of roses, or find a rose in an unusual place. The belief is thought to have come from St. Therese's promise to send a shower of roses to earth as proof of God's existence. St. Therese was canonized in 1925.
"Roses are god's blessing," Schlert said. "Part of God's blessings are allowing us to see, in the mundane events of life, all of the things he opens up for us so that we can do his will in imitation of St Therese."