Panthers win battle of unbeatens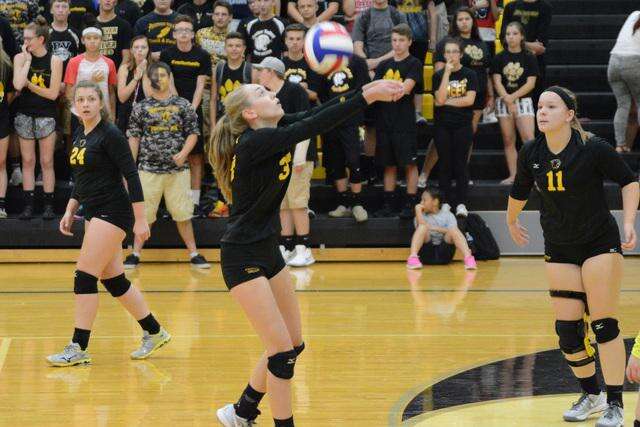 Published September 27. 2017 01:19PM
Down goes the defending champion!
Down goes Blue Mountain's undefeated season!
Hello there Panther Valley volleyball!
Undaunted and unfazed, the Lady Panthers were never intimidated against defending Schuylkill League champion and current unbeaten Blue Mountain.
Instead, Panther Valley played like a champion in its own right, when it pulled up stakes after falling in the first set and turned the tables en route to a 3-2 victory.
"It's all about the girls. They're a true team and especially in these times, they pull for each other, they want everyone to do well," said Panther Valley coach Nancy Filer.
The victory improved Panther Valley's record to 9-0 overall and 7-0 in Division II of the Schuylkill League, opening some space over second place Pine Grove. Meanwhile, Blue Mountain's Division I lead was reduced over twice beaten Jim Thorpe and Pottsville.
"This is an extremely tough environment to play in," said seventh-year Blue Mountain coach Nick Marrongelle. "But you know, give (Panther Valley) all the credit, they kept battling back, and kept their poise. That's a very good volleyball team."
This huge meeting between the unbeatens was more like the survival of the fittest. There were more waves and emotions than a stormy Atlantic Ocean brewing up yet another hurricane.
At the start, the Lady Eagles tagged the Panthers with a 25-21 first set loss, before PV regrouped and pulled off a stirring second set win, 25-20 to even things up.
Then another bounce-back — this time from the Eagles — produced a 25-20 third set win and put the Panthers' backs to the wall.
"Our kids are battlers," said Filer. "They've got heart, they play with heart; there really is nothing more you can ask for. There is no quit in these kids."
Amen!
Panther Valley showed its mettle with a 25-22 fourth set decision that deadlocked things once again.
In the deciding fifth set, it was true grit. The Panthers gushed in front 5-0 and led 6-2, but true champions don't fade away easily. The Eagles tied the score at 10, then looked like the dominator in taking a 13-10 lead.
A return error by Blue Mountain gave the Panthers hope. Erika Dubosky then stepped up and served an ace — one of her 21 service points on the night. Sophomore Oliva Dacey added two monster kills as the teams eventually battled to a 15-15 tie.
Blue Mountain grabbed a16-15 lead and was serving for the match, but Christina Dacey stopped the run with a kill. Moments later, standout outside hitter Jenna Dubosky posted the final two points for the win.
"Christina is such a leader for us, she came up big late," said Filer. "But we had some great, great play from Rachelle (Filer), Erika, Christina and Jenna."
MOMENTUM SWING … Panthers had some outstanding digs, great hustle and determination. But the biggest swing in moment occurred when Erika Dubosky served seven straight aces, allowing the Panthers to seize the momentum en route to the second set victory.
LET ME COUNT THE WAYS… Jenna Dubosky (17 kills), Filer (15 blocks and eight kills), Oliva Dacey (18 kills), Christina Dacey (10 digs) and Sarah Zabroski (seven aces, 19 service points) led PV.