Northwestern sweeps CL cross country meet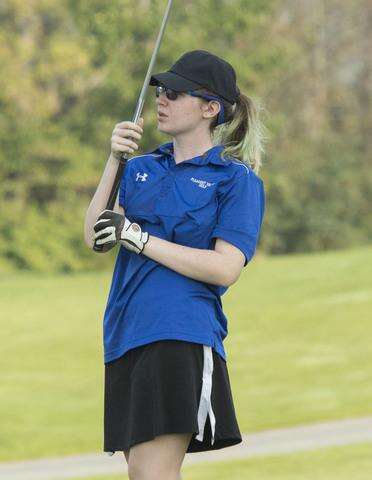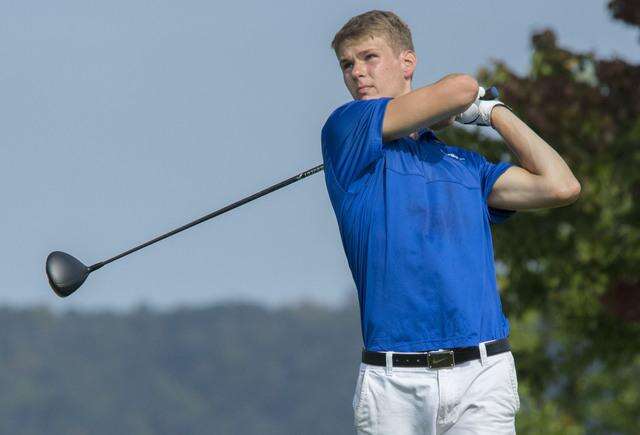 Published September 27. 2017 02:45PM
The Northwestern boys and girls cross country teams were perfect on Tuesday.
CROSS COUNTRY
No. Lehigh, Palmerton, Wilson, Pen Argyl, Bangor at Northwestern
Northern Lehigh, Palmerton and Northwestern competed in a six-team Colonial League meet on Tuesday.
The Northwestern boys went a perfect 4-0. The Northern Lehigh boys went 1-3, while Palmerton was 0-4.
Northwestern's Robert Leiser finished second with a time of 17:11.30, while teammate Phillip Castrine placed fourth. Palmerton's Jacob Martinez was fifth, while Northern Lehigh's Preston Kemery and Hunter Haas finished eighth and tenth respectively.
On the girls' side, Northwestern was 3-0, while Northern Lehigh went 0-3.
Northwestern's Madeline Consuelos had the best local finish with a second-place time of 20:13.71. Teammate Kailyn Jones finished third, fellow Tiger Alyssa Zack was fifth and Moly Tarvin placed sixth. Northwestern's Sarah Supplee was eighth, Northern Lehigh's Regan Pender placed ninth, and the Tigers' Hannah Herzon rounded out the top-10.
BOYS
Bangor 20, No. Lehigh 38
Bangor 23, Northwestern 32
Bangor 18, Palmerton 45
Northwestern 22, No. Lehigh 34
No. Lehigh 20, Palmerton 43
Wilson 27, No. Lehigh 30
Northwestern 18, Palmerton 45
Northwestern 23, Pen Argyl 33
Northwestern 24, Wilson 33
Pen Argyl 20, Palmerton 43
Wilson 20, Palmerton 43
1. Marino Bubba (B) 17:03.23, 2. Robert Leiser (NW) 17:11.30, 3. Morgan O'Brien (B) 17:14.11, 4. Phillip Castrine (NW) 17:37.07, 5. Jacob Martinez (PALM) 17:55.79, 6. Anthony Coppolella (PA) 18:16.28, 7. Shane Houghton (W) 18:23.00, 8. Preston Kemery (NL) 18:28.11, 9. Saber Singleton (B) 18:40.28, 10. Hunter Haas (NL) 18:44.73, 11. Hunter Weaver (PA) 18:51.12, 12. Aiden Quinn (W) 18:5.14, 13. Dylan Corrier (W) 18:56.83, 14. Hunter Kish (B) 18:59.04, 15. Kane Flickinger (NW) 19:01.54, 16. Gabe Lawler (B) 19:02.52, 17. Nathan DeBelis (PA) 19:05.34, 18. Joe Pleban (NW) 19:08.07, 19. Carlton Davies (NL) 19:08.62, 2. RJ Zack (NW) 19:09.63
GIRLS
Bangor 27, No. Lehigh 31
Northwestern 20, Bangor 41
Northwestern 15, No. Lehigh 46
Wilson 24, No. Lehigh 33
Northwestern 19, Wilson 40
1. Martina Sell (B) 19:51.00, 2. Madeline Consuelos (NW) 20:13.71, 3. Kailyn Jones (NW) 20:20.09, 4. Gaby Vega (W) 20:44.12, 5. Alyssa Zack (NW) 20:49.80, 6. Moly Tarvin (NW) 20:57.54, 7. Jillian Pote (W) 21:21.08, 8. Sarah Supplee (NW) 21:23.88, 9. Reagan Pender (NL) 21:33.42, 10. Hannah Herzon (NW) 21:38.71, 11. Tataynna Pagan (PA) 22:04.95, 12. Alison Lorah (NL) 22:36.18, 13. Katie Guelcher (NL) 22:40.99, 14. Krista Warfle (PA) 22:49.58, 15. Emily LaBar (B) 23:06.0, 16. Lillie Altonen (W) 23:44.83, 17. Amelia O'Brien (B) 24:09.33, 18. Ally Quinn (W) 24:12.51, 19. Kristen Brown (NW) 24:15.45, 20. Raiana Medina (W) 24:16.43.
PM West, PM East, Easton, Nazareth, Northampton at Pleasant Valley
Pleasant Valley picked up a win on the boys' side of their cross country race in Eastern Pennsylvania Conference action.
The Bears defeated Northampton 17-45, for their sole win on the day.
Individually, Ryan Murphy had a stellar showing, finishing second in the guys' event, while Lilly Mingora finished 12th for the Lady Bears.
BOYS
Pleasant Valley 17, Northampton 45
Nazareth 26, Pleasant Valley 31
Easton 23, Pleasant Valley 32
1. Joseph Ozgar (E) 16:47, 2. Ryan Murphy (PV) 16:56, 3. Blake Samsel (Naz) 17:03, 4. Sean Guydish (E) 17:06, 5. Marco Cardone (E) 17:06, 6. Anthony Kositz (Naz) 17:09, 7. Luke Valdevit (PV) 17:23, 8. Leo Hoppe (PV) 17:30, 9. Vince Gallagher (Nor) 17:38, 10. Stephen Karavitch (Naz) 17:43, 11. Colton Boucher (Naz) 17:44, 12. Jonathan Miers (E) 17:53, 13. John Griffiths (E) 17:54, 14. Michael Leszcynski (Naz) 17:59, 15. Michael Lerch (Naz) 18:00, 16. Seth Kron (PV) 18:16, 17. Louis DiFusco (PV) 18:17, 18. Keith Staats (PV) 18:23, 19. Skyler Koch (E) 18:33, 20. Adam Meaders (PME) 18:34.
GIRLS
Nazareth 24, Pleasant Valley 33
Northampton 17, Pleasant Valley 46
Easton 15, Pleasant Valley 50
1. Alysse Danyi (Naz) 20:12, 2. Skyler Danley (E) 20:14, 3. Mikayla Roach (E) 20:43, 4. Pia Mazzella DiBosco (E) 20:49, 5. Heidy Acevedo (E) 20:51, 6. Mackenzie Heitz (E) 20:54, 7. Crystal Wilkinson (E) 21:01, 8. Georgia Wiswesser (Nor) 21:03, 9. Magen Perelli (Nor) 21:03, 10. Amber Poniktera (Nor) 21:04, 11. Katherine Ellmaker (E) 21:41, 12. Lily Mingora (PV) 22:09, 13. Campbell Heitz (E) 22:39, 14. Hannah Flaven (Nor) 22:43, 15. Beth Albright (Nor) 22:44, 16. Charlize Smith (E) 22:46, 17. Lauren Pague (Nor) 22:57, 18. Olivia Rigo (Nor) 22:58, 19. Paris Hayden (PME) 23:00, 20. Danielli Cavallo (E) 23:15.
GOLF
EPC championship
Matt Kalamar of Allentown Central Catholic fired a 76 at Woodstone Country Club to capture the Eastern Pennsylvania Conference championship.
Brett Wagner of Pocono Mountain East and Andrew Hozza of Northampton were both one stroke back with 77s. Rounding out the top-5 were Bethlehem Catholic's Ian Masenheimer (78) and Liberty's Nolan Beagell (79).
Liberty won the team title with a 331, two strokes ahead of second-place Bethlehem Catholic. Pleasant Valley finished in 13th place with a 417.
The top Pleasant Valley golfer was Nick Gattuso, who shot a 95.
In the girls competition, Michelle Cox of Emmaus fired an 82 to take the championship. Olivia Parow of Stroudsburg finished in second place, nine strokes behind the winner. Pleasant Valley's Mary Scully shot a 119.
Schuylkill girls championship
Sophie Orsulak of Blue Mountain captured the Schuylkill League girls championship.
Orsulak, whose father Joe is originally from Lansford, fired an 85 at Hidden Valley Golf Couse to breeze to a nine stroke victory over second place Selina Albert of Lourdes.
Marian's Emily Reaman finished fifth with a 118 while the Fillies' Katrina Horvath was seventh with a 148.
GIRLS SOCCER
No. Lehigh-Notre Dame
Notre Dame scored a 8-2 win over Northern Lehigh in Colonial League action.
Abby Wachter scored two goals and had two assists for the Lady Crusaders, while Emiliana Brown and Erika Antunes both scored a pair of goals in the win.
Jill Olewine recorded both goals for the Bulldogs in the contest.
Palmerton-Salisbury
Salisbury blanked Palmerton in a Colonial League game, 8-0.
Kelly Gardus led Salisbury with four goals, while Rylee Donaldson added two.
Hazleton-Tamaqua
Hazleton raced out to an early two-goal lead, before Tamaqua battled back and pilfered a 4-3 non-league win.
Kaitlyn Beiler scored the first two goals for Hazleton, before the Raiders began their comeback.
Sophia Boyle's started the party, before Rebekah Hromyak tied it up. Emma Kuczynski matched the next Hazleton score, before Katelyn Rudy notched the game-winner with 15.8 seconds remaining on a penalty kick.
Rudy, Kuczynski and Campomizzi all added assists during the team win.
BOYS SOCCER
Jim Thorpe-Blue Mountain
Jim Thorpe edged Blue Mountain in a Schuylkill League match, 2-1.
The Olympians scored both of their goals in the second half. Alex Putt scored on a Thor Huth assist, while Alex Mierzjewski scored thanks to Ryder Wallace.
Lehighton-Pine Grove
Pine Grove blanked Lehighton 3-0 in a Schuylkill League game.
Mitchell Lesh's pair of scores and an individual tally from Gary Townsend accounted for the Cardinals' (6-4-2) goals.
Pine Grove out shot the Tribe 14-3 in the contest, as Zach Andrews had eight saves for Lehighton (4-6-1 overall, 3-4 SL).
Notre Dame-No. Lehigh
Notre Dame defeated Northern Lehigh 14-0 in Colonial League action.
Kaidan Chinchar and Kendrick Gallago both had hat-tricks for the Crusaders. Ryan Gibki scored a goal and an assist, while five other teammates all scored an individual tally.
Salisbury-Palmerton
Palmerton defeated Salisbury in a Colonial League battle, 2-1.
Jonathan Perloni and Marc Roselli each had goals for the Bombers. Ryan Yacone had a dozen saves.
Tamaqua-No. Schuylkill
Jacob Rudy and Derian Stianche both scored hat tricks to lead Tamaqua to a 7-0 Schuylkill League victory over North Schuylkill.
Rudy did all his scoring in the opening half, accounting for the Raiders first three goals of the game. Stianche, who also had a pair of assists, scored once in the opening half and twice after intermission. Ian Davis also scored for Tamaqua.
Nathaniel Noftz had two assists while Rudy and Luke Verta both had one.
Salvatore Manganelli had five saves and Reese Szabo had two as they combined for the shutout in the Tamaqua goal.
VOLLEYBALL
Marian-Williams Valley
Marian recorded a straight-set Schuylkill League win over Williams Valley, 25-8, 25-18, 25-1.
Jasmine Mooney collected 10 kills, six aces and four digs in the win for the Fillies.
Gianna Agosti added 21 assists and six kills; Carly Kosciolek put away nine kills and Macie Mazalusky had five aces and four digs. Mazalusky also had an incredible service run in the third set, reeling off 24 straight points.
Lehighton-Minersville
Lehighton took a three-set win over Minersville in Schuylkill League action, 25-11, 25-11, 25-15.
The Tribe saw Emily Haberman contribute 26 assists, five aces and 10 digs. Sydney Vincent had 15 kills, two digs and a block, while Lillian Brown supplied 16 digs.
With the win, Lehighton improves to 8-5 on the season.
Jim Thorpe-Lourdes
Jim Thorpe swept Lourdes in a Schuylkill League contest 25-11, 25-8, 25-12.
Thorpe's Alexandra McGinley surpassed 1,000-career digs during the victory, finishing the match with seven. Mackenzie Rosenberger added six aces and four kills, while Kelsey Carroll had five aces.
Palmerton-Northwestern
Northwestern swept Palmerton in a Colonial League match 25-23, 25-16, 25-20.
Emily Corke totaled 12 digs for the Tigers. Ashley Bennicoff had 11 digs and 15 assists, while Sarah Sekerak had seven kills up front in the victory.
FIELD HOCKEY
Wilson-Northern Lehigh
Northern Lehigh picked up a 4-2 win over Wilson in Colonial action.
Madison Posivak led the Bulldogs with two goals, while Olivia Romig and Jada Mills both tallied a goal and an assist.
Northern Lehigh held a 17-6 edge in shots on goal in the game, with Tia Horack totaling four saves for the Bulldogs.
Delaware Valley-Lehighton
Lehighton earned a 5-2 victory over Delaware Valley.
Lauren Marks scored twice to lead the Indians. Gabriela Szozda, Kaia Slaw, and Maura Phelan added goals for the Tribe.
MIDDLE SCHOOL
FOOTBALL
Tamaqua-Blue Mountain
Joey Coleman ran for 142 yards and scored three touchdowns, but Tamaqua dropped a 38-28 decision to Blue Mountain.
Coleman scored on runs of 42 and 40 yards, and also caught a 35-yard TD pass.
The Blue Raiders' Nate Gregorie completed 11-of-12 passes for 113 yards and two touchdowns, with Cameon Lewis catching the other scoring toss.
Tamaqua is now 2-4.
Hamburg-Tamaqua
Hamburg's defense kept Tamaqua off the scoreboard and registered a 14-0 victory.
The Hawks scored in the opening quarter and added an insurance tally in the third frame.