Hard coal homecoming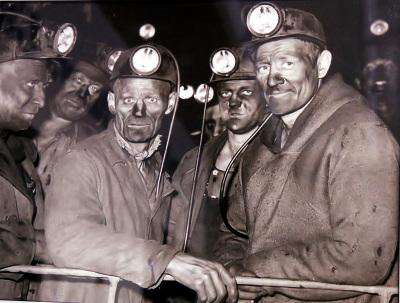 Published August 11. 2017 08:28PM
Anthracite coal began with a leaf-fall 300 million years ago.
Through heat and pressure, forces of nature, it turned into hard, sedimentary rock, but a rock that happens to be combustible.Eventually, the richness of the precious commodity was discovered.It became the symbol and identity of northeastern Pennsylvania, helping to warm homes, forge iron and build monumental bridges, towering skyscrapers and a nation.In 2018, four months from now, that discovery and what it means to the region will be recognized.A yearlong celebration will salute "The People of the Black Diamond," taking place on local streets, in public gathering places and backyards."The coal region is eager to come together to celebrate the history, heritage and identity that makes us this unique American regional family," says Scott D. Herring, chairman of the Anthracite 250th Anniversary board.The purpose, says the Tamaqua native, is to recognize the region's quarter-millennial year and to salute hard work, sacrifice and achievement.Herring, known as The Last Anthracite Photographer, has spent nearly 45 years documenting the coal regions and its people, places and resources.His "Hardcoal Chronicles" consists of an exhaustive compilation of more than 170,000 images that depict a culture and heritage. That body of work, many say, uniquely qualifies Herring to coordinate the 250th celebration of anthracite.DiversityIn a sense, Hellertown-based Herring is serving as maestro of a multifaceted orchestra featuring sights and sounds from a wide expanse."The greater Anthracite Cultural Region is far more extensive than just the area where there's a coal mine in your backyard," says Herring, a geologist and promoter."Our 250th outreach includes the entire area from the Lehigh Valley to Binghamton, New York - the two main coal marshaling centers to the south and north, respectively, and from the Western New Jersey Zinc and Mineral Belt across to Harrisburg and Williamsport, two additional major anthracite marshaling centers."Plans have been underway for the past five years, with the effort facilitated by the Tamaqua Historical Society's 501(c) 3 nonprofit tax status.Herring says the venue will be the entire region, not one specific town, site, corridor, river valley or canal system."There is no one, big, single event planned … if we were to choose one location on one date, they would be delighted, and the rest of the coal region would be on the warpath with us. Instead, anthracite people characteristically are happier when they are free to do their own thing, according to their own planning and schedule."For that reason, branding will be a key part of the large-scale celebration.Signage, custom license plates, banners, posters and mementos are being produced bearing a distinctive silhouette logo of an anthracite miner fighting a stubborn mule - respectfully and humorously called the Battle of the Thickheads. The artwork was created by Shamokin artist Matt Leavens.High profileThe 250th theme will be incorporated into festivals, fairs, museum events and other activities.For instance, the Reading & Northern Railroad is planning special excursions in 2018 and is expected to incorporate 250th symbols on equipment and employee attire.Similarly, Lehigh Gorge Scenic Railway also will display the symbols and will be prepared to respond to tourists regarding the 250th anniversary.Other rail lines will be on board as well, such as the Kempton Train, the Allentown and Auburn, and Project #113 steam locomotive, Minersville, which will be renumbered to #250 for the year.Alburtis Lockridge Historical Society President Kevin Shoemaker already has set up an Anthracite 250th Anniversary Facebook page."Most people do not realize how important anthracite coal is to our industrialization," Shoemaker said."Without coal, we would probably not have the massive iron and steel furnaces to produce the massive amounts of metals to build America, in fact the world."With that in mind, the aim is to produce a royal celebration to honor the reign of King Coal and all of the special People of the Black Diamond.For more information:
www.hardcoalchronicles.com, or Scott Herring, P.O. Box 202, Hellertown, Pa., 18055, or at 610-442-2449.