Loan helps men start new business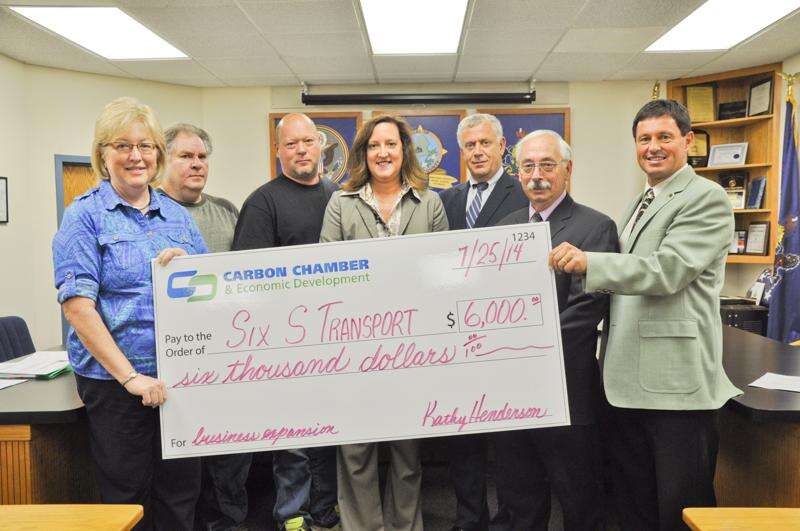 Published August 04. 2014 04:00PM
A partnership between Carbon County and the Carbon Chamber of Economic Development Corporation is helping two men follow their dreams of starting a business.
On Thursday, Kathy Henderson, director of economic development, and Marlyn Kissner, executive director of CCEDC, were present at the commissioners' meeting to present a small-business loan through the Small Business Loan Program.Henderson said the partnership between the two entities, which became official on July 3 after the commissioners voted to move the administration of the program to the CCEDC, is helping start up businesses such as Six S Transport in Lansford. The long- and short-distance hauling business is owned by Robert Almeida and Wendell Stocker.The $6,000 low-interest loan will allow the pair to make needed repairs to a tractor-trailer and enable it to be used in the business.Kissner thanked the commissioners and county for creating the partnership and making this loan possible and congratulated Almeida and Stocker for moving forward with creating a business.Almeida thanked everyone for believing in them."We needed help from someone, and it's nice that organizations and chambers like this take the time to help the smaller businesses when everyone else just looks at your credit record and says 'Oh, you're just starting out. We can't do anything for you,'" he said.Stocker said he was happy that CCEDC and the county were willing to provide support for their opportunity.Henderson also highlighted the pair for using a partnership the corporation has with Wilkes University's Small Business Development Center.Both Almeida and Stocker worked with Dorothy Lane, business consultant from the center, to build a business plan, work through financials and find the loan opportunity.The commissioners commended Almeida and Stocker for taking the initiative and working toward starting a new business.Commissioner Thomas J. Gerhard said the goal of the Small Business Loan Program is to help small businesses start up in Carbon County."It's a great day for all of us here (seeing that this loan will help a company)," he said.Commissioner William O'Gurek wished them the best of luck.Commissioner Wayne Nothstein, chairman, said he was thrilled that the program will help them."Hopefully we can help other businesses in Carbon County as well," he said. "We wish you the best of luck."Almeida said the business is still about six months away from starting up to allow for the truck repairs, as well as obtaining all insurances and permits that are needed for hauling.The Small Business Loan Program has been in existence since 1984, when the county received $35,000 from the state Department of Community Affairs for a program that would help small businesses expand and create new positions.At the time, Carbon County chipped in $10,000 to the funding.Until recently, the county administered the program through its economic development office, but after privatizing the office, it merged it with the Carbon County Chamber.Through the loan program, either new or existing small businesses that qualify can obtain loans to help pay for a project.Businesses that qualify for a loan could receive either 60 percent or 75 percent of the total cost of the project in either five- or seven-year loans. The interest rate for the loan is 3 percent.Small businesses looking for help with a project can apply by contacting Henderson at 610-379-5000 or emailing
khenderson@carboncountychamber.org.In a related matter, Henderson said Lane comes to the CCEDC office, located at 137 South St., Lehighton, on the first Friday of every month to provide free business services.Entrepreneurs, as well as existing businesses looking for help, can sit down with her to go over business models, financing options and other ideas to get their idea off the ground and create a new business.For more information on scheduling a time with Lane, call Henderson.