Rodale Institute hosts organic agriculture town hall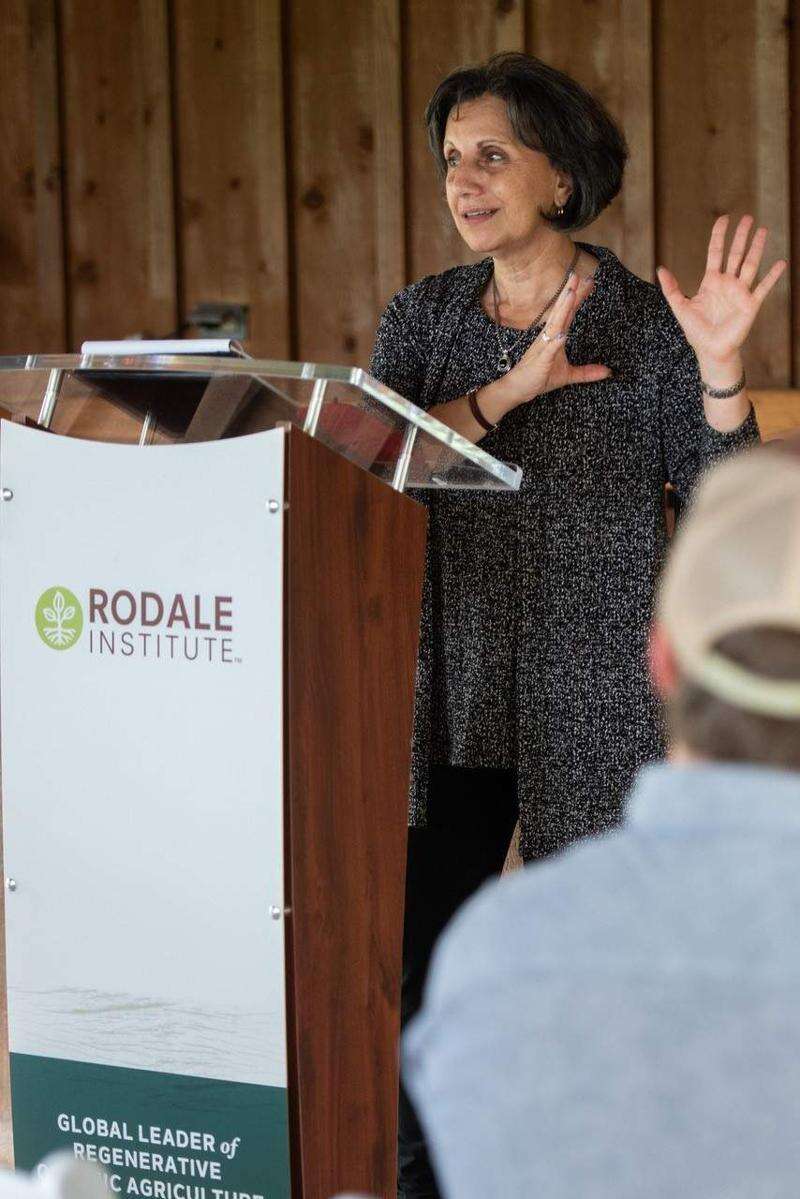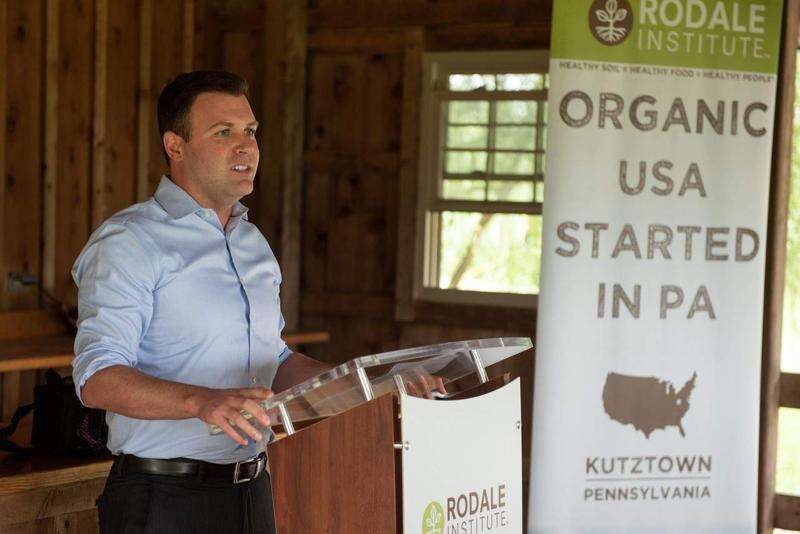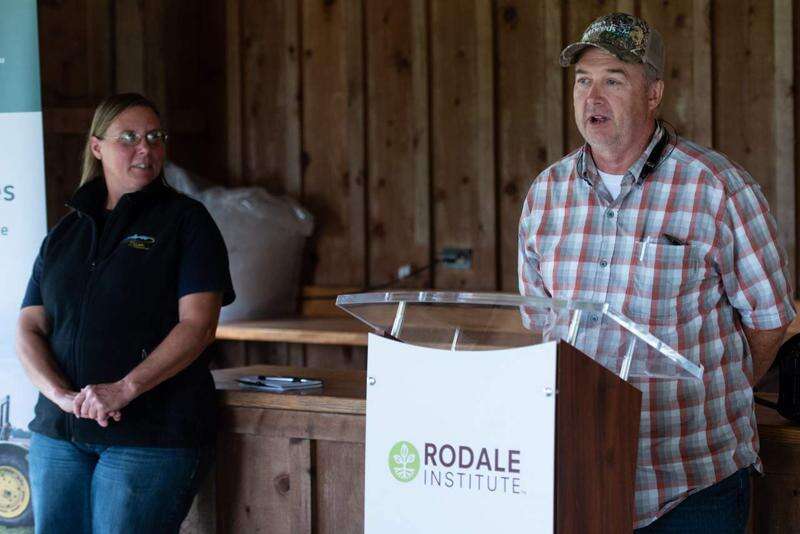 Published September 30. 2021 10:12AM
By LORI PATRICK
Special to The Press
"The world we live in, the world we farm in, is changing," Rodale Institute CEO Jeff Moyer said.
This simple statement felt like a theme message for the "Organic Agriculture Town Hall" presented under the farm pavilion at the 333-acre Rodale Institute headquarters Sept. 9 in Kutztown.
There was excitement in the air with conversations about Pennsylvania's newest farm bill, a first in the nation.
The Pennsylvania Farm Bill is a $23-million package of legislation that reaches into areas of importance for farmers that includes a realty transfer tax exemption to help a qualified farmer transfer preserved farmland for a next generation of production and sustainability.
Other aspects of the bill can be found at agriculture.pa.gov/FoodForThought by searching for Farm Bill.
The farm bill enables the Rodale Institute to provide its Organic Farm Consulting Services free to farms looking to transition.
The farms are finding support opportunities that likely would not exist without it.
It's a leap of faith made possible by the expert guidance Rodale has, through experience and extensive study, and soil research which creates an atmosphere to join the organic regenerative movement.
State Reps. Ryan Mackenzie, R-134th, and Gary Day, R-187th, and state Department of Agriculture Director of Market Development Laura England were part of the speaking portion to talk about the strides made in growing organic farming, telling the beneficial reasons for farmers to market to consumer.
Each of them stressed the importance of Rodale Institute's working partnership to help farmers transition through consultation, funding and education.
The understanding brought forth in the town hall is Pennsylvania has a support system beyond any other area in the United States, as the state leads the country into more organic production for the well-being of all in regard to health, economics and sustainability.
Rodale Institute has branched out with eight campuses around the United States including California, Iowa and Georgia and now one in Italy.
Opening the session, Chief Impact Officer Jeff Tkach gave an overview of the Rodale Institute mission.
He mentioned Rodale's "roots are right here in Kutztown and over in Emmaus where J.I. Rodale purchased his first farm in the 1930s."
Later, Tkach called the greater Lehigh Valley "the Silicon Valley of organic for the world."
The first introduction was Rodale's CEO Jeff Moyer.
"We've really been blessed here in Pennsylvania to have a rich history of willingness and support for the concept of transitioning farms from conventional to organic," Moyer said.
He thanked state Reps. Mackenzie and Day, and England from the Department of Agriculture for being there.
Moyer spoke about the demand of the marketplace far outstripping the supply, therefore making it necessary to import food, fiber, commodities and processed products.
He also discussed the frailty of current systems, including climate change and impacts of weather patterns, where the challenge is to meet the needs of consumer demand.
Moving toward the future, keeping local product for consumers in Pennsylvania is of utmost importance, Moyer said.
Rodale Institute Director of Organic Crop Consultancy Sam Malriat spoke next.
He mentioned his very first transition consult was a dairy farm, which effectively made the move to organic and has now doubled its organic acreage.
"It's a really good sign and it shows you the support that we can provide.
"They need somebody to lean on, to be able to help make this argument not only to their family but to themselves about how important this is."
He spoke about the profitability for the farms to be involved.
"This is a market that has grown between 4 percent and 25 percent every year since it's inception and is a great way to diversify their existing operation."
Malriat stated the companies Bell and Evans and Cargill have committed to a long-term contract to purchase grains, giving Pennsylvania organic farmers even more confidence with guaranteed premium market prices.
Next to the lectern was Mackenzie.
He spoke about the state of health, as well as economic benefits potentially for farmers getting involved.
Mackenzie started with some health statistics, saying, "When it comes to the health and wellness of Americans, 75 percent of the United States $3 trillion annual health-care expenditure is related to preventable lifestyle diseases including heart disease and Type 2 diabetes.
"Also we see autoimmune and neurocognitive disorders also greatly influenced by diet are on the rise and at the same time, we are using record levels of pesticides at 5.2 billion pounds per year, here in the United States."
Mackenzie believes it is all interconnected and through the organic farming approach, we can improve the health and lives of individuals.
Referring to economics, Mackenzie talked about building organic hot spotter hubs where everyone works together that will create small business beyond farming and needs for more employees that goes back to research, development, consultation and the farmers who make this process work.
Day, who was introduced next, talked about the farm bill, Pennsylvania Preferred Organic Program.
Day mentioned "it created the opportunity for farmers to get rid of the barrier to make the decision."
He also said many new farmers are actively looking for land that has already transitioned, so they can get right to work once acquiring it.
"With the upgrades to the organic agriculture, farmers are seeing that these organic farmers are seeing these organic farms are actually becoming more profitable and it promotes more jobs out there for people."
England joined the talk and spoke about the importance of the relationship with Rodale Institute.
The farm bill has consultation funds available for farmers to have free help with experts in the industry.
She talked about the organic certified farms that are progressing and invited farmers to seek out grants for planning or succession newly available to them.
She also shared recent organic census data which revealed 1,048 farms in Pennsylvania are now USDA Organic Certified.
England stresses "We have a way to go yet, but we are here as a partner at the PA Department of Agriculture with all of you, to see what we can do going forward."
Farmer guests and partners Michael Conner and Marcie Boettger of Sarahsway Farm in Gilbertsville were invited to speak about their experience as a transitional farm to USDA Organic Certified.
Conner first spoke about finding Rodale Institute as a fluke, basically driving down an unfamiliar road.
They inquired at the "Garden Store" and from there they took the steps toward transitioning their farm.
He talked about being curious in the past, but the word in the farming community was, just how expensive it would be and how the government would be in their business.
So then, he found out for himself the real story of support and all the free services available to them on his chance visit to the Rodale farm.
In July 2019, they did the paperwork at their farm with Malriat.
They have brought livestock into their program as well as the existing hay to become truly regenerative.
Next up was Boettger, who went on to giggle about her T-shirt she was wearing and had purchased at the Garden Store.
It displays the slogan penned by farm founder, J.I. Rodale "Healthy Soil = Healthy Food = Healthy People."
She loves to wear it like a uniform as she is working so she can explain to people that may stop to ask questions the importance and benefits of what the quote says.
Boettger spoke about the philosophy of the farm, mentioning soil regeneration that they are working on so they can make it completely healthy to grow food.
Even though some of the land they have purchased is not in optimum condition at the moment she tells the land,
"Don't worry, we will take care of you, because that's the connection we have with the land" and of even raising their cattle saying, "We just feel like if we give them the love in the way we raise them and we let them just be silly out in the field, that the love we give to them will come back to us in the form of nutrition." Tkach suggested the audience look at rodaleinstitute.org for all of their consumer and farmer free education offerings, including courses and webinars.