Parents speak out against book donation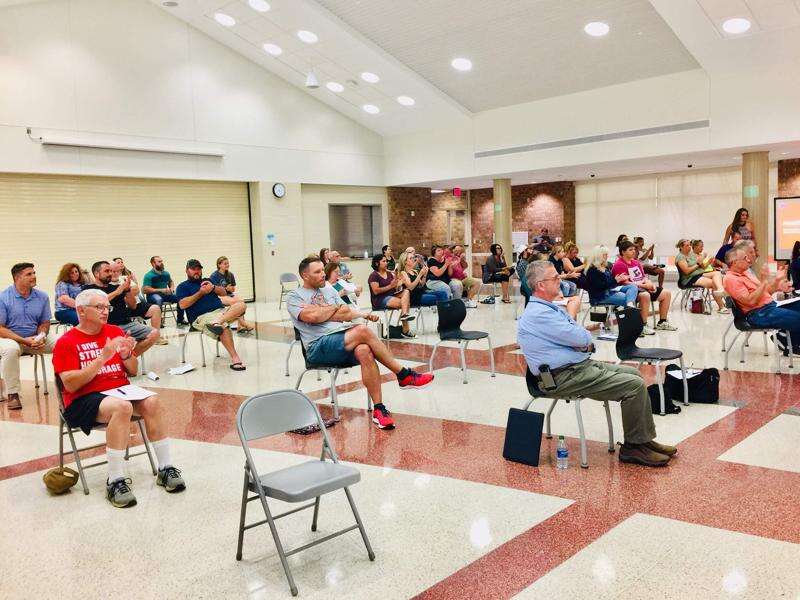 Published July 21. 2021 10:58AM
The people spoke, and Northampton Area School District Board of Education listened.
On the night when the district administration unveiled its state-mandated COVID-19 health and safety plan for the 2021-22 school year, which is available on the NASD website, the majority of the estimated 45 district residents attending the July 19 school board meeting were concerned about the donation of books to the school district by what was said to be an advocacy organization.
By a consensus voice vote, the nine school directors unanimously agreed to table the donation of books to district schools from the Conscious Kids Foundation.
"We are an education, research and policy organization dedicated to equity and promoting healthy racial identity development in youth. We support organizations, families and educators in taking action to disrupt racism in kids," states the Conscious Kids website.
The Conscious Kids website includes the topics "How to talk to kids about race," "How to be a co-conspirator" and "Children's books on race, racism and resistance."
Among the books donated to the NASD elementary school libraries were "I Dissent: Ruth Bader Ginsburg Makes Her Mark," "Dreamers" and "The Proudest Blue: A Story of Hijab and Family."
Among the books donated to the Northampton Area Middle School library were "Malcolm Little: The Boy Who Grew Up To Become Malcolm X," "It Began with a Page: How Gyo Fujikawa Drew the Way" and "We Are Water Protectors."
A book placed in the guidance office was "Missing Daddy."
Kim Bretzik, of Moore Township, was the first to speak during the meeting's approximate one-hour public comment portion. She, and most of the nearly one dozen residents who spoke, voiced opposition to the board accepting the book donations from the Conscious Kids Foundation.
"The Conscious Kids uses Marxist critical race theory. Northampton Area School District is accepting free books from Conscious Kids. Just like the free No Place for Hate program, Conscious Kids is not an ally for all," Bretzik said.
Critical race theory, which originated in the 1970s, is generally defined as an academic movement of civil-rights scholars and activists in the United States who examine law as it pertains to race.
Bretzik urged the school board to take three steps: refuse the donation from Conscious Kids, organize a parents team and detail the curriculum for the school year, "so citizens can inspect what the curriculum team is teaching."
Cheers and a round of sustained applause from the audience followed Bretzik's remarks.
"If we start getting rid of books, our libraries will be devoid of many books, including those of Shakespeare," cautioned Julie Del Piore, of Moore Township.
However, Shirley Arnold, of Moore Township, was more blunt to school directors regarding the public comments.
"I think we are all saying one thing to you," Arnold said. "We're saying, 'Stop.' We don't want this division to go in to affect our children. I don't want our kids to be told they have to do some kind of critical race theory.
"Every single child - I don't care if they're purple with purple ears - let's treat them the same," Arnold added.
"My kids are not brought up to be racist. They're not taught to look at the color of the skin," said Kristin Lorah Soldridge, of Lehigh Township. "Parents don't look at it this way. We are not a racist area."
NASD Superintendent of Schools Joseph S. Kovalchik explained how the donation of the books came to be placed on the agenda.
"Over the years, we've received multiple donations. In the case of this, we've had our curriculum committee review this," he said. "Staff members reached out. They have an extremely difficult time to talk to kids. The donations came about because of a resource. They're not a required reading.
"As a public school, we have to make sure that we have the resources. We have to provide these resources for those who require it.
"We're not on a mission to teach critical race theory. If the board accepts a donation, it doesn't mean they agree with it," Kovalchik said.
Regarding critical race theory, school Director Robert Mentzell, a retired history teacher who taught for 38 years in NASD, said, "I talk to five people and get five different answers. My understanding is that teachers at George Wolf (Elementary School) were concerned because there are a large number of kids who are underserved students.
"These books are in the libraries or guidance offices and are not mandatory," Mentzell said. "We're running a public school. We have a legal obligation and a moral obligation to teach all students."
"As far as I can see, critical race theory is not creeping into the curriculum," Mentzell added.
After school Director Dr. Michael Baird made the motion, seconded by school Director John Becker, the vote to table the donation of the books from Conscious Kids Foundation was approved.
School board President David Gogel said, "I'm glad that all of our parents and stakeholders are becoming part of the process. We want to be transparent and do what's best for students in our school district."
Jerry Bretzik, of Moore Township, said, "I want to thank the school board. They don't always do this across the country."
NASD Board of Education is next scheduled to meet 6:30 p.m. Aug. 9 and 23 in the cafeteria of NAMS, 1617 Laubach Ave., Northampton.