Softball returns talent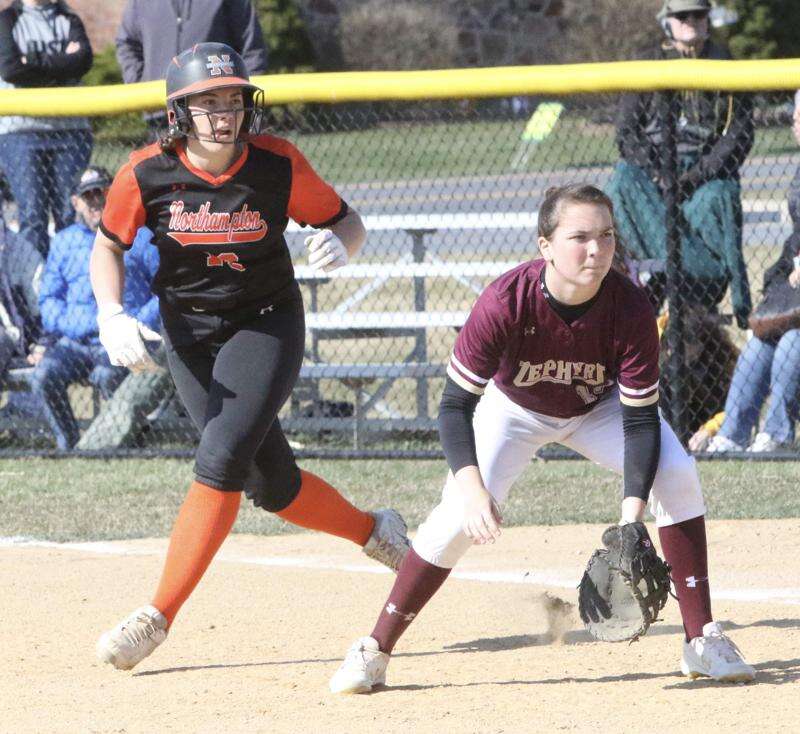 Published April 02. 2021 01:21PM
What this season has in store for the Whitehall softball team will hopefully begin to take focus this week as they embark on a new year with a bevy of talented players who are itching to see how far they can go.
When they last hit the field in a varsity game, they were playing in the PIAA playoffs. Last year would have been another step in their development as they were looking forward to building on that success. And with an experienced roster of mostly underclassmen, who knows how far they could have gone in 2020.
However, this season provides another opportunity with almost the same roster. They only lost third baseman Amanda Mortimer to graduation. So with a senior-laden team, the 2021 Whitehall softball team is ready to compete with a lot of experience at their disposal.
That experience, combined with an abundance of talent, could carry them a long way this season. While that's an assessment made from an optimistic viewpoint, head coach Blake Morgan views this season from a practical standpoint. They've already experienced a brief shutdown, so he's not concerned with the big picture right now. Practically speaking, their goals have changed.
"Our long term goal [was] to play on Tuesday (March 30), and then on Thursday [April 1]," said Morgan.
He understands that a lot of what happens is out their control. It's simply the environment that currently exists. With the recent spike in COVID cases, no one knows what the future brings. Beyond that, all he can hope is that they can play as many games as possible.
He's also said that his thoughts aren't about what happened in 2019, making the district finals and earning a spot in the state playoffs. He said that they're focusing on each practice and being together as a team.
"It's the time together that we're thankful for," said Morgan who's now in his fourth season as skipper. "That's just really where we stand."
When they do begin to play, they'll bring a wealth of experience to the field. The Zephs feature seven seniors on the roster. Five of those seven have a combined 20 years of experience as starters. Those four-year starters include Meghan Hutter, Abigail Vivian, Lindsey Gawrys, Abigail Reese and Madison Cunningham. Seniors Kendra Fox and Briane Aquila also have a lot of varsity experience, giving this team a tremendous amount of talent and leadership.
Most of those seniors careers began when Morgan and his staff arrived. That group is still intact and includes Ed Stinner, Kyle Stinner, Deanna Stinner and Mike Dutsch.
The Zephs will be able to lean on a host of seniors this year, and that begins with Hutter who was an Eastern Pennsylvania Conference first team all-star in 2019. Gawrys was a second-them EPC all-star that same season, giving the Zephs some formidable pop in their lineup.
Morgan said that Gawyrs will remain at first base this season, while Hutter, who had played the outfield, will move to second base.
Morgan said that Hutter is a versatile player who can play almost anywhere on the field, save pitcher.
"You can put her anywhere," said Morgan. "She's a special kid."
Her potent bat is another reason why she's earned postseason recognition. Gawrys is another big stick in their lineup, and she'll be sharing some of her first base duties with Aquila.
Reese will play shortstop this season, while third base will be the domain of sophomore Jessica Spanitz. Also competing for time at the hot corner will be freshman Kate Yadush.
In right field will be retuning starter Mackenzie Laub. The junior is another veteran player who adds superb offense and defense.
Vivian will be in center field for the Zephs. Morgan said that she's been looking good in the field and expects her to do a great job out there.
Left field is a spot where there's still ongoing competition, with sophomore Emma Bonshak and junior Allison Pavone vying for playing time.
Junior Madison Lasko returns behind the plate, giving the Zephyrs yet another returning starter. Morgan said that this will be her second season handling the pitching staff, and he's looking forward to having an experienced hand at perhaps the most important position on the field.
In the circle will once again be Madison Cunningham. This will be the fourth season that Cunningham will be delivering her repertoire to EPC opponents. Cunningham also combines the ability to hit, and hit with power, giving the Zephs a lethal player who is hard to match among her peers.
Morgan said that Cunningham strives to be the best player she can be.
"She's working hard at it every day," said Morgan.
Fox will also reprise her role as a pitcher, giving the Zephs two quality pitchers with tons of experience.
Also looking to contribute are juniors Lennon Dreisbach and Paige Donohue, sophomore Kasandra Aquino, and freshman Aubrey Steiner.
Morgan said that since he took over the program, the current senior crop has done everything he's asked of them from the beginning. That holds true for those who have followed that class during his four-year tenure.
Now it's time to play ball again, and the players, along with the coaching staff, are eager to get back on the field.
"We're definitely ready to compete," said Morgan.